Kepemilikan Saham oleh Buruh sebagai Upaya Penegakan Sistem Ekonomi Pancasila
Epri Wahyudi

YLBHI - Lembaga Bantuan Hukum (LBH) Yogyakarta
Abstract
This article discusses the conceptual idea in addressing the situation of workers in Indonesia who are perceived not to have the right to prosper in the work already owned. In economics, labours play an important role because they are the wheels in driving the production of goods and services. The unfilled labour rights to live prosperous is caused by the absence of their authority to contribute in determining a policy within a company. To overcome the imbalance of bargaining position between workers and employers, a regulation or policy is required to materialise access to share ownership within the company. By owning shares, workers have the right to convey ideas in determining company policy. In addition, labours will also easily access all company information including company report approval. It concludes that the ownership of shares by labours in the company is a necessity and an effort to realise Pancasila Economic System in order to fulfil the more substantive labour rights.
Keywords:
Share Ownership, Labours, Pancasila Economic System
References


Abdul Moin, Merger, Akuisisi, & Divestasi, Edisi Ke-2 (Yogyakarta: Ekonisa Kampus Fakultas Ekonomi UII, 2007).


Antoni K. Muda, Kamus Lengkap Ekonomi (Jakarta: Gita Media Press, 2003).


Badan Pusat Statistik https://www.bps.go.id/linkTabelStatis/view/id/971 diakses pada tanggal 25 Januari 2017.


Kartasapoetra. Dkk, Hukum Perburuhan di Indonesia Berlandaskan Pancasila (Jakarta: Sinar Grafika, 1986).


Kurniawan, Hukum Perusahaan Karakteristik Badan Usaha Berbadan Hukum dan Tidak Berbadan Hukum di Indonesia (Yogyakarta: Genta Publishing, 2014).


Lalu Husni, Pengantar Hukum Ketenagakerjaan Indonesia, Edisi Revisi Cet. Ke-10 (Jakarta: Raja Grafindo, 2010).


Mubyarto, Ekonomi Pancasila (Yogyakarta: BPFE-UGM, 2002).


Mubyarto, Demokrasi Ekonomi dan Demokrasi Industrial, dalam http://jer.mubyarto.org/edisi_17/artikel_3.htm diakses pada 25 Januari 2017


Philippe Nonet dan Selznich, Hukum Responsif, Pilihan di Masa Transisi, diterjemahkan oleh Perkumpulan untuk Pembaharuan Hukum Berbasis Masyarakat dan Ekologis (HuMa) (Jakarta: HuMa, 2003).


Revrisond Baswir, Asas Kekeluargaan, dalam http://mubyarto.org/opini1post. php?id=5 diakses pada 25 Januari 2017


Salim HS, Hukum divestasi di Indonesia (Jakarta: Penerbit Erlangga, 2010).


Salim HS dan Erlies Septiana Nurbani, Hukum Divestasi Di Indonesia (Pasca Putusan Mahkamah Konstitusi RI Nomor 2/SKLN-X/2012), Edisi Revisi (Jakarta: Rajawali Pers, 2013).


Satjipto Rahardjo, Ilmu Hukum, Cet. ke-8 (Bandung: PT. Citra Aditya Bakti, 2014).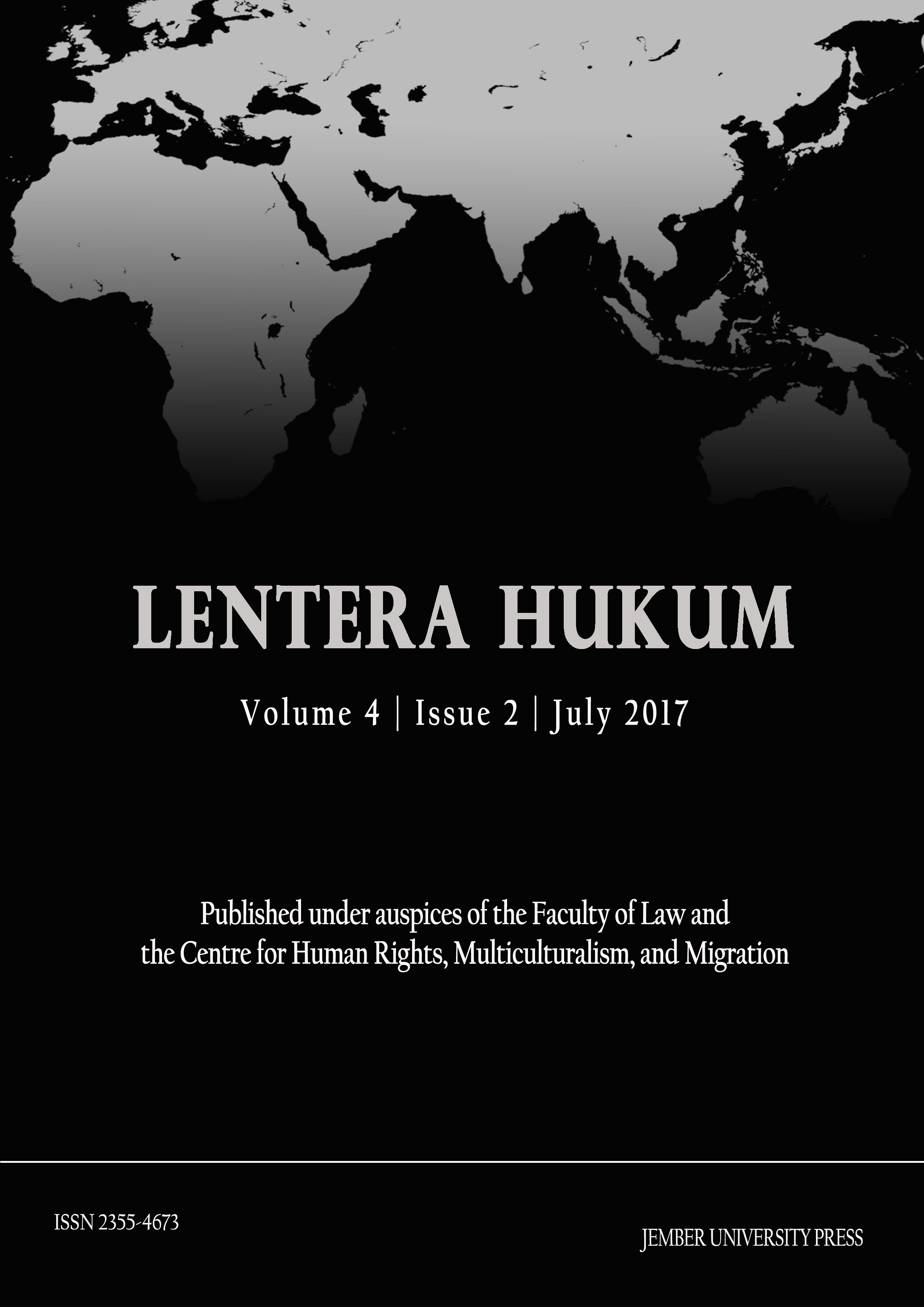 As the condition of publication, all contributors grant LENTERA HUKUM of the University of Jember an irrevocable, transferable, sub-licensable, worldwide, exclusive, royalty-free right and licence to reproduce, publish and distribute their submission(s) in all media, whether currently existing or hereafter developed including but not limited to print and electronic services. The exclusive license is granted for the duration of the subsistence of the copyrights, including any extensions and/or renewals.