Theoretical and Conceptual Reflection Regarding Corporate Criminal Responsibilities Influencing the Formulation of Laws
Fitriani Rahmadia

Diponegoro University, Indonesia
Abstract
In Indonesia, the development of the corporation as the subject to criminal acts takes place outside the Criminal Code, regulated in special legislation. While the Criminal Code itself still adheres to the subject of criminal acts in the form of people, the corporation (juridical person) appears as a subject that can commit a crime and should also be accountable in criminal law. However, this condition has not been realized concretely in our Criminal Code. The formulation policy regarding corporate criminal liability for victims of corporate crime that exists or is currently in force has not been able to realize the corporate criminal liability. Although there are sanctions that can be imposed on corporations, most of these provisions only protect potential victims and are not responsible for actual or real victims. In other words, the current formulation policy has not been able to ensnare and impose criminal sanctions on corporations who commit crimes, especially criminal sanctions which are oriented to the fulfillment or restoration of victims' rights in the form of compensation payments after the crime. This paper will discuss the position and the responsibility of the corporation as a subject of criminal law in Indonesia and analyze policy formulation of the Criminal Code and the draft of the Criminal Code that related to corporate responsibility as a legal subject.
Keywords: Corporate Criminal Responsibilities, Criminal Law, Corporate Responsibility.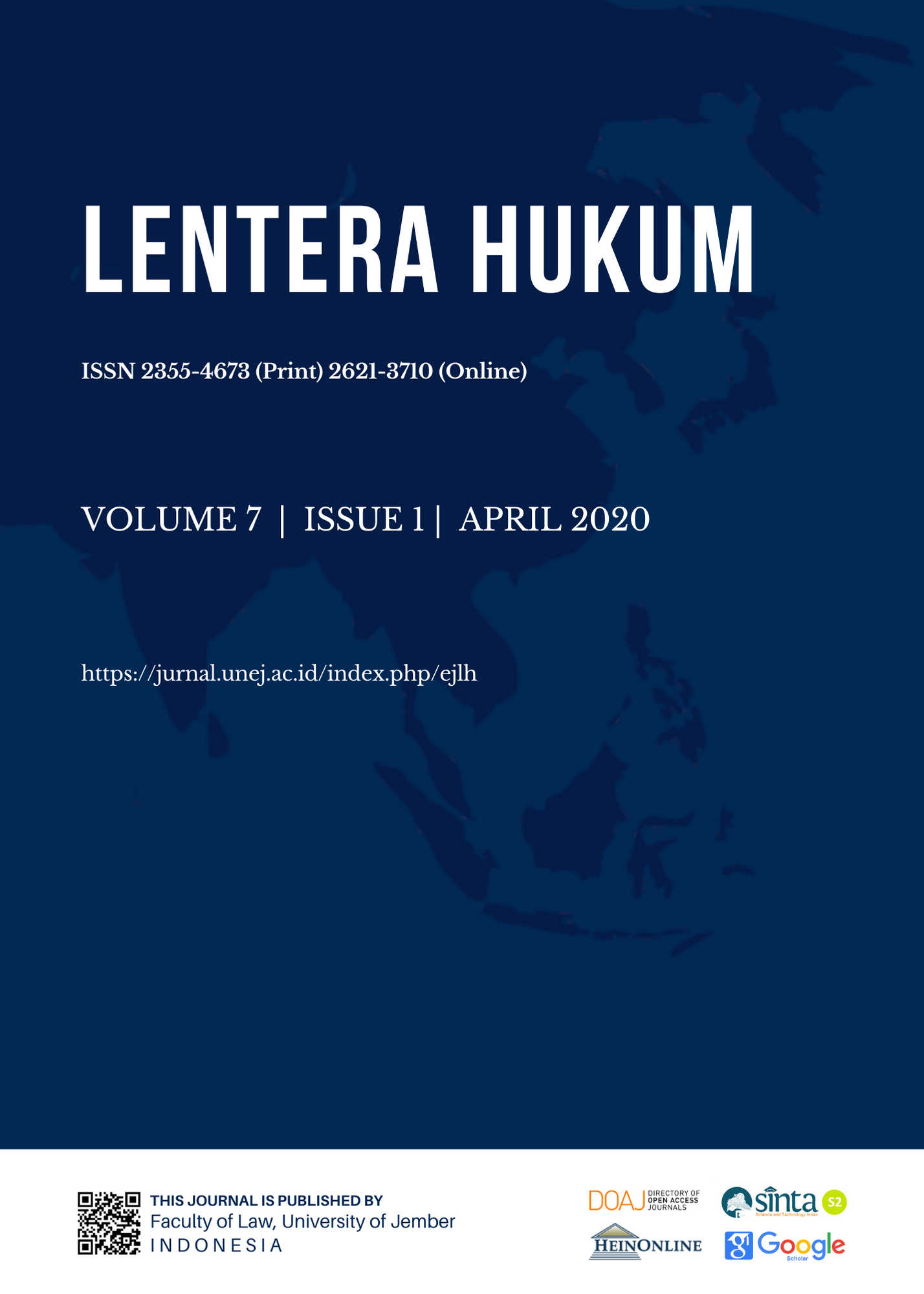 This work is licensed under a Creative Commons Attribution-ShareAlike 4.0 International License.
LENTERA HUKUM has CC-BY-SA or an equivalent license as the optimal license for the publication, distribution, use, and reuse of scholarly work. Authors who publish with this journal agree to the following terms:
1. Authors retain copyright and grant the journal right of first publication with the work simultaneously licensed under a Creative Commons Attribution-ShareAlike 4.0 International License that allows others to share the work with an acknowledgment of the work's authorship and initial publication in this journal.
2. Authors are able to enter into separate, additional contractual arrangements for the non-exclusive distribution of the journal's published version of the work (e.g., post it to an institutional repository or publish it in a book), with an acknowledgment of its initial publication in this journal.
3. Authors are permitted and encouraged to post their work online (e.g., in institutional repositories or on their website) prior to and during the submission process, as it can lead to productive exchanges, as well as earlier and greater citation of published work (See The Effect of Open Access).

You are free to:
Share — copy and redistribute the material in any medium or format.
Adapt — remix, transform, and build upon the material for any purpose, even commercially.

The licensor cannot revoke these freedoms as long as you follow the license terms.



All papers published in LENTERA HUKUM are licensed under a Creative Commons Attribution-ShareAlike 4.0 International License.