Pengaruh Green Marketing dan Pengetahuan Terhadap keputusan Pembelian dengan Mediasi minat Membeli konsumen Sariayu Martha Tilaar di Kota Jember
Muhammad Dimyati

Jurusan Manajemen, Fakultas Ekonomi dan Bisnis, Universitas Jember

Maria Dewi Kartikasari

Jurusan Manajemen, Fakultas Ekonomi dan Bisnis, Universitas Jember

Hari Sukarno

Jurusan Manajemen, Fakultas Ekonomi dan Bisnis, Universitas Jember
Abstract
Research aims to examine whether green marketing and knowledge influence on purchasing decision. Besides, it also aimed to analyze consumer buying interest mediation on green marketing effect and knowledge on purchasing decision of Sariayu Martha Tilaar in Jember City. Approach research used in this research is research quantitative, with a population of consumers Sariayu Martha Tilaar in Jember City. Sampling techniques used in this research was accidental sampling, with as many samples 104 people.The method of analysis the data used in this research was SEM (Structural Equation Model) analysis with confirmatory approach. Based on the research done can be concluded that variable green marketing and knowledge variables had significant influence on buying interest and purchasing decision, and buying interest had significant effect on the purchasing decision.
Keyword: Green marketing, knowledge, buying interest, purchasing decision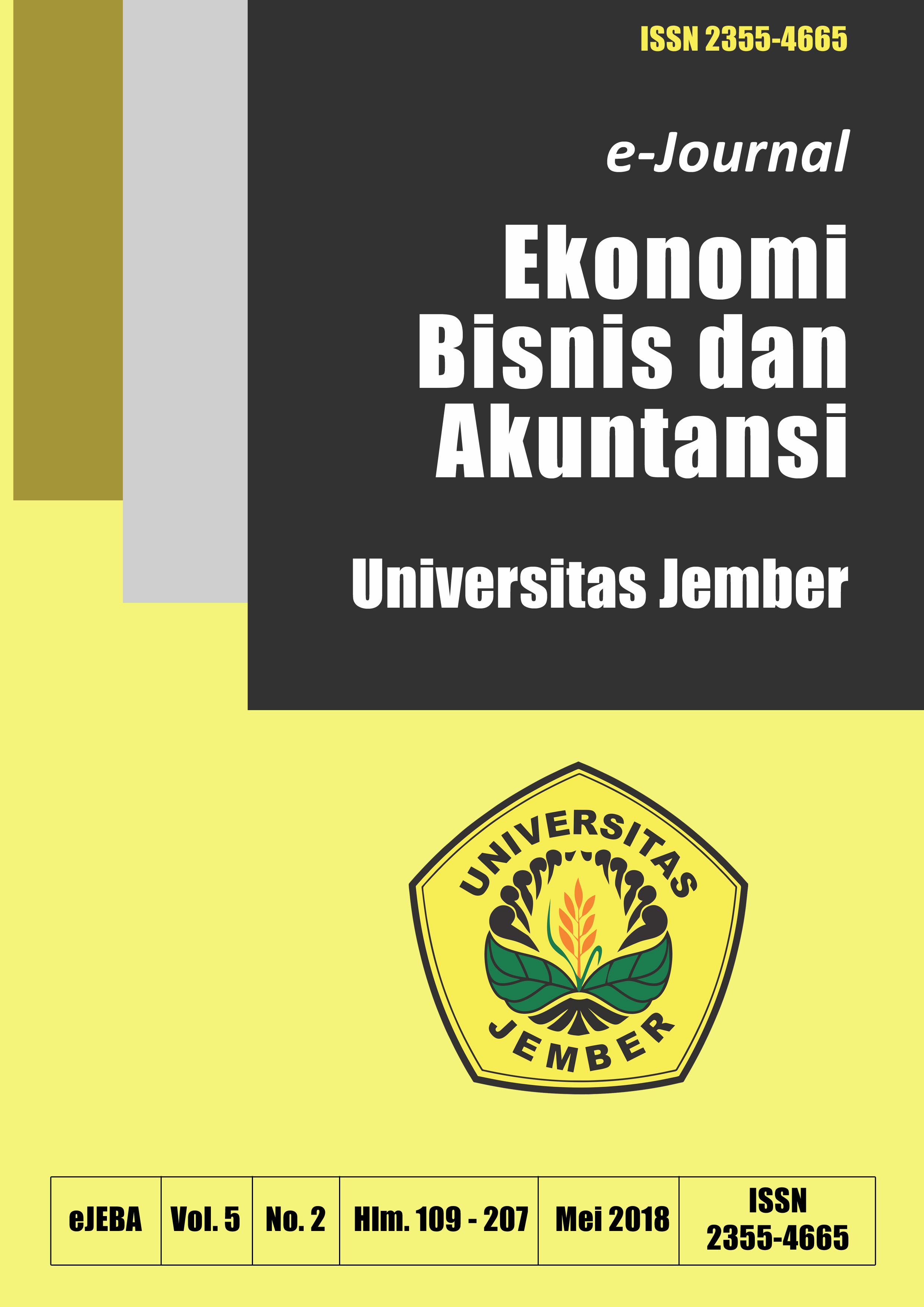 Penulis yang mengusulkan naskahnya untuk dapat diproses penerbitannya pada e-JEBA dianggap telah menyetujui beberapa hal sebagai berikut:
1. Penulis tidak dapat menarik naskah yang telah usulkan untuk diproses hingga mendapat jawaban dari Ketua Dewan Penyunting atas status naskah artikel ilmiahnya (diterima atau ditolak untuk diterbitkan).
2. Penerbit tidak bertanggung jawab terhadap kasus plagiasi atas artikel yang terbit pada e-JEBA.
3. Penerbit tidak bertanggung jawab atas data dan isi dari artikel yang diterbitkan pada e-JEBA, dan sepenuhnya merupakan tanggung jawab penulis.
4. Penulis yang artikelnya diterbitkan pada e-JEBA menyetujui lisensi berikut:

eJEBA by University of Jember is licensed under a Creative Commons Attribution-NonCommercial 4.0 International License.