Respon Awal Petani, Nelayan, dan Usaha Mikro, Terhadap Bantuan COVID-19
Crisanty Sutristyaningtyas Titik

Universitas Trunojoyo Madura

Ris Yuwono Yudo Nugroho

Universitas Trunojoyo Madura
Abstract
In general, research proposes to assess the Covid-19 Response Program's implementation based on the receiver community's perceptions. A qualitative approach is used to study and interpret the meaning of an individual or group of people. Respondents were selected purposively in three districts in East Java, namely Lamongan, Bangkalan, and Gresik. The following is a brief conclusion that: (1) initial information is clear enough; thus, the process of obtaining assistance is simple, and the requirements that must be met are also pleased, (2) implementation of pandemic response assistance has been running, and social service has been running before, and (3) impact of the pandemic community income depends on the type of business, its scale, and its strategic capabilities. Initial indications that the micro-business sector is more vulnerable to the impact of the pandemic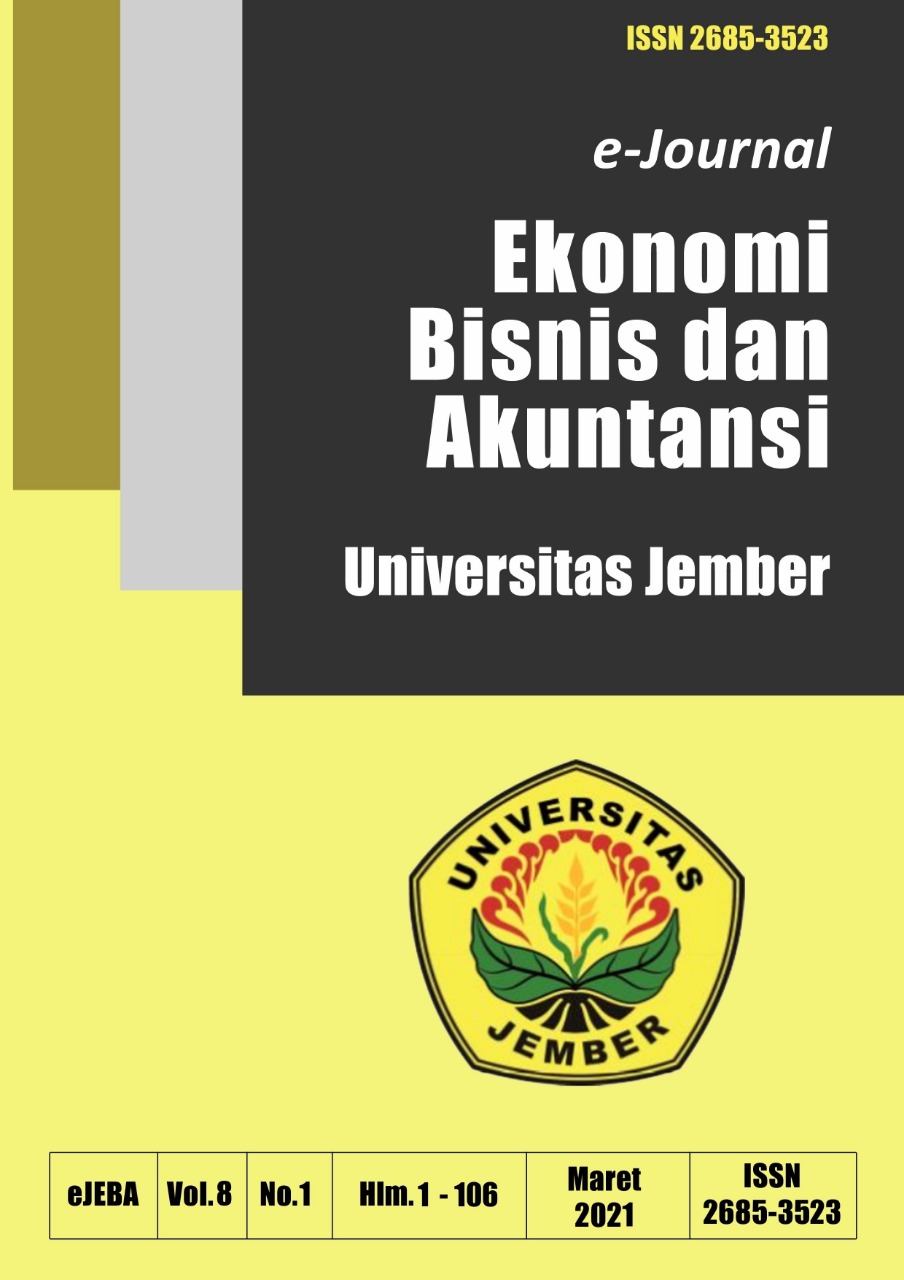 How to Cite
TITIK, Crisanty Sutristyaningtyas; NUGROHO, Ris Yuwono Yudo. Respon Awal Petani, Nelayan, dan Usaha Mikro, Terhadap Bantuan COVID-19.
e-Journal Ekonomi Bisnis dan Akuntansi
, [S.l.], v. 8, n. 1, p. 8 - 19, mar. 2021. ISSN 2685-3523. Available at: <
https://jurnal.unej.ac.id/index.php/e-JEBAUJ/article/view/21374
>. Date accessed: 19 sep. 2021. doi:
https://doi.org/10.19184/ejeba.v8i1.21374
.
Section
Ekonomi Pembangunan
The author who proposes his manuscript to be processed for publication on e-JEBA is deemed to have agreed to the following: [1]. The author cannot withdraw the manuscript that has been proposed for processing until it receives an answer from the Chief of Editor regarding the status of the scientific article manuscript (accepted or rejected for publication). [2]. The publisher is not responsible for plagiarism cases for articles published on e-JEBA. [3]. The publisher is not responsible for the data and content of the articles published on e-JEBA, and is entirely the responsibility of the author. [4]. Authors whose articles are published on e-JEBA agree to the following licenses:

eJEBA by University of Jember is licensed under a Creative Commons Attribution-NonCommercial 4.0 International License.