Kemudahan Penggunaan dan Harga Terhadap Minat Beli Online Konsumen
Hapsawati Taan

Universitas Negeri Gorontalo, Indonesia
Abstract
Tujuan penelitian ini adalah untuk mengetahui pengaruh kemudahan penggunaan dan harga terhadap minat beli konsumen pada situs belanja online Shopee. Pendekatan jenis kuantitatif deskriptif. Populasi yang digunakan adalah orang yang pernah melakukan pembelian online pada toko online Shopee. Populasi infinity, jumlah sampel yang digunakan sebanyak 83 responden. Unit analisis adalah Mahasiswa Fakultas Ekonomi Universitas Negeri Gorontalo. Penarikan sampel metode non probability sampling dengan cara accidental sampling. Hasil penelitian menunjukkan bahwa kemudahan penggunaan berpengaruh positif dan signifikan terhadap minat beli online konsumen. Harga berpengaruh positif dan signifikan terhadap minat beli.Kemudahan penggunaan dan  harga berpengaruh secara simultan terhadap minat beli. Pengaruh yang paling dominan adalah variabel harga. Hasil ini berimplikasi bagi para peneliti lain untuk melakukan penelitian dengan cakupan lebih luas dengan subtansi yang sama untuk membantu mengkaji kemudahan penggunaan dan harga dalam sistem belanja online Shopee. Implikasi lain yaitu bagi pimpinan  manajemen toko online Shopee atau pengambil kebijakan di online Shopee hendaknya mempertimbagan lebih lanjut mengenai kebijakan-kebijakan yang dapat meningkatkan minat beli online Shopee.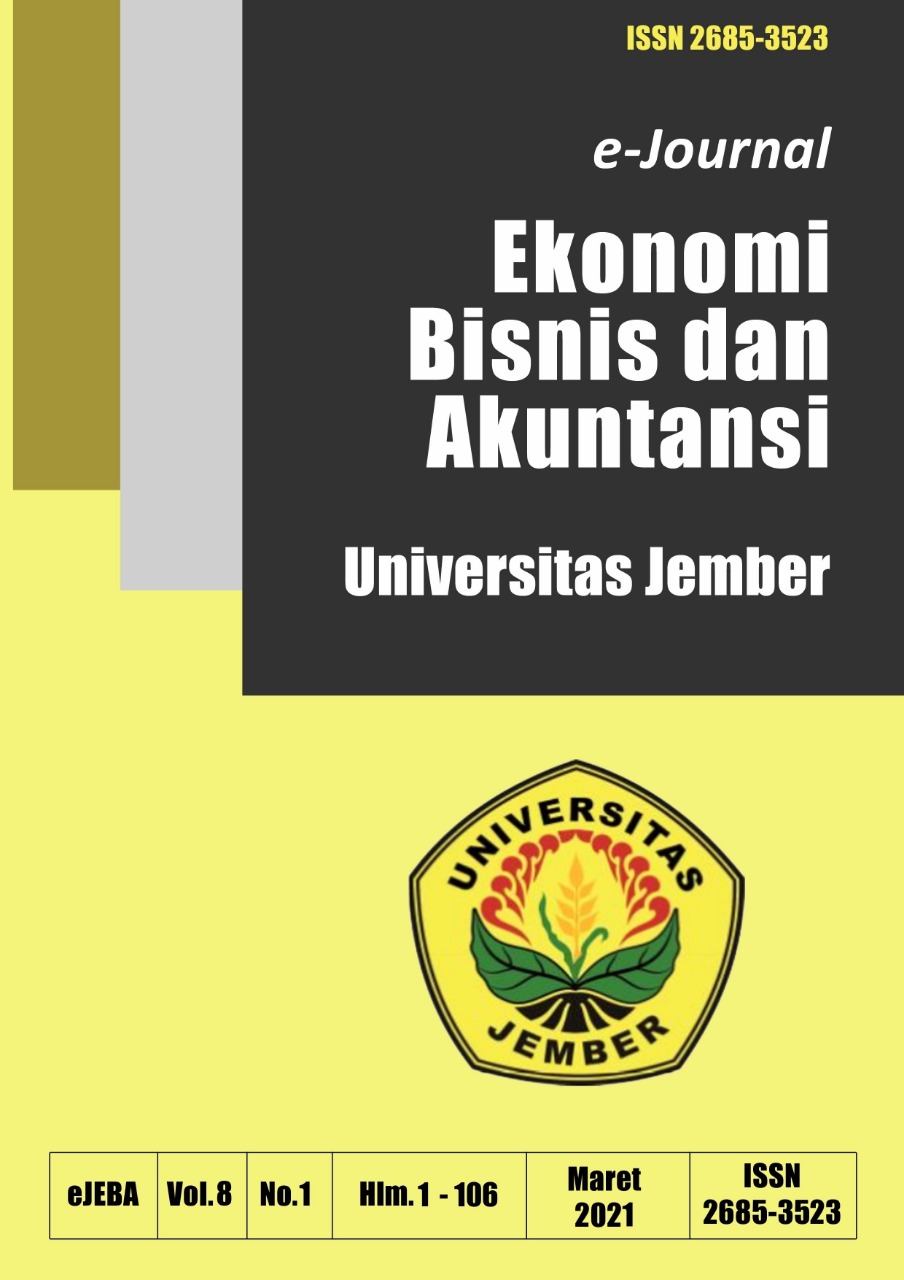 The author who proposes his manuscript to be processed for publication on e-JEBA is deemed to have agreed to the following: [1]. The author cannot withdraw the manuscript that has been proposed for processing until it receives an answer from the Chief of Editor regarding the status of the scientific article manuscript (accepted or rejected for publication). [2]. The publisher is not responsible for plagiarism cases for articles published on e-JEBA. [3]. The publisher is not responsible for the data and content of the articles published on e-JEBA, and is entirely the responsibility of the author. [4]. Authors whose articles are published on e-JEBA agree to the following licenses:

eJEBA by University of Jember is licensed under a Creative Commons Attribution-NonCommercial 4.0 International License.