Penerapan Vector Error Correction Model pada Hubungan Kurs, Inflasi dan Suku Bunga
Moh Faizin

IAIN Ponorogo, Indonesia
Abstract
Kondisi stabil dan tidaknya suatu negara tercermin dari stabilnya nilai tukar mata uang tersebut serta dengan memperhatikan tingkat laju inflasi dan suku bunga acuan. Tujuan penelitian ini menganalisis hubungan jangka pendek dan jangka panjang antara variabel kurs, inflasi dan suku bunga di Indonesia. Penelitian ini menggunakan model VECM data sekunder time series untuk periode 2011-2019. Hasil menunjukkan bahwa hubungan jangka pendek terjadi hanya pada variabel inflasi yang mempengaruhi kurs, sementara variabel yang lain tidak siknifikan. Hasil juga menunjukkan bahwa dari ketiga variabel kurs, inflasi dan suku bunga terdapat hubungan timbal balik jangka panjang.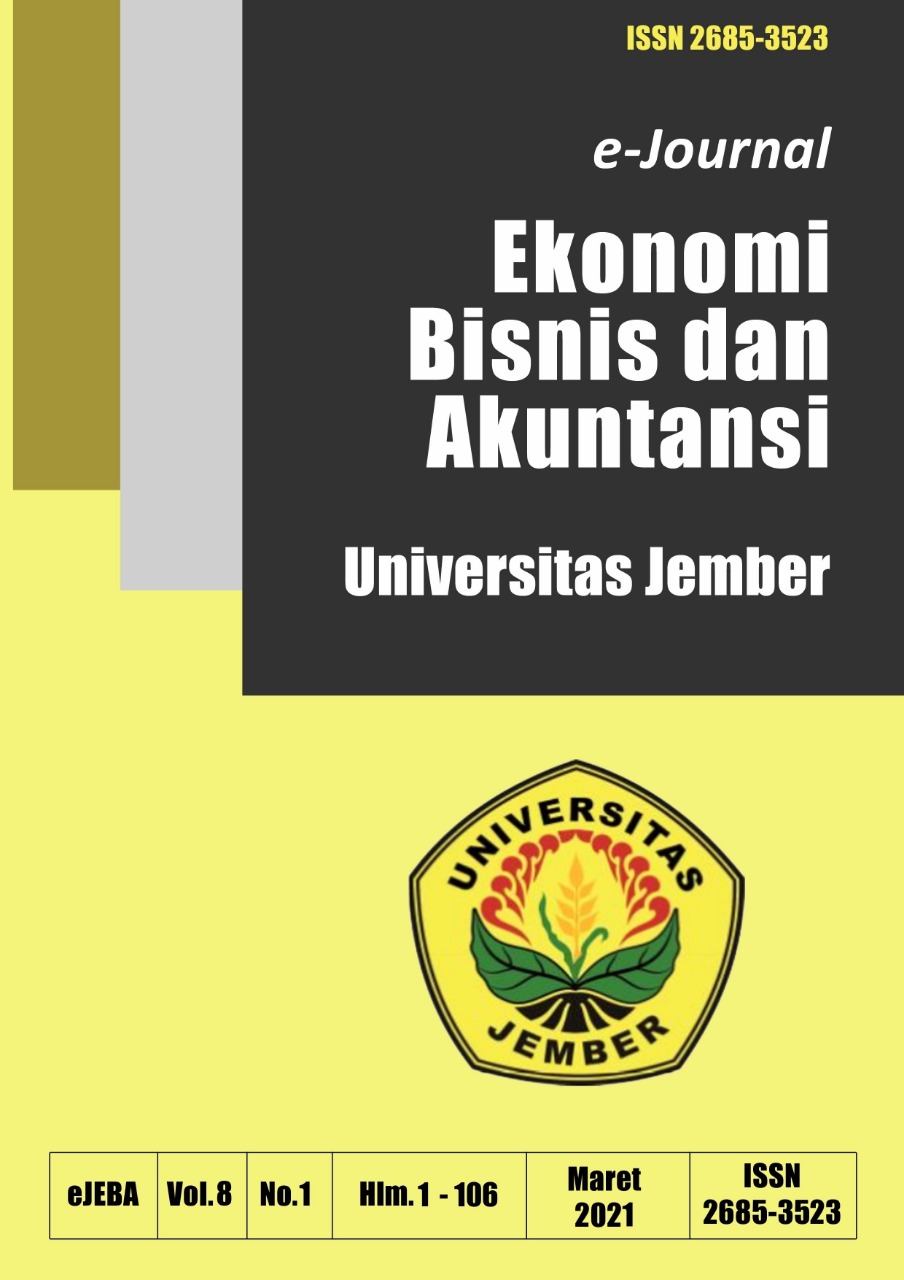 Section
Ekonomi Pembangunan
The author who proposes his manuscript to be processed for publication on e-JEBA is deemed to have agreed to the following: [1]. The author cannot withdraw the manuscript that has been proposed for processing until it receives an answer from the Chief of Editor regarding the status of the scientific article manuscript (accepted or rejected for publication). [2]. The publisher is not responsible for plagiarism cases for articles published on e-JEBA. [3]. The publisher is not responsible for the data and content of the articles published on e-JEBA, and is entirely the responsibility of the author. [4]. Authors whose articles are published on e-JEBA agree to the following licenses:

eJEBA by University of Jember is licensed under a Creative Commons Attribution-NonCommercial 4.0 International License.