Analisis Perbandingan Model Prediksi Kebangkrutan Altman Z-Score dan Zmijewski di BEI Periode 2011 - 2015
Nindya Ayu Damayanti

Jurusan Manajemen, Fakultas Ekonomi dan Bisnis, Universitas Jember (UNEJ)

N. Nurhayati

Jurusan Manajemen, Fakultas Ekonomi dan Bisnis, Universitas Jember (UNEJ)

Susanti Prasetyaningtyas

Jurusan Manajemen, Fakultas Ekonomi dan Bisnis, Universitas Jember (UNEJ)
Abstract
This study aimed to compare the use of bankruptcy prediction model Altman Z-Score and Zmijewski on delisting companies on the Stock Exchange the period 2011 - 2015. The study population is a company delisting from the Stock Exchange in the period 2011-2015. The sample consists of 7 companies using method. purposive sampling Secondary data used in the form of financial statements of companies that issued from stock for bankruptcy in the period 2011-2015. The data analysis in this research is to perform the calculation of financial ratios in each sample, according to the variables of bankruptcy prediction model were compared to the model of Altman Z-Score and Zmijewski. Furthermore, the company classifies conditions appropriate point cut-off of each model and did calculations the accuracy of each model.
Keywords: Altman Z-Score, Delisting, Bankruptcy, Zmijewski.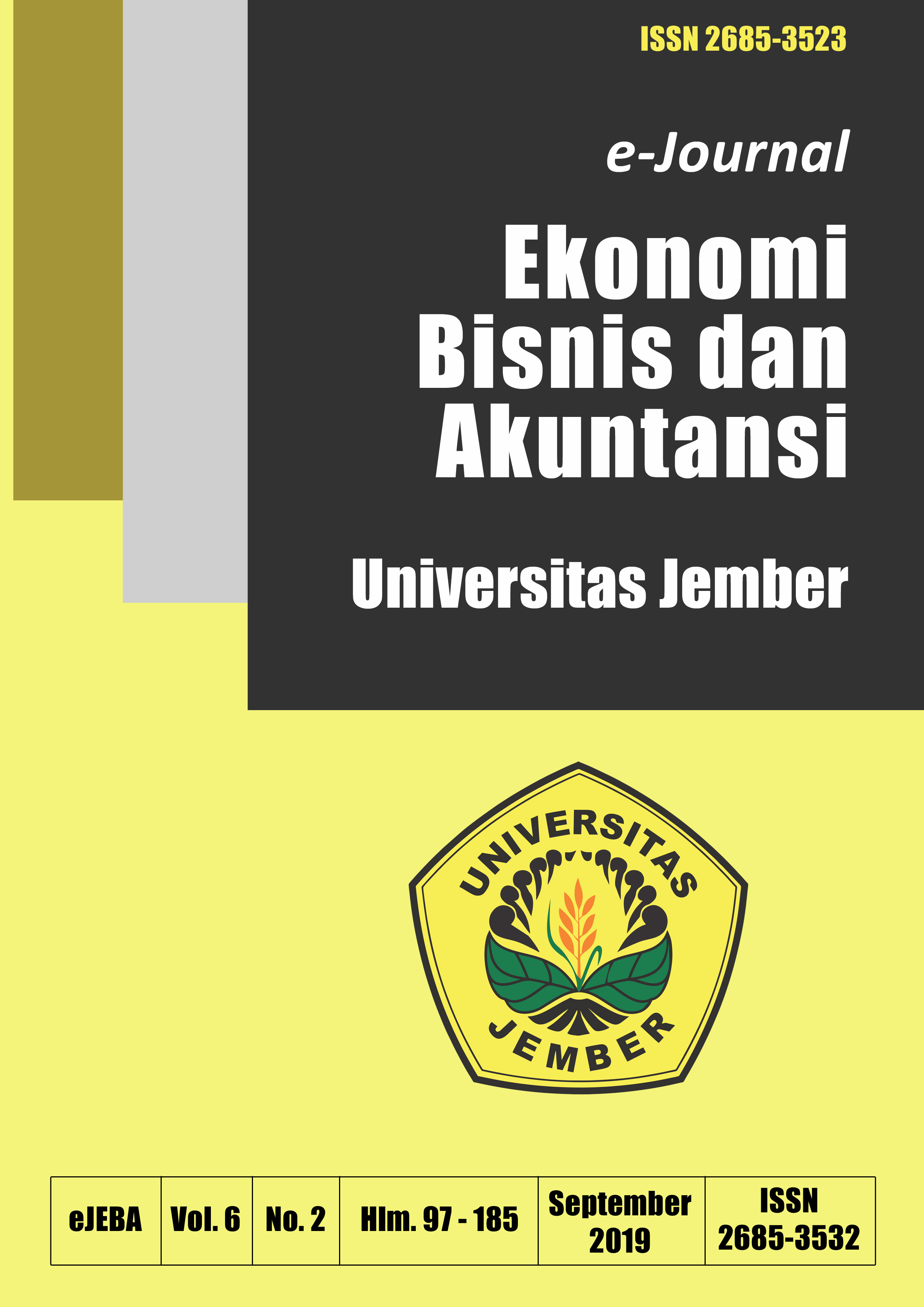 Penulis yang mengusulkan naskahnya untuk dapat diproses penerbitannya pada e-JEBA dianggap telah menyetujui beberapa hal sebagai berikut:
1. Penulis tidak dapat menarik naskah yang telah usulkan untuk diproses hingga mendapat jawaban dari Ketua Dewan Penyunting atas status naskah artikel ilmiahnya (diterima atau ditolak untuk diterbitkan).
2. Penerbit tidak bertanggung jawab terhadap kasus plagiasi atas artikel yang terbit pada e-JEBA.
3. Penerbit tidak bertanggung jawab atas data dan isi dari artikel yang diterbitkan pada e-JEBA, dan sepenuhnya merupakan tanggung jawab penulis.
4. Penulis yang artikelnya diterbitkan pada e-JEBA menyetujui lisensi berikut:

eJEBA by University of Jember is licensed under a Creative Commons Attribution-NonCommercial 4.0 International License.