Analisis Perbedaan Abnormal Return dan Trading Volume Activity Pada Sekitar Cum Dividend Date
Tias Marganing Sih

Jurusan Manajemen, Fakultas Ekonomi dan Bisnis, Universitas Jember (UNEJ)

Tatang Ary Gumanti

Jurusan Manajemen, Fakultas Ekonomi dan Bisnis, Universitas Jember (UNEJ)

Hadi Paramu

Jurusan Manajemen, Fakultas Ekonomi dan Bisnis, Universitas Jember (UNEJ)
Abstract
The purpose of this research is to analyze the difference of Abnormal Return and Trading Volume Activity in each sector of shares around cum dividend date. The population in this study are all companies listed on the Indonesia Stock Exchange (IDX), the sampling is done by purpusive sampling method and obtained 156 samples. The method of analysis used in this study is by Kruskal-Wallis test. The results showed that there was no difference of Abnormal Return on stock sectors on cum dividend date. This research also shows that there is no difference of Trading Volume Activity before before cum dividend date, ex-dividend date and after ex-dividend date. It shows that the cum dividend date event has not become a consideration for investors to invest.
Keywords: Abnormal Return, Cum Dividend Date, Dividend, Trading Volume Activity.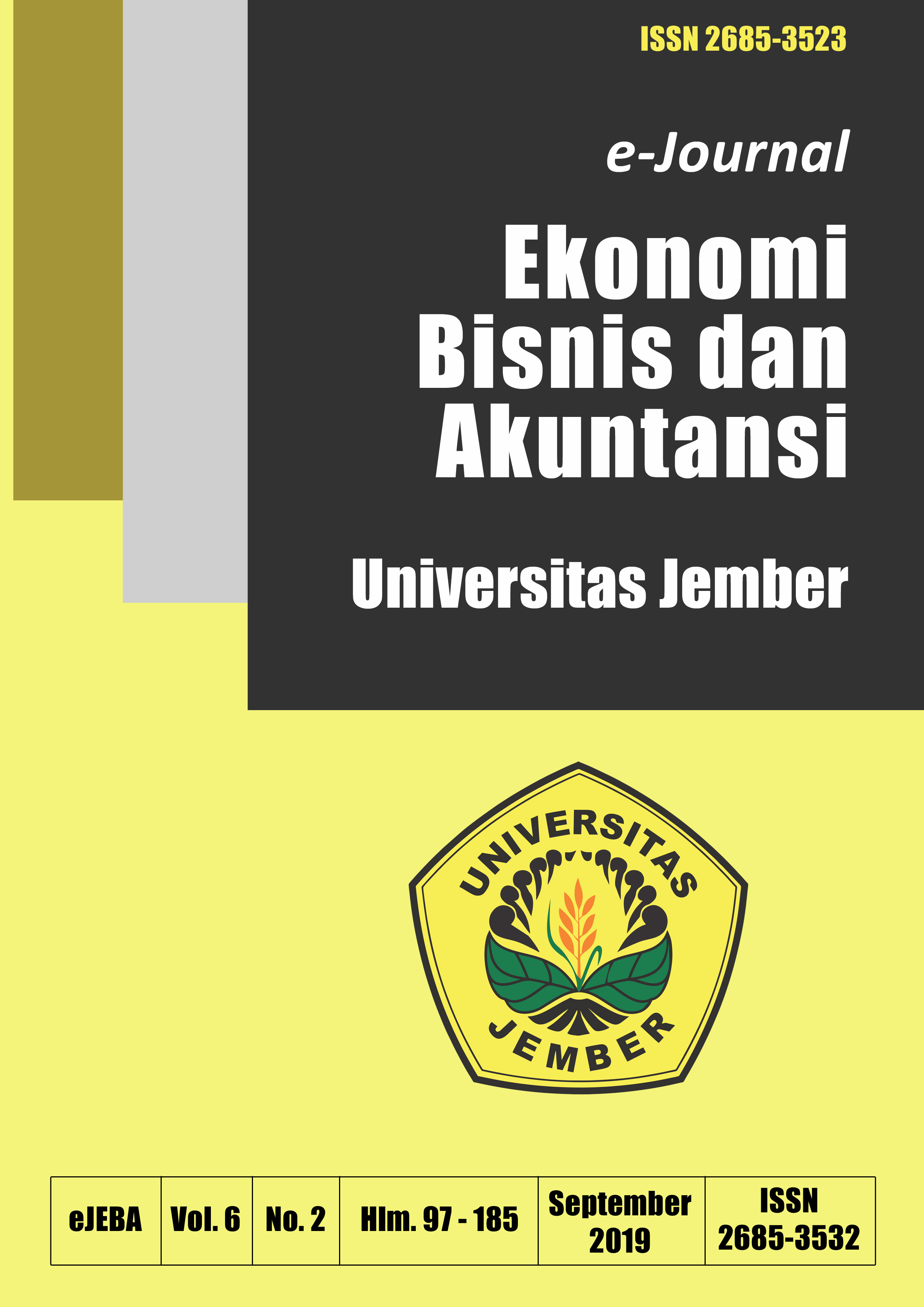 Author yang mengusulkan naskahnya untuk dapat diproses penerbitannya pada e-JEBA dianggap telah menyetujui beberapa hal sebagai berikut:
1. Penulis tidak dapat menarik naskah yang telah usulkan untuk diproses hingga mendapat jawaban dari Ketua Dewan Penyunting atas status naskah artikel ilmiahnya (diterima atau ditolak untuk diterbitkan).
2. Penerbit tidak bertanggung jawab terhadap kasus plagiasi atas artikel yang terbit pada e-JEBA.
3. Penerbit tidak bertanggung jawab atas data dan isi dari artikel yang diterbitkan pada e-JEBA, dan sepenuhnya merupakan tanggung jawab penulis.
4. Penulis yang artikelnya diterbitkan pada e-JEBA menyetujui lisensi berikut:

eJEBA by University of Jember is licensed under a Creative Commons Attribution-NonCommercial 4.0 International License.