Peningkatan Nilai Ekonomi Kulit Buah Kopi Robusta (Coffea canephora) Melalui Produksi Teh Celup Cascara Sebagai Minuman Fungsional Kaya Antioksidan
Syubbanul - Wathon

University of Jember
Abstract
Abstrak
Kelompok petani kopi robusta di Desa Sukorejo, Kecamatan Sumber Wringin, Kabupaten Bondowoso merupakan petani kopi yang aktif dan produktif. Permasalahan utama dalam pengolahan buah kopi adalah penanganan limbah padat kulit buah kopi secara tepat. Oleh karena itu, diperlukan sentuhan teknologi pengolahan dan diversifikasi yang inovatif agar limbah kulit buah kopi menjadi berkualitas tinggi dan dapat memberi nilai tambah ekonomis. Salah satu inovasi pengolahan kulit buah kopi menjadi Cascara yaitu produk minuman seduhan kulit kering buah kopi. Usaha produksi Cascara yang dilakukan mitra masih menghadapi kendala, yaitu belum dilakukannya teknik sortasi kulit buah kopi, teknik pengeringan kulit buah kopi yang belum efektif dan efesien, produk seduhan kulit kering buah kopi dinilai belum praktis dan kurang menarik konsumen. Berbagai kendala tersebut perlu diselesaikan dengan pengetahuan dan penerapan teknologi sederhana untuk meningkatkan nilai ekonomis kulit buah kopi. Secara umum, capaian kegiatan program pengabdian kemitraan ini meliputi sosialisasi program, workshop produk pangan fungsional, pelatihan teknik sortasi kulit buah kopi, pengadaan mesin (oven, grinder dan mesin press), pelatihan dan pendampingan teknik penggerusan kulit buah kopi, pengemasan serbuk kulit buah kopi menjadi sediaan teh celup. Peningkatan nilai ekonomi kulit buah kopi robusta melalui produksi teh celup Cascara diharapkan dapat meningkatkan penghasilan petani kopi sekaligus dapat meningkatkan skala produksinya sehingga dapat membuka peluang usaha mandiri. Keberhasilan Program Pengabdian Kemitraan ini akan menjadikan mitra di Desa Sukorejo sebagai model percontohan untuk mengembangkan produk inovasi bernilai ekonomi tinggi.
Kata Kunci: kopi, robusta, cascara, inovasi, teh celup .
Abstract
Robusta coffee farmer groups in Sukorejo Village, Sumber Wringin Subdistrict, Bondowoso Regency is an active and productive coffee farmer. One of the main problems in coffee cherries processing is to handle solid waste (coffee pulp) properly. Therefore, innovative processing and diversification technology are needed, so that coffee pulp waste becomes high quality and gives more added value. One of the innovations in processing coffee pulp into Cascara is a beverage product that is made from dried coffee pulp. Cascara's production by farmers still face obstacles, such as didn't coffee pulp sorting techniques, the drying technique of coffee pulp has not been effective and efficient, the steaming products of dried coffee pulp are considered not practice and less attractive to consumers. These obstacles need to be resolved with the knowledge and application of simple technology to increase the economic value of coffee pulp. In general, the achievements of the community service program included socialization, procurement of machines (oven, grinder and press machine), workshops, training and mentoring on coffee pulp sortation, coffee pulp grinding, packaging of coffee pulp powder into a teabag. Increasing the economic value of Robusta coffee peel through Cascara teabag production is expected to increase the income of coffee farmers while increasing the scale of production so that they can open business opportunities. The success of these community service programs will make farmers in Sukorejo Village a pilot model to develop high-value economic innovation products.
Keywords: coffee, robusta, cascara, innovation, teabag.
References
Adawiyah, Sukandar D, Muawanah A. "Aktivitas Antioksidan dan Kandungan Komponen Bioaktif Sari Buah Namnam" (2015) 1:2 Jurnal Kimia Valensi 130 – 136.
(http://journal.uinjkt.ac.id/index.php/valensi/article/view/3155)

Anurogo, D. & Ikrar, T. "The neuroscience of glutamate" (2014) 5:120 Medical Journal of Indonesia 55‒61.
(https://www.researchgate.net/publication/261170791_The_Neuroscience_of_Glutamate)

Aziz, A., Izzati, M., Hayanti, S. "Aktivitas Antioksidan dan Nilai Gizi Dari Millet Sebagai Bahan Pangan Fungsional Indonesia" (2015) 4:1 Jurnal Biologi 45-61.
(https://ejournal3.undip.ac.id/index.php/biologi/article/view/19400/0)

Ferry, Y. "Prospek pengembangan kayu manis (Cinnamomum burmanii L) Di Indonesia" (2013) 1:1 SIRINOV 11 – 20.
(http://balittri.litbang.pertanian.go.id/index.php/publikasi/category/60-sirinov-vol-1-no1?download=151%3Asirinov-vol1-no1-02)

Khaira, K. "Menangkal Radikal Bebas dengan Anti-Oksidan" (2010) 2:2 Jurnal Saintek 183-187.
(https://media.neliti.com/media/publications/129475-ID-menangkal-radikal-bebas-dengan-anti-oksi.pdf)

Junipranto, S. & Salman. "Analisis Permintaan Konsumen Terhadap Sayuran Organik Di Pasar Modern Kota Pekanbaru" (2014) 1 Jurnal Dinamika Pertanian 79 – 86.
(http://journal.uir.ac.id/index.php/dinamikapertanian/article/view/862)

Marcelinda, A., Ridhay, A., Primaswiryanti. "Aktivitas Aktioksidan Ekstrak Limbah Kulit Ari Biji Kopi (Coffea sp.) Berdasarkan Tingkat Kepolaran Pelarut" (2016) 5:1 Jurnal of Natural Sciences 21 – 30.
(http://jurnal.untad.ac.id/jurnal/index.php/ejurnalfmipa/article/view/5547)

Novidahlia, N., Mardiah, Mashudi. "Minuman Rosella (Hibiscus sabdariffa L.) Berkarbonasi Ready to Drink Sebagai Minuman Fungsional Yang Kaya Antioksidan" (2014) 3:2 Jurnal Pertanian 64 – 77.
(https://ojs.unida.ac.id/index.php/jp/article/download/598/pdf)

Suarni. "Potensi sorgum sebagai bahan pangan fungsional" (2012) 7:1 Iptek Tanaman Pangan 58 – 68.
(http://ejurnal.litbang.pertanian.go.id/index.php/ippan/article/viewFile/2577/2217)

Sunarni, T. "Aktivitas antioksidan penangkap radikal bebas beberapa kecambah dari biji tanaman familia papilionaceae" (2005) 2:2 Jurnal Farmasi Indonesia 53-61.
(https://snkpk.fkip.uns.ac.id/wp-content/uploads/2015/11/putri-kharisma.pdf)

Winarti, C. dan Nurdjanah, N. "Peluang Tanaman Rempah dan Obat Sebagai Sumber Pangan Fungsional" (2005) 24:2 Jurnal Litbang Pertanian 47 – 55.
(https://www.academia.edu/3145844/Peluang_tanaman_rempah_dan_obat_sebagai_sumber_pangan_fungsional)

Zulkarnain, Lamusa, A. Dan Tangkesalu, D. "Analisis nilai tambah kopi jahe pada industri sal-han di kota palu" (2013) 1:5 E-J Agrotekbis 493 – 499.
(https://media.neliti.com/media/publications/246221-analisis-nilai-tambah-kopi-jahe-pada-ind-9f03ca75.pdf)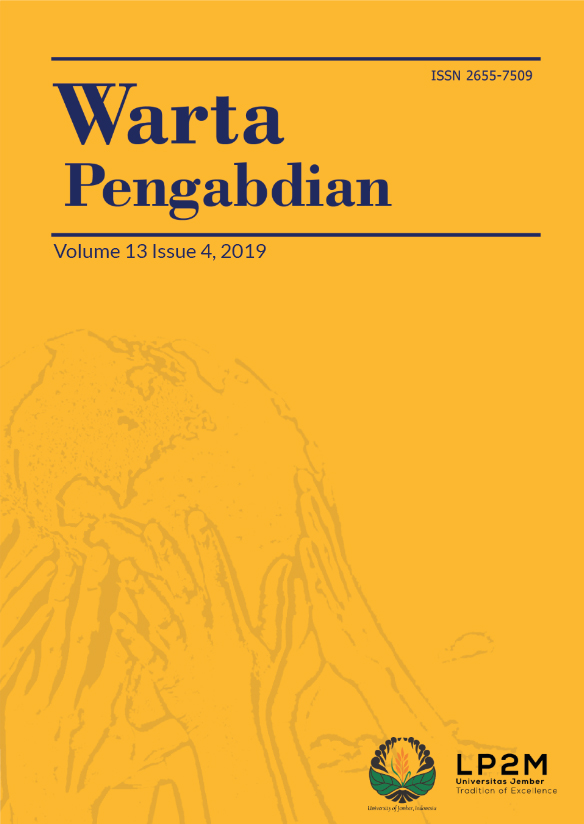 This work is licensed under a Creative Commons Attribution-NonCommercial-NoDerivatives 4.0 International License.