PENGARUH ELEKTRODA TEMBAGA PADA DC THERMAL PLASMA DAN VARIASI WAKTU PROSES TERHADAP LAJU PRODUKSI ALUMINA
Novi Nur Hamimah

Teknik Mesin Fakultas Teknik Universitas Jember

Imam Sholahuddin

Teknik Mesin Fakultas Teknik Universitas Jember

Salahuddin Junus

Teknik Mesin Fakultas Teknik Universitas Jember

Santoso Mulyadi

Teknik Mesin Fakultas Teknik Universitas Jember

Agung Budi Cahyono

Teknik Mesin Fakultas Teknik Universitas Jember
Abstract
Alumina is a material that is currently being developed because it has many benefits in the field of industry. Alumina in powder form can be used as catalyst in casting process, coating or coating and composite material. The manufacture of alumina powder with DC Thermal Plasma method began to be developed by many industries. This method is more efficient and more production results. The principle of thermal plasma DC is to evaporate aluminum powder into aluminum oxide with plasma at plasma velocity in reactor tube with temperature which can reach 40000 K. Purpose of research to know the production rate of alumina powder produced. The processing time of the aluminum powder stream is used as a variation to support the achievement of an appropriate production rate. The use of copper electrodes in plasma torch can increase the purity of alumina powder with 96% content, in addition to the use of copper electrodes more durable, easy to obtain and economical. Time variations used were 10, 20, 30 and 40 second seconds oxygen rate rate 55 scfh and flow powder 10 scfh. The results showed that the average variation of 10 seconds was able to produce an average alumina powder of 0.446 gram with a production rate of 0.115 grams / second seconds. The time variation of 40 seconds was able to produce an average alumina powder of 1.776 grams with a production rate of 0.44 grams / sec . From the research results it can be concluded that the higher variation of process time can increase the production rate of alumina powder and the use of copper electrode can save the electrode usage significantly so that the production rate also increase.
Keywords: DC Thermal Plasma, alumina, time process, production rate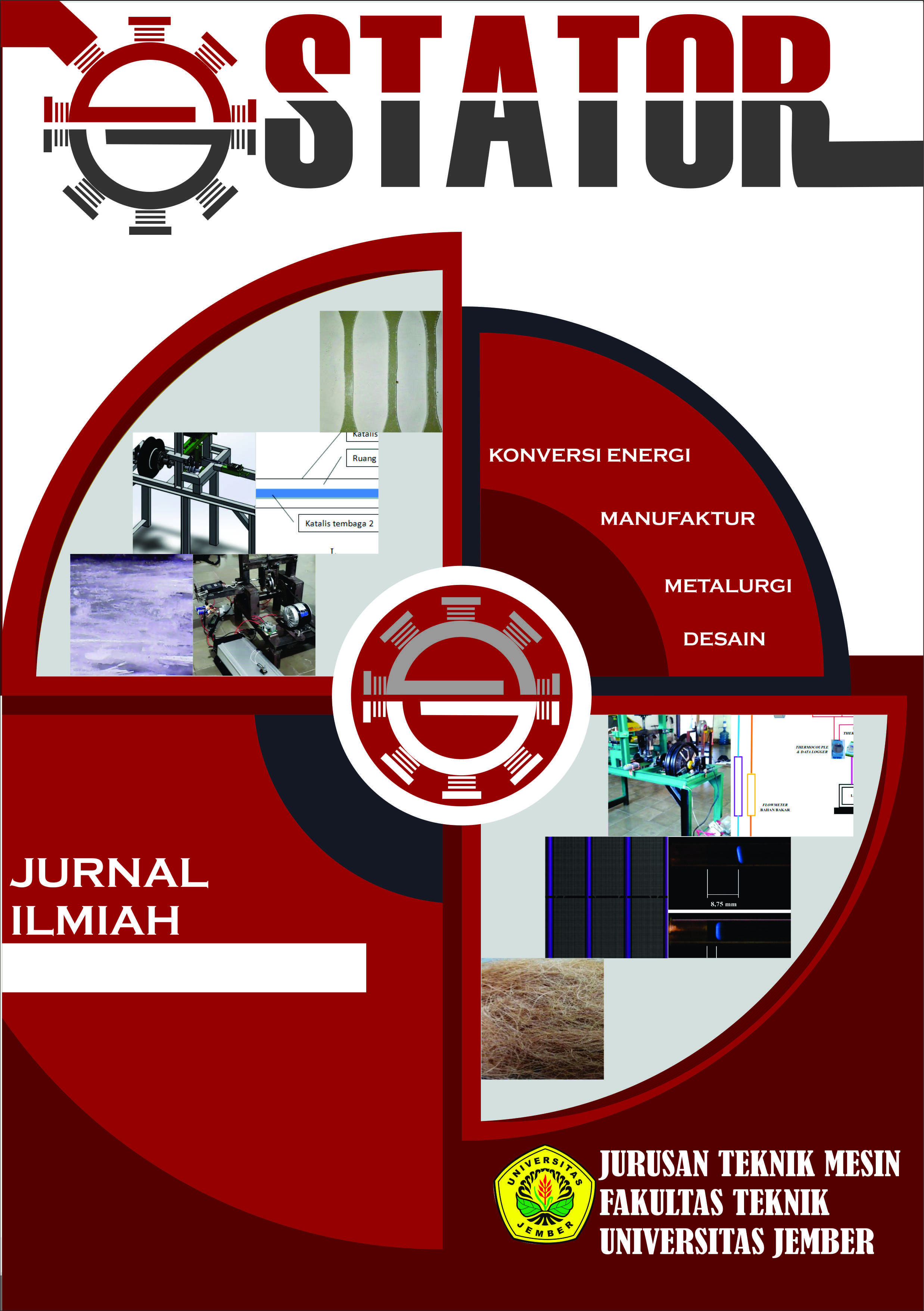 How to Cite
HAMIMAH, Novi Nur et al. PENGARUH ELEKTRODA TEMBAGA PADA DC THERMAL PLASMA DAN VARIASI WAKTU PROSES TERHADAP LAJU PRODUKSI ALUMINA.
STATOR: Jurnal Ilmiah Mahasiswa Teknik Mesin
, [S.l.], v. 1, n. 1, p. 104-106, jan. 2018. Available at: <
https://jurnal.unej.ac.id/index.php/STATOR/article/view/7503
>. Date accessed: 24 july 2021.