PENGARUH WAKTU TEMPA DAN TEKANAN TEMPA TERHADAP SIFAT MEKANIK AISI 1045 PADA PROSES FRICTION WELDING
Khairul Anam

Teknik Mesin Fakultas Teknik Universitas Jember

Ahmad Syuhri

Teknik Mesin Fakultas Teknik Universitas Jember

Hary Sutjahjono

Teknik Mesin Fakultas Teknik Universitas Jember
Abstract
Friction welding can be used for solid-shaped workpieces that can not be done by SMAW welding method and gas welding. To know the influence of forging time and forging pressure on the mechanical properties of AISI 1045 in the process of friction welding, then tested that is tensile test and hardness with a parameter of forging time 40,80, and 120 second with forging pressure 50,55, and 60 MPa. And to find the influence or not on both variables, this research method using hypothesis test and analysis of variance. The result of the highest tensile test was obtained at forging time 120 seconds with the pressure of 60 MPa is 690,93 N/mm2. And the lowest average tensile test value is obtained at forging time 40 second with 50 MPa forging pressure of 501.93 N/mm2. For the highest hardness test value obtained 233 bhn on forging time parameter of 120 seconds with pressure forging 60 MPa, and The lowest average value test violence obtained 209 bhn on the parameter forging time 40 seconds with forging pressure 50 mpa. The longer time given, will give the opportunity of forging pressure to compress the surface of the workpiece is welded so that it can form a good bond so that it can strengthen the results of friction welding.
Keywords: friction welding, forging time, forging pressure, tensile strength, hardness.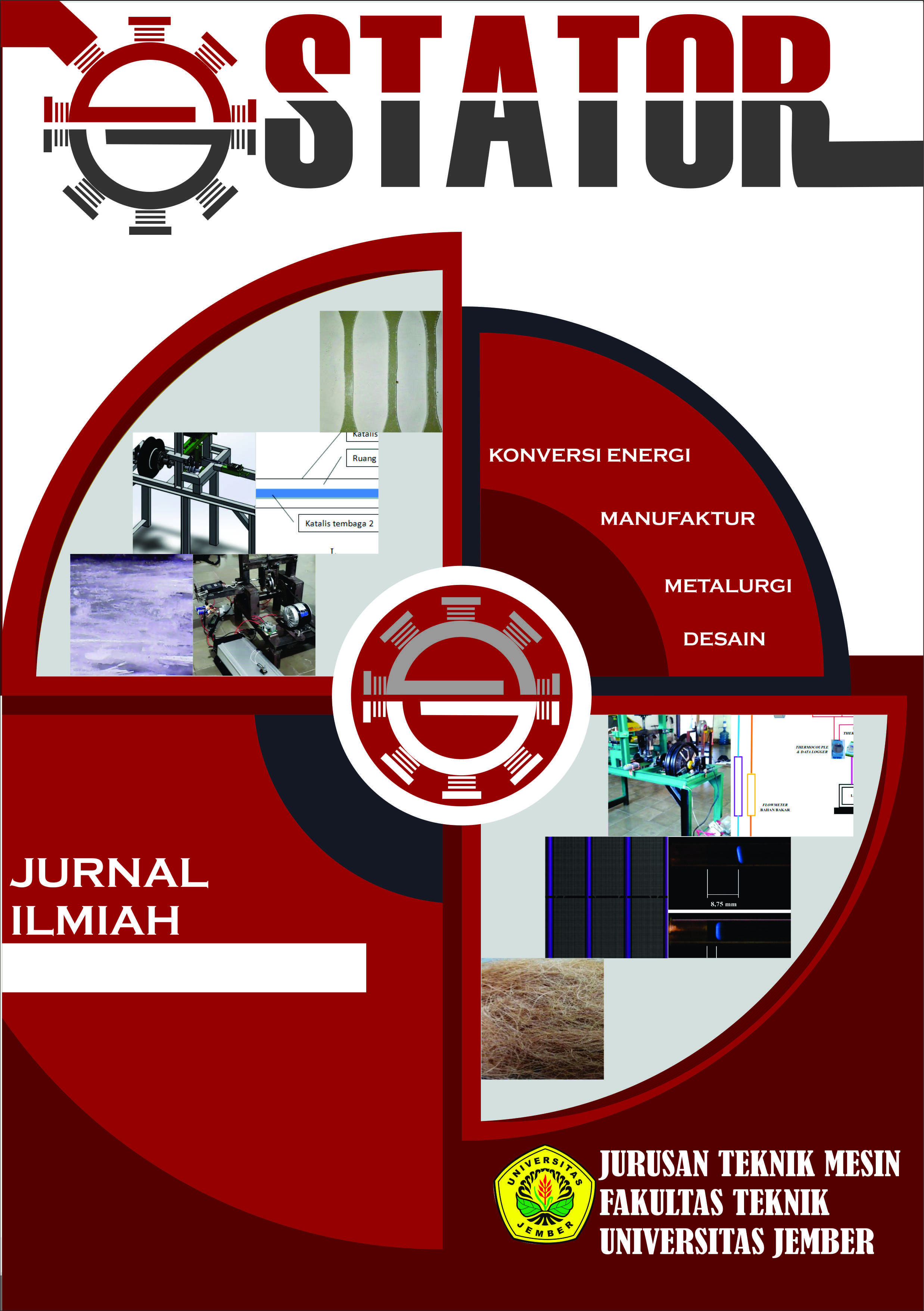 How to Cite
ANAM, Khairul; SYUHRI, Ahmad; SUTJAHJONO, Hary. PENGARUH WAKTU TEMPA DAN TEKANAN TEMPA TERHADAP SIFAT MEKANIK AISI 1045 PADA PROSES FRICTION WELDING.
STATOR: Jurnal Ilmiah Mahasiswa Teknik Mesin
, [S.l.], v. 1, n. 1, p. 95-99, jan. 2018. Available at: <
https://jurnal.unej.ac.id/index.php/STATOR/article/view/7500
>. Date accessed: 03 aug. 2021.