PENGARUH PENAMBAHAN Mg DAN Sr TERHADAP KEKERASAN KOMPOSIT ADC12/nano-Al2O3 DENGAN METODE STIR CASTING
Ahmad Al Kautsar

Teknik Mesin Universitas Jember

Salahuddin Junus

Universitas Jember

M Trifiananto

Universitas Jember

Imam Sholahudin

Universitas Jember

Aris Zainul Muttaqin

Universitas Jember
Abstract
Metal matrix composites generally use Aluminum (Al) as its matrix because of its low density, high processing, and high ductility. Ductility is an important factor that must be possessed on the metal matrix composite because the amplifier used is rigid and brittle. Alumina (Al2O3) is used as a reinforcing particle in a metal matrix composite because it has good thermal stability and hardness as well as a high Young modulus. Aluminum-silicon alloys (Al-Si) are excellent alloys of good melting, which have a good surface, without brittleness, and are excellent for cast alloys. The addition of magnesium (Mg) resulted in a modified rate of silicone eutectic for Al-Si-Mg, with enhanced magnesium (Mg) levels, increased alloy tensile strength but a decreasing percent elongation value. Strontium (Sr) is a common element used to modify eutectic and Si-shaped phases of rough acicular into finer and rounded fibrous forms. A metal matrix composite with a nano-sized Al2O3 particle amplifier can be fabricated using stir casting method with the addition of Mg as a Al2O3 wetting agent. Test results of the addition of Mg, Sr, and nano-Al2O3 to the highest hardness of ADC12 / nano-Al2O3 composites were found in ADC12-8Mg-0.03Sr / 2.5nano-Al2O3 variation at 78.92 HRB.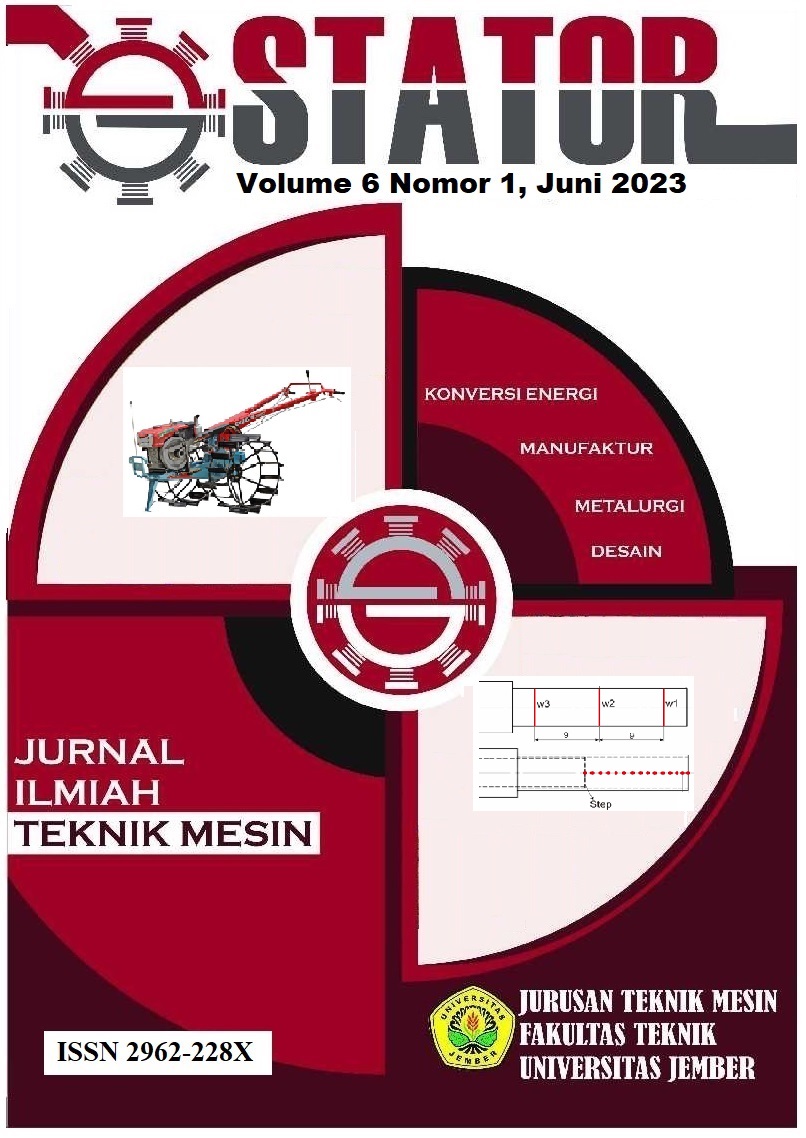 How to Cite
KAUTSAR, Ahmad Al et al. PENGARUH PENAMBAHAN Mg DAN Sr TERHADAP KEKERASAN KOMPOSIT ADC12/nano-Al2O3 DENGAN METODE STIR CASTING.
STATOR: Jurnal Ilmiah Teknik Mesin
, [S.l.], v. 6, n. 1, p. 36-38, june 2023. ISSN 2962-228X. Available at: <
https://jurnal.unej.ac.id/index.php/STATOR/article/view/6759
>. Date accessed: 05 dec. 2023.