Pangalem Tradisional dalam Masyarakat Etnik Madura di Kabupaten Jember
Maulidia Hasanah

Akhmad Sofyan

Agus Sariono
Abstract
Abstract
Pangalem is one of the oral traditions of Madurese society in the form of proverb. Pangalem is a proverb containing compliments that is uttered by a speaker when sees others' beauty of body shape, kindness of attitude, and goodness of characteristic. In Madurese society pangalem is described by using metaphors of fruits, animals, foods, dead things, and natural condition. Such metaphors are used because they see similarity of their shape, color, or attitude. Pangalem is not merely utterances without meaning, because when someone is praising other person, actually there is something implied in his or her mind. For example, when he or she sees beautiful lips, in his or her mind he will imagine to kiss the lips when he or she praises it. Such imagination drives him or her to praise someone with something near to taste sense, such as bibirra jherruk saloné 'her lips are like one segment of an orange'. Therefore, this research will explain kinds of pangalem, the forming of pangalem based on society's point of view, and Madurese society's degree of understanding toward such pangalem. I use comparative and semiotic method, because the determination of meaning is not only from the text of pangalem, but also from context of situation and culture.
Key words: Madurese society, oral tradition, pangalem, and metaphor.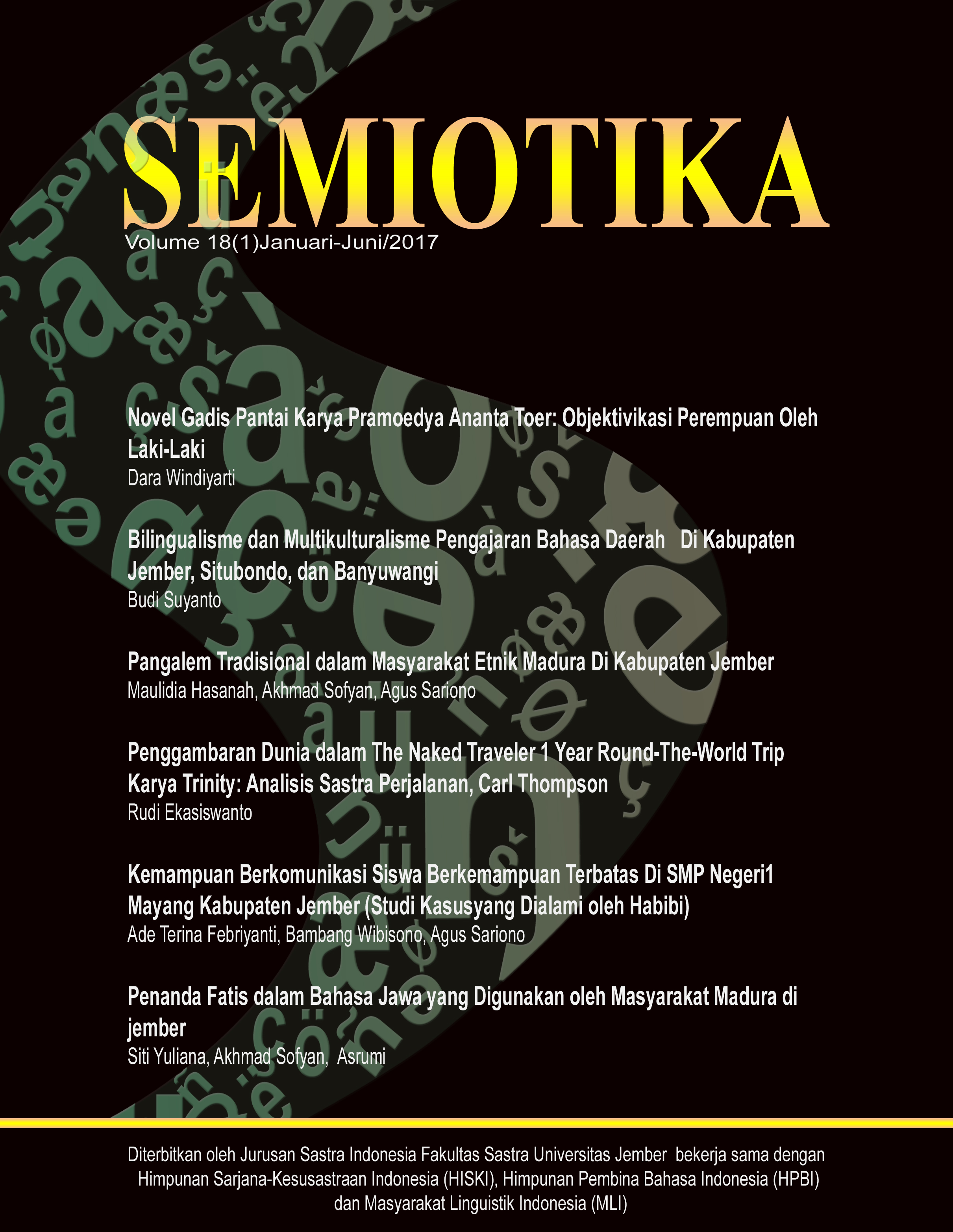 How to Cite
HASANAH, Maulidia; SOFYAN, Akhmad; SARIONO, Agus. Pangalem Tradisional dalam Masyarakat Etnik Madura di Kabupaten Jember.
SEMIOTIKA: Jurnal Ilmu Sastra dan Linguistik
, [S.l.], v. 18, n. 1, p. 29-41, aug. 2017. ISSN 2599-3429. Available at: <
https://jurnal.unej.ac.id/index.php/SEMIOTIKA/article/view/5181
>. Date accessed: 16 jan. 2019.