PENGARUH PUTARAN SPINDEL, GERAK MAKAN DAN SUDUT MATA PAHAT TERHADAP GETARAN BENDA KERJA ALUMINIUM 6061 PADA PROSES DRILLING
Agung Eko Hadiyoto

Jurusan Teknik Mesin, Fakultas Teknik, Universitas Jember

Santoso Mulyadi

Staf Pengajar Jurusan Teknik Mesin Fakultas Teknik Universitas Jember
Abstract
Chatter in drilling process due to excitation, both from within and from outside the system but the resulting chatter effect is very dependent on the excitation frequency and the elements of the cheater system itself . This study aimed to determine the effect of spindle speed, feeding rate and tool angle in consideration of aspects of chatter in drilling process. In this experimental design experiments conducted using Drill Machine Model KMR Kao Ming-700DS. Spindle speed used is 136 rpm, 368 rpm and 681 rpm. Feeding used is 0.07 mm/rotation, 0.13 mm/rotation, 0.22 mm/rotation and use a variety of tool angle is 90˚, 100˚ and 118˚. Materials used for the experiment was aluminium 6061. chatter measurement results work material drilling process using a series of chatter test equipment with a number of fully testing is testing 27. Analysis of the data used is the linear regression. From the results of the testing results of the regression equation A = 103.371* (n)0.627* (f )0.581 * (2Kr)1.112 and R-square value 81.6 %. Spindle speed parameter, feed rate and tool angle jointly effect to the chatter of work material in drilling process.
Keywords: Drilling, Chatter, Feeding, Spindle Speed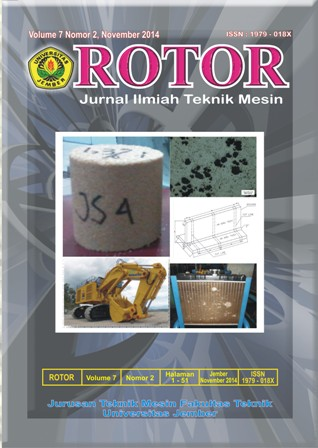 How to Cite
HADIYOTO, Agung Eko; MULYADI, Santoso. PENGARUH PUTARAN SPINDEL, GERAK MAKAN DAN SUDUT MATA PAHAT TERHADAP GETARAN BENDA KERJA ALUMINIUM 6061 PADA PROSES DRILLING.
ROTOR
, [S.l.], v. 7, n. 2, p. 35-39, nov. 2014. ISSN 2460-0385. Available at: <
https://jurnal.unej.ac.id/index.php/RTR/article/view/1613
>. Date accessed: 04 aug. 2021.