ANTI CAPITALISM THROUGH THE ADOPTION OF SOCIALIST IDEOLOGY SEEN IN JOHN STEINBECK'S THE GRAPES OF WRATH PANDANGAN ANTI KAPITALISME MELALUI ADOPSI IDEOLOGI SOSIALIS DALAM NOVEL THE GRAPES OF WRATH KARYA JOHN STEINBECK
Silviana Selyandita

Program Studi Sastra Inggris, Fakultas Sastra Universitas Jember Jln. Kalimantan 37, Jember 68121

Imam Basuki

Irana Astutiningsih
Abstract
Through The Grapes of Wrath, Steinbeck shows his idea to protest against bourgeois class. He tells about the bad conditions faced by migrant workers in California. This novel is announcing that a worldwide of proletariat's consciousness is in the process of formation for socialism. This consequence means that this novel connotatively saves the rejection of capitalism. Therefore, seen from this rejection and its involvement to portrait social conflict, this novel can be included as the part of social realism genre. To analyse this novel, Marx's theory is applied. On Marxist perspective, Steinbeck's novel is categorized as the superstructure basis. It is because this novel gives a portrait about the change of social system because of economic system called capitalism. As the part of social realism genre, however, Steinbeck applies Marx's intention about the idea of socialism. He considers that there is a need for universal kinship to overcome this mass oppression occurred by capitalist class. This universal kinship will point to class struggle where at the end of the struggle, it emerges classless society.
Keywords: Capitalism, Socialism, Universal Kinship
ABTRAK
Melalui The Grapes of Wrath, Steinbeck menunjukan kritiknya terhadap kelas borjuis. Ia menceritakan bagaimana kehidupan pekerja migran di California mendapat perlakuan begitu buruk. Karena itu, novel ini menawarkan sebuah solusi untuk mengatasi tindak-tindak opresif akibat sistem kapitalisme. Menurut Steinbeck salah satu caranya adalah dengan membentuk kesadaran kelas yang berujung pada terbentuknya sistem sosialisme. Dari sini juga, dapat diketahui bila novel ini termasuk dalam kategori novel realism social. Untuk itulah, teori Marxis digunakan untuk menyelidiki konsep-konsep sosialisme yang ditawarkan Steinbeck dalam novelnya. Ia ingin menunjukan bahwa kapitalisme dapat di atasi dengan adanya kesadaran kelas, dimana kelas proletar menyadari posisinya terhadap kelas borjuis. Kesadaran ini kemudian akan membawa sebuah rasa persaudaraan yang universal antar kelas proletar. Di titik inilah, serangan terhadap sistem kapitalisme dapat dimulai dengan memunculkan sebuah perjuangan kelas. Muara dari semua ini pada hakikatnya adalah menuju suatu masyarakat tanpa kelas.
Kata Kunci: Kapitalisme, Persaudaraan Universal, Sosialisme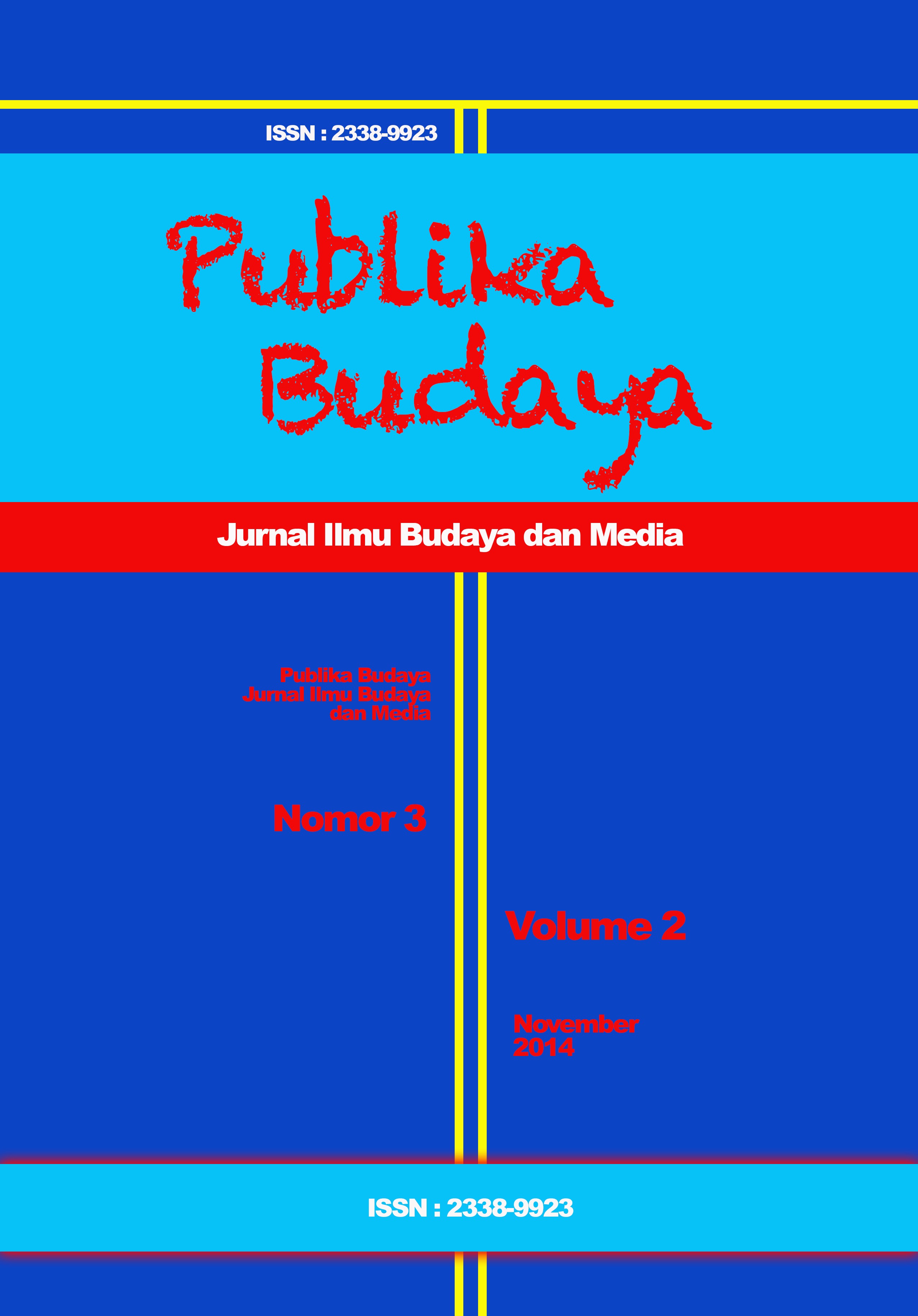 How to Cite
SELYANDITA, Silviana; BASUKI, Imam; ASTUTININGSIH, Irana. ANTI CAPITALISM THROUGH THE ADOPTION OF SOCIALIST IDEOLOGY SEEN IN JOHN STEINBECK'S THE GRAPES OF WRATH PANDANGAN ANTI KAPITALISME MELALUI ADOPSI IDEOLOGI SOSIALIS DALAM NOVEL THE GRAPES OF WRATH KARYA JOHN STEINBECK.
Publika Budaya
, [S.l.], v. 2, n. 3, p. 58-61, june 2015. ISSN 2338-9923. Available at: <
https://jurnal.unej.ac.id/index.php/PB/article/view/1529
>. Date accessed: 05 dec. 2023.
Penulis yang mengusulkan naskahnya untuk dapat diproses penerbitannya pada Pustaka Budaya dianggap telah menyetujui beberapa hal sebagai berikut:
1. Penulis tidak dapat menarik naskah yang telah usulkan untuk diproses hingga mendapat jawaban dari Ketua Dewan Penyunting atas status naskah artikel ilmiahnya (diterima atau ditolak untuk diterbitkan).
2. Penerbit tidak bertanggung jawab terhadap kasus plagiasi atas artikel yang terbit pada Pustaka Budaya.
3. Penerbit tidak bertanggung jawab atas data dan isi dari artikel yang diterbitkan pada Pustaka Budaya, dan sepenuhnya merupakan tanggung jawab penulis.
4. Penulis yang artikelnya diterbitkan pada Publika Budaya menyetujui lisensi berikut:
Publika Budaya by
University of Jember
is licensed under a
Creative Commons Attribution-NonCommercial 4.0 International License
.