Life Experience of Chronic Kidney Diseases Undergoing Hemodialysis Therapy
Pipit Festi Wiliyanarti

Universitas Muhammadiyah Surabaya

Abd Muhith

Departemen Komunitas, STIKES Majapahit
Abstract
The incident of Kidney Disease increased year by years. Hemodialysis treatment is one of supportive therapies that can be maintained in health conditions of the chronocal kidney disease patient. This therapy can not replace the fuction of the kidney, however it could manage the quality of life of the kidney disease patients. The research descriptive qualitative approach was used in this study. The research results found 5 themes about chronic kidney disease patients with hemodyalisis. Those five themes were the knowledge of hemodynamic therapy, the impact of hemodynamic therapy, patients coping during the treatment process, family support and chronic kidney disease with hemodynamic therapy.
References
Ali, Zaidin. (2010). Pengantar Keperawatan Keluarga : EGC

Brunner & Suddarth. (2005). Buku Ajar Keperawatan Medical Bedah (volume II). Jakarta : ECG.

Desita. (2010). Hubungan Dukungan Keluarga dengan Kualitas Hidup Pasien Hemodialisis di RSUP Adam Malik Medan.

Desitasari, (2014). Hubungan tingkat pengetahuan , sikap, dan dukungan keluarga terhadap kepatuhan diet pasien gagal ginjal kronik yang menjalani hemodialysis.http:lb.unri.ac.id/ojm/index.php/JOMPSIK/Article/view/3463.
Friedman, M.M, Bowden, V.R, & Jones, E.G. (2003). Family nursing: Research, theory and practice. (5th ed). New Jersey: Prentice Hall.

Friedman, M.M, Bowden, V.R, & Jones, E.G. (2010). Buku ajar keperawatan keluarga: Riset, teori, dan praktik, alih bahasa, akhir yani S. Hamid dkk ; Ed 5. Jakarta: EGC.

Friedman, Marilyn M., (2010), Keperawatan Keluarga : Teori dan Praktik, edisi 3, EGC, Jakarta.

Henserling, J. (2009). Development and Psychometric testing of Hensarling's Kidneis family support scale, a dissertation. Degree of Doctor of philosophy in the graduate School of the Texas Women University. Di akses dari www.proquest.com pada tanggal 11 April 2014.

Kartika, N.A; Bambang, S.; Sunarmi; Hubungan Dukungan Keluarga dengan tingkat depresi pada pasien yang menjalani terapi Hemodialisis Rumah sakit tantara Dr. Soedjono Magelang, Jurnal Keperawatan soedirman, Vol 12.No.2 Juli 2017. Semarang
Kemenkes, (2018). Cegah dan kendalikan Penyakit Ginjal dengan Cerdik. Jakarta. www.depkes. Go.id Diakses Maret 2018.

Lase, W.N.(2011). Analisis faktor-faktor yang mempengaruhi kualitas hidup pasien gagal ginjal kronis , yang menjalani hemodialysis di RSUP Haji Adam Malik Medan . diperoleh dari http: jurnal .usu.ac.id./index.php/jkk/article /download/641.

Lubis, A.J.(2006). Dukungan social pada pasien gagal ginjal terminal. Skripsi, htpp:// library .usu.ac.id/down loud/fk/06010311.pdf

Notoatmodjo, S.(2005). Pendidikan dan Perilaku Kesehatan. Jakarta: Rineka Cipta.

Notoatmojo, Sukidjo. 2010. Metodologi Penelitian Kesehatan. Jakarta: Rineka Cipta
Nurrsalam. (2013). Konsep dan Penerapan Metodologi Penelitian Ilmu Keperawatan, Panduan Skripsi, Tesis dan Metode Penelitian Keperawatan, Jakarta : Salemba Medika

Parker, S.(2008). Jendela iptek ilmu kedokteran, Jakarta: PT Balai Pustaka

Potter & Perry.(2009). Fundamental Keperawatan, Edisi 7. Jakarta: Salemba Medika.


Riskesdas.(2013). Laporan Nasional Badan Penelitian Dan Pengembangan Kesehatan. Departemen Kesehatan. RI.

Smeltzer, Suzanne C. (2002). Buku ajar keperawatan medikal bedah brunner & suddart. Jakarta : EGC. 2002.

Stuart & Laraia, (2005). Buku saku Keperawatan Jiwa . Jakarta . EGC

Supriyadi, Wagiyo, & Sekar Ratih Widowati. (2011). Tingkat kualitas hidup pasien gagal ginjal kronik terapi hemodialisis. Jurnal kesehatan masyarakat. Di akses dari http://journal.unnes.ac.id/index.php/kemas.

Sukriswati I. (2016). Hubungan dukungan keluarga dengan kualitas hidup pasien gagal ginjal kronik yang menjalani hemodialisis di RSUD Moerwardi Surakarta, Skripsi. Program Studi ilmu keperawatan Muhammadiyah Surakarta.
Wijaya A.S., Putri Y.M (2013). Keperawatan Medikal Medah, Jakarta: Nuha

Yuliaw, A. (2009). Hubungan Karakteristik Individu dengan Kualitas Hidup Dimensi Fisik pasien Gagal Ginjal Kronik di RS Dr. Kariadi Semarang. Diakses dari digilib.unimus.ac.id/files/disk1/106/jtpunimus-gdl-annyyuliaw-5289-2-bab2.pdf pada 2017 .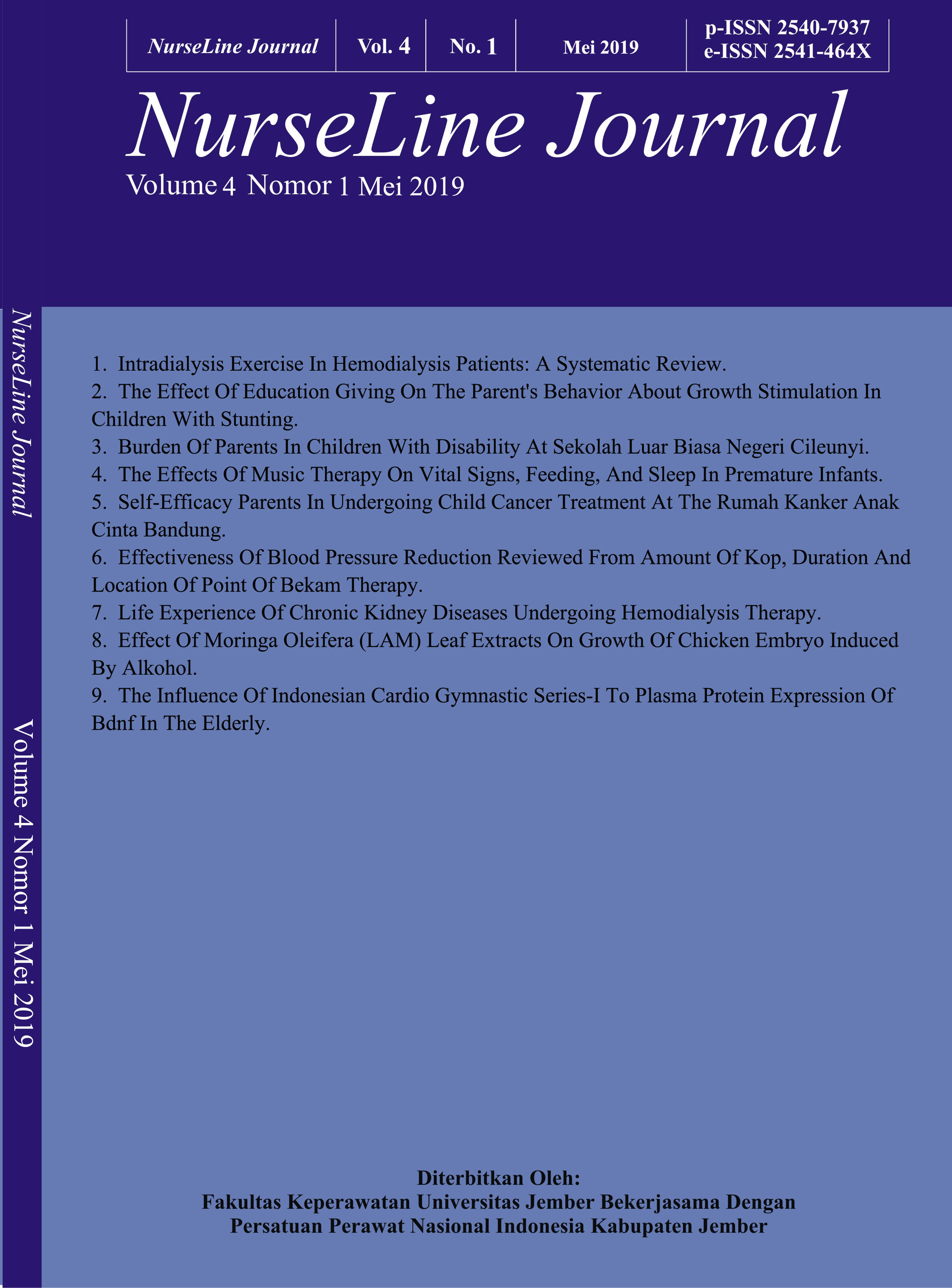 This work is licensed under a Creative Commons Attribution-ShareAlike 4.0 International License.