EFFECTIVE COUGH AND DEEP BREATH DECREASES THE COLONIZATION OF Staphylococcus aureus IN SECRET OF POST SURGERY PATIENTS WITH GENERAL AENESTHESIA IN SOEBANDI JEMBER HOSPITAL
Rondhianto Rondhianto

Program Studi Ilmu Keperawatan Universitas Jember

Dini Kurniawati

Program Studi Ilmu Keperawatan Universitas Jember

Ayu Kurnia Vidiany

Program Studi Ilmu Keperawatan Universitas Jember
Abstract
Surgery is one of procedur to cure of the disease with method cut and slice of the body. Almost surgery use general aenesthesia before the procedure began. After general anesthesia procedure, the acumulation of mucus secretion in respiratory tract have occured. The accamulatin of mucus secretion it it cause by intubation endotracheal tube procedure or effect of anesthetic agens itself. The mucus accumulation can lead improving of bacterial colonization, especially Staphylococcus aureus which was a normal flora and might become pathogenic when amount more than usual. Staphylococcus aureus were increasingly more and colonized in respiratory tract, especially in pharix, would getted into the lungs and caused pneumonia nosocomial. One of nurse efforts to protect the patient from pneumonia nosocomial is minimized the colonization of Staphylococcus aureus by implementing effective cough and deep breath. The procedure can do after surgery in post operative phase to help patient removed the excessive mucus secretions, it's mean amount of bacteria that contained in the mucus can minimized. This research is quasy experiment study. The design of the study is posttest only experimental design with non-equivalent control group design. The samples in this study were 20 respondents postoperative patients with general aenesthesia divided into 2 groups (control group and the experimental group). The intervention (effective cough and deep breath procedure) is given to the experimental group. Data were analyzed by independent t-test. The results showed that t value = 4.405 (p value = 0.000 < 0.05), that mean the procedure of effective coughing and deep breathing have effected to reduce the colonization of Staphylococcus aureus in secret of patients post surgery with general aenesthesia in Soebandi Jember Hospital and could have minimized risk of pneumonia nosocomial.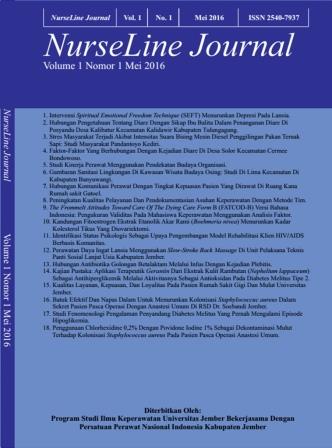 How to Cite
RONDHIANTO, Rondhianto; KURNIAWATI, Dini; VIDIANY, Ayu Kurnia. EFFECTIVE COUGH AND DEEP BREATH DECREASES THE COLONIZATION OF Staphylococcus aureus IN SECRET OF POST SURGERY PATIENTS WITH GENERAL AENESTHESIA IN SOEBANDI JEMBER HOSPITAL.
NurseLine Journal
, [S.l.], v. 1, n. 1, p. 151-158, may 2016. ISSN 2541-464X. Available at: <
https://jurnal.unej.ac.id/index.php/NLJ/article/view/3839
>. Date accessed: 09 feb. 2023.