LITERATURE REVIEW: THERAPEUTIC APPLICATION OF GERANIIN FROM RAMBUTAN (Nephelium lappaceum) PEEL EXTRACT AS ANTIHYPERGLYCEMIC THROUGH ITS ANTIOXCIDANT ACTIVITY IN TYPE 2 DIABETES MELLITUS
Desie Dwi Wisudanti

Departemen Farmakologi Fakultas Kedokteran Universitas Jember
Abstract
Diabetes mellitus is a disorder in the metabolism of carbohydrates, lipids and proteins, which is characterized by hyperglycemia. Its prevalence in the world is increasing, especially type 2 diabetes, causes an increased incidence of morbidity and mortality throughout the world due to complications of hyperglycemia. Hyperglycemia stimulates the release of superoxide (O2-) at the level of mitochondria which is the trigger early onset of oxidative stress in patients with diabetes mellitus type 2. Therefore one of the therapeutic modalities that can be developed in type 2 diabetes mellitus is a substance as potent antioxidant. Geraniin of rambutan peel extract is known to have the ability as a potent antioxidant and radical scavenging, so it is possible to be a prime candidate antidiabetes in the ype 2 diabetes melitus. We searched Cochrane Library data bases, Google Scholar, Medline and PubMed, from 2006 to 2016, to assess the effect of rambutan peel extract for type 2 diabetes melitus. We obtained 17 articles in accordance with the inclusion criteria. In the peel of rambutan (Nephelium lappaceum), geraniin is the main phenolic compounds that have the potential ability as an antioxidant and antihyperglycemic through inhibition of alfa-glucosidase and alfa-amylase, preventing the polyol (aldol reductase inhibition) and prevents the formation of advanced glicosilation products (AGEs). There is a very strong correlation between the ability as an antioxidant with the ability to inhibit alfa-glucosidase and alfa-amylase, so geraniin of rambutan peel extract (Nephelium lappaceum) expressed as the ideal candidate for the management of hyperglycemia in individuals with diabetes.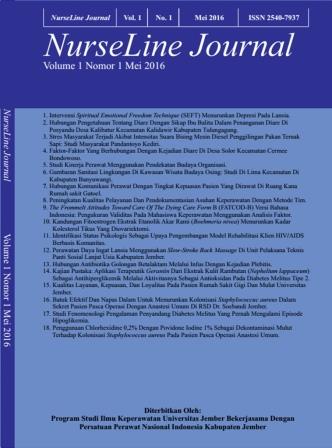 How to Cite
WISUDANTI, Desie Dwi. LITERATURE REVIEW: THERAPEUTIC APPLICATION OF GERANIIN FROM RAMBUTAN (Nephelium lappaceum) PEEL EXTRACT AS ANTIHYPERGLYCEMIC THROUGH ITS ANTIOXCIDANT ACTIVITY IN TYPE 2 DIABETES MELLITUS.
NurseLine Journal
, [S.l.], v. 1, n. 1, p. 120-138, may 2016. ISSN 2541-464X. Available at: <
https://jurnal.unej.ac.id/index.php/NLJ/article/view/3837
>. Date accessed: 20 aug. 2017.