CORRELATION BETWEEN THE INFUSION OF BETALACTAM ANTIBIOTICS AND THE OCCURRENCE OF PHLEBITIS
Mulia Hakam

Program Studi Ilmu Keperawatan Universitas Jember
Abstract
Effect of infusion is the occurrence of phlebitis, which is characterized by swelling, redness, and pain along the veins. Today, the administration of intravenous therapy (antibiotic administration) is the primary treatment modality. However, it is suggested that the occurrence of phlebitis due to infused antibiotics is more and more increasing. The aimed to identify correlation between the administration infusion of betalactam antibiotics and the occurrence phlebitis at the ward, health care board Jombang. This study used cross-sectional design. The population was all patients receiving betalactam antibiotics infusion treated at ward, health care board Jombang. Samples were recruited using consecutive sampling, with sample size of 40 respondents. The mechanism of data collection, each respondent was observed for three days, on the first day of infusion was insertion and over the next two days were observed. All collected data were analyzed with Chi square correlation test with significance level of alpha <= 0.05. The administration of betalactam antibiotic infusion has no correlation with phlebitis. The result of statistic test showed that level of alpha was 0.000, so that correlation was not confirmed. The reason is not due to the patient's condition can phlebitis neither age nor illness is not severe, procedures using aseptic technique and the insertion with immobilization technique. Although the correlation is not found, the administration of betalactam antibiotic infusion should not overlook all factors that may lead to phlebitis. To obtain a more valid result, further studies are needed with larger sample and using random sampling to have a more generalized result.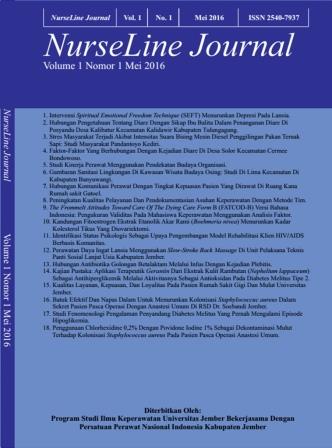 How to Cite
HAKAM, Mulia. CORRELATION BETWEEN THE INFUSION OF BETALACTAM ANTIBIOTICS AND THE OCCURRENCE OF PHLEBITIS.
NurseLine Journal
, [S.l.], v. 1, n. 1, p. 113-119, may 2016. ISSN 2541-464X. Available at: <
https://jurnal.unej.ac.id/index.php/NLJ/article/view/3836
>. Date accessed: 20 aug. 2017.