ELDERLY MEMORY CARE USE SLOW-STROKE BACK MASSAGE IN UNIT TECHNICAL IMPLEMENTING SOCIAL INSTITUTION FOR ELDERLY JEMBER
Kushariyadi Kushariyadi

Program Studi Ilmu Keperawatan Universitas Jember
Abstract
Problems concerning age-related changes in the aging process can reduce cognitive function (memory) in the elderly because the elderly are increasingly expected age memory function can be maintained properly so that the function and quality of life of the elderly as a complex and unique individuals to function and prosper. Problems in UPT PSLU Jember impairment of cognitive function (memory) in the elderly such as difficulty remembering the time, day, date, month, year, address, place, thing, difficulty recalling events that had just occurred. Trouble remembering the time or hour when asked about what time it is. Trouble remembering what day it is, it's hard to remember his own home address, difficulty remembering things. It is hard to recall events that had just experienced. Elderly expressed concerns about memory loss experienced and perceived long ago. Until now, treatment of memory loss in the elderly in PSLU UPT Jember using slow-stroke back massage still not been granted. Type of quasi-experimental research design with one group pre-post test design treatment aimed to compare the treatment groups prior to the intervention by the slow-stroke back massage with after a given intervention. Sampling techniques using simple random sampling of the elderly in PSLU UPT Jember as many as 10 respondents in April 2016. The results of the analysis Wilcoxon signed rank test values obtained cognitive function (memory): orientation p = 0,004, p= 0.157 registration, attention and calculation p = 0.214, p = 0.038 recall, language p= 0.014. Overall value of cognitive function (memory) p = 0.005 for the value of p<0.05, we conclude there is no difference in cognitive function (memory) of elderly significantly between before and after administration of slow-stroke back massage.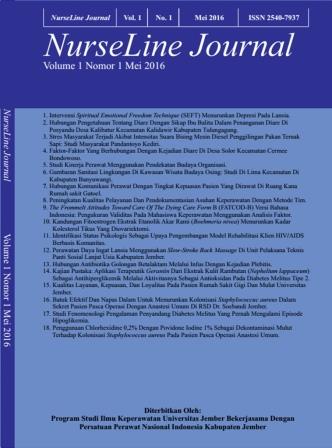 How to Cite
KUSHARIYADI, Kushariyadi. ELDERLY MEMORY CARE USE SLOW-STROKE BACK MASSAGE IN UNIT TECHNICAL IMPLEMENTING SOCIAL INSTITUTION FOR ELDERLY JEMBER.
NurseLine Journal
, [S.l.], v. 1, n. 1, p. 100-112, may 2016. ISSN 2541-464X. Available at: <
https://jurnal.unej.ac.id/index.php/NLJ/article/view/3835
>. Date accessed: 20 aug. 2017.