PHYTOESTEROGEN COMPONENT OF ETHANOLIC ROOT EXTRACT OF FLAXSEED (Boehmeria nivea) DECREASES CHOLESTEROL SERUM LEVEL ON OVARIECTOMIZED RATS
Ika Rahmawati Sutejo

Fakultas Kedokteran Universitas Jember

Hazmi Dwinanda Nurqistan

Fakultas Kedokteran Universitas Jember

Imama Rasyada

Fakultas Kedokteran Universitas Jember

Ni Nyoman Yuniasih

Fakultas Kedokteran Universitas Jember

Annafira Yuniar

Fakultas Kedokteran Universitas Jember

Rakhmat Ramadhani

Fakultas Kedokteran Universitas Jember
Abstract
Dyslipidemia is a major cause of morbidity, mortality and high cost of treatment. Dyslipidemia associated with coronary heart disease (CHD), which causes 4 million deaths every year. Estrogen, a hormone produced by women during menarche protect women from coronary heart disease. The decrease of estrogen production during menopause periode, higher the risk of dyslipidemia and coronary heart disease. Phytoestrogen therapy used to prevent dyslipidemia and coronary heart disease during menopause. hytoestrogens are estrogen-like compounds found in plants. Phytoestrogenic effects of Boehmeria nivea, which was used in this study, mainly contributed by isoflavone and lignan compounds. The purpose of this study was to prove the ability of ethanolic extract of root of Boehmeria nivea (EBN) to increase uterine weight and improve dyslipidemia on ovariectomized mice using a quasi-experimental with post test only design of research. Ovariectomized female rats were given an atherogenic diet of 3.5 cc egg yolk each day with an intravenous injection of 0.006 mg/200 gBB adrenaline. There are 6 groups consisting of a negative control, ovariectomized group, variectomized and atherogenic diet group, group with treatment of Boehmeria nivea (EBN) dose 125 mg/kg, 250 mg/kg, and 500 mg/kg. The results shows that there is a decrease of uterine weight on ovariectomized group compare to control group. Treatment of EBN increase uterine weight, decrease the levels of blood cholesterol and increase the levels of blood triglyceride. It can be concluded that fitoestrogen content of EBN improve lipid profile in ovariectomized rats.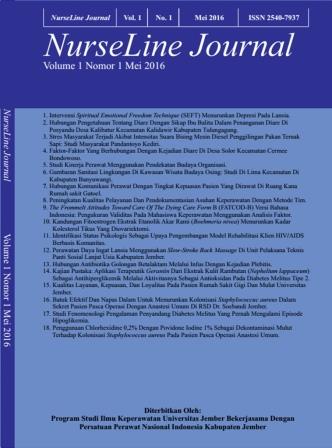 How to Cite
SUTEJO, Ika Rahmawati et al. PHYTOESTEROGEN COMPONENT OF ETHANOLIC ROOT EXTRACT OF FLAXSEED (Boehmeria nivea) DECREASES CHOLESTEROL SERUM LEVEL ON OVARIECTOMIZED RATS.
NurseLine Journal
, [S.l.], v. 1, n. 1, p. 83-89, may 2016. ISSN 2541-464X. Available at: <
https://jurnal.unej.ac.id/index.php/NLJ/article/view/3833
>. Date accessed: 10 june 2023.