THE FROMMELT ATTITUDES TOWARD CARE OF THE DYING CARE FORM B (FATCOD-B) INDONESIA VERSION : MEASUREMENT VALIDITY USING FACTOR ANALYSIS IN NURSING STUDENTS
Muhamad Zulfatul A'la

Program Studi Ilmu Keperawatan Universitas Jember
Abstract
Analysis of  nursing students' attitudes towards caring for the dying patient needs to be explored. The Frommelt Attitudes Toward Care of the Dying Care Form B (FATCOD-B) has not previously been adopted and used in the Indonesian language. The aim of this study was to determine the reliability, validity and factor analysis of FATCOD-B Indonesian version (FATCOD-B-I). A descriptive and cross-sectional was used. Reliability test was using Cronbach's alpha coefficient, the validity was using the Pearson correlation and Confirmatory Factor Analysis (CFA). Factor analysis of FATCOD-B-I was in accordance with FATCOD-B Swedish version with two factors, the factor 1 (positive attitude toward caring for the dying patient) and factor 2 (perception of patient-and family-centered care). The sample consisted of 127 nursing students in Universitas Jember. Reliability test was 0.680. It was higher than in the FATCOD-B Swedish version and lower than FATCOD Chinese version. Pearson correlation in all items of FATCOD-B-I was valid with a range 0,544 -0.278. Bartlett test value was p = 0.00 and the value of test Kaiser-Meyer-Olkin (KMO) was 0.639. So it could be used  CFA. there were the 4 item differences in factor I, it was item of 15, 11, 5, 7 and 14. There were 8 items differences in Factor 2, it was item of 2, 25, 20, 21, 18, 12, 27 and 22 with FATCOD-B Swedish version. The FATCOD-B-I have enough reliability value and all items of FATCOD-B-I have valid statement. The results of the factor analysis CFA was a difference with FATCOD Swedish version. For further research, it needed for psychometric test in FATCOD-B-I widely and it was including more diverse cultural aspects in Indonesia.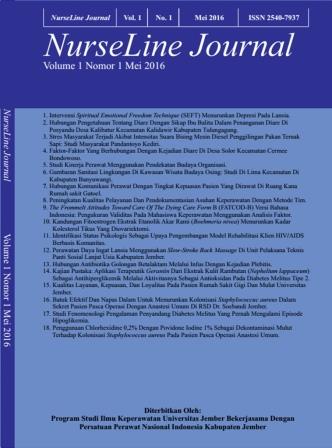 How to Cite
A'LA, Muhamad Zulfatul. THE FROMMELT ATTITUDES TOWARD CARE OF THE DYING CARE FORM B (FATCOD-B) INDONESIA VERSION : MEASUREMENT VALIDITY USING FACTOR ANALYSIS IN NURSING STUDENTS.
NurseLine Journal
, [S.l.], v. 1, n. 1, p. 73-82, may 2016. ISSN 2541-464X. Available at: <
https://jurnal.unej.ac.id/index.php/NLJ/article/view/3832
>. Date accessed: 20 aug. 2017.