STRESS SOCIETY RESULTS FROM DIESEL ENGINE NOISE SOUND INTENSITY OF ANIMAL FEED MILL COW: STUDY RURAL COMMUNITY PANDANTOYO KEDIRI
Mochammad Maftuchul Huda

Program Studi Profesi Ners STIKES Karya Husada Kediri

Intan Novita Ayu Prasetyowati

Program Studi Profesi Ners STIKES Karya Husada Kediri
Abstract
Noise is audible voice but not desired. Noise becomes the source of the stress. One source of noise in the community is the diesel engine milling cattle feed.The purpose of research to identify the relation of diesel engine noise intensity grinding cattle feed with the level of stress on the society of Pandantoyo village, Ngancar district Kediri regency. The design of the study is case control study with retrospective approach. Sampling technique used purposive sampling with a sample of 20 respondents. Data was obtained
using instruments stress. The results almost entirely (80%) of respondents with intensity 80-100 dB noise was very hustle categories, the majority (60%) experienced medium stress levels, a small portion (20%) levels of stress. Spearman rho test results was obtained (p value 0.01 < 0.05, cc: + 0.515), means that there are correlation between the intensity of noise stress levels, for a positive relation with medium strength. When our bodies are stimulated intensity noise impacted to the stress, and will activate the sympathetic nervous and hormonal conters in the brain (hypothalamus) as a stress hormone (kotekolamin, epinefrin, norepinefrine, glukokortikoid, kortisol and kortison). People are advised to avoid and prevent noise source of stress by scheduling powering diesel engines, set diesel engine damper, close the ear, away from the noise source while it is operating, preventing stress techniques such as using relaxation techniques.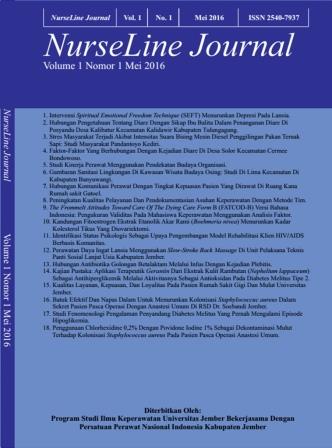 How to Cite
HUDA, Mochammad Maftuchul; PRASETYOWATI, Intan Novita Ayu. STRESS SOCIETY RESULTS FROM DIESEL ENGINE NOISE SOUND INTENSITY OF ANIMAL FEED MILL COW: STUDY RURAL COMMUNITY PANDANTOYO KEDIRI.
NurseLine Journal
, [S.l.], v. 1, n. 1, p. 18-23, may 2017. ISSN 2541-464X. Available at: <
https://jurnal.unej.ac.id/index.php/NLJ/article/view/3825
>. Date accessed: 20 aug. 2017.