Parental Readiness in Caring for Low Birth Weight: Pediatric Nursing Intervention
Novi Indrayati

Pediatric Nursing Department, Sekolah Tinggi Ilmu Kesehatan Kendal, Indonesia

Dona Yanuar Agus Santoso

Sekolah Tinggi Ilmu Kesehatan Kendal, Indonesia
Abstract
Background: low birth weight babies (LBW) weighing less than 2500 are babies at high risk because in general, they are smaller than normal birth weight babies and immature organ function. LBW requires special care to anticipate life-threatening emergency conditions. The care process for meeting the special needs of LBW requires the involvement of parents during the hospital and after discharge from the hospital. Nurses as educators have an important role in preparing parents to care for LBW after returning from the hospital. Purpose: This study aims to determine the effect of child nursing interventions through the education of LBW infant care with parents' readiness to care for LBW. Methods: This research is a quantitative study, using a quasi-experimental design with a pre-post-test with control. The population of this study was parents who had LBW babies in Kendal District Hospital with the sampling technique using accidental sampling, the total sample was 40 parents with LBW babies. The sample was classified into two groups, namely, 20 respondents as the intervention group and 20 respondents as the control group. Results: The results of this study indicate that there was a significant differences in parent readiness scores in caring for LBW between those who were given and not given education with a P value of 0.000, used an independent sample t-test and there was an effect of education on the readiness of parents in caring for LBW used the Chi-square test with a p value of 0.002. Conclusion: Providing education to parents with LBW is one of the implementations of pediatric nursing to prepare parents to care for LBW.
References
Anggraeni, N. C., Widayati, N., & Sutawardana, J. H. (2020). Peran Perawat sebagai Edukator terhadap Persepsi Sakit pada Pasien Diabetes Mellitus Tipe 2 Kabupaten Jember. JURNAL PENDIDIKAN KEPERAWATAN INDONESIA. https://doi.org/10.17509/jpki.v6i1.24364
Central Java Province Health Office. (2017). Profil Kesehatan Provinsi Jawa Tengah 2017. Dinkes Jateng.
Cutland, C. L., Lackritz, E. M., Mallett-Moore, T., Bardají, A., Chandrasekaran, R., Lahariya, C., … Muñoz, F. M. (2017). Low birth weight: Case definition & guidelines for data collection, analysis, and presentation of maternal immunization safety data. Vaccine. https://doi.org/10.1016/j.vaccine.2017.01.049
Dyna Apryani. (2013). Hubungan yang signifikanantara lama rawat (hospitalisasi) dengankecemasan orang tuadiruanganak RSUD Cianjur. JKS, 8(2). Retrieved from http://dx.doi.org/10.20884/1.jks.2013.8.2.47
Erna Rahma Yani. (2009). Pengaruh Paket Pendidikan Kesehatan" Rindu" terhadap kesiapan Ibu Merawat Bayi Prematur Setelah Pulang Dari Rumah Sakit di Kediri. Universitas Indonesia. Retrieved from http://lib.ui.ac.id/detail?id=124763&lokasi=lokal
Julianti, E., Rustina, Y., & Defi, E. (2019). PROGRAM PERENCANAAN PULANG DAPAT MENINGKATKAN PENGETAHUAN DAN KETERAMPILAN IBU YANG MELAHIRKAN BAYI PREMATUR MERAWAT BAYINYA. Jurnal Keperawatan Indonesia. https://doi.org/10.7454/jki.v22i1.540
Maryunani, A. (2013). Asuhan Bayi dengan Berat Badan Lahir Rendah. Jakarta: CV Trans Info Media.
Mundy, C. A. (2010). Assessment of Family Needs in Neonatal Intensive Care Units. American Journal of Critical Care, 19(2), 156–163. https://doi.org/10.4037/ajcc2010130
Ningsih, S. R., Suryantoro, P., & Nurhidayati, E. (2017). Hubungan pengetahuan ibu tentang perawatan bayi berat lahir rendah (BBLR) dengan kenaikan berat badan bayi. Jurnal Kebidanan Dan Keperawatan Aisyiyah, 12(2), 149–157. https://doi.org/10.31101/jkk.306
Padila, P., Amin, M., & Rizki, R. (2018). Pengalaman Ibu dalam Merawat Bayi Preterm yang Pernah dirawat di Ruang Neonatus Intensive Care Unit Kota Bengkulu. Jurnal Keperawatan Silampari, 1(2), 1–16. https://doi.org/10.31539/jks.v1i2.82
Proverawati, A & Ismawati, C. (2010). Berat Badan Lahir Rendah. Yogyakarta: Nuha Medika.
Putra, P. J. (2016). Insiden dan Faktor-Faktor yang Berhubungan dengan Sepsis Neonatus di RSUP Sanglah Denpasar. Sari Pediatri. https://doi.org/10.14238/sp14.3.2012.205-10
Rahayu, S. (2016). Pengaruh Pendampingan Dan Pemberian Modul Kangaro Mother Care Terhadap Kemandirian Ibu Nifas Merawat Bblr Di Rumah. Jurnal Ilmiah Bidan, 1(3), 55–61.
Reeder, S. J., & Griffin, K. (2011). Keperawatan maternitas: kesehatan wanita, bayi & keluarga. Jakarta: EGC.
Rukiyah. (2012). Asuhan Neonatus, Bayi dan Anak Balita. Jakarta: CV Trans Info Media.
Rustina, Y., Nursasi, A. Y., Budiati, T., Syahreni, E., & Fitriyani, P. (2014). The Influence of Family Empowerment on the Health Status of Low Birth Weight Infant in Jakarta. Makara Journal of Health Research, 18(1), 19–24. https://doi.org/10.7454/msk.v18i1.3089
Sembiring, J. B. (2019). Buku Ajar Neonatus, Bayi, Balita, Anak Pra Sekolah. Yogyakarta: CV Budi Utama.
Silveira, R. C., Mendes, E. W., Fuentefria, R. N., Valentini, N. C., & Procianoy, R. S. (2018). Early intervention program for very low birth weight preterm infants and their parents : a study protocol, 1–11.
Suyami. (2013). Pengaruh Edukasi dalam Perencanaan Pulang terhadap Tingkat Kecemasan dan Tingkat Efikasi Diri Ibu dalam Merawat BBLR. Retrieved from lib.ui.ac.id/file?file=pdf/abstrak-20335906.pdf%0A%0A
Suyami, Rustina, Y., & Agustini, N. (2014). Pengaruh Edukasi Terhadap Tingkat Kecemasan dan Tingkat Efikasi Diri Ibu Dalam Merawat BBLR. Prosiding Seminar Nasiona.
Tane, R., Masitoh, S., & Rustina, Y. (2020). Factors influencing anxiety in mothers of low birth weight infants. Pediatric Reports. https://doi.org/10.4081/pr.2020.8701
Wahyu Hendiyanto, A. (2014). Tingkat kecemasan ibu yang mempunyai bayi BBLR di ruang Prinatologi RSUD Harjono. Retrieved from http://www.onesearch.id/Record/IOS2857.599/Details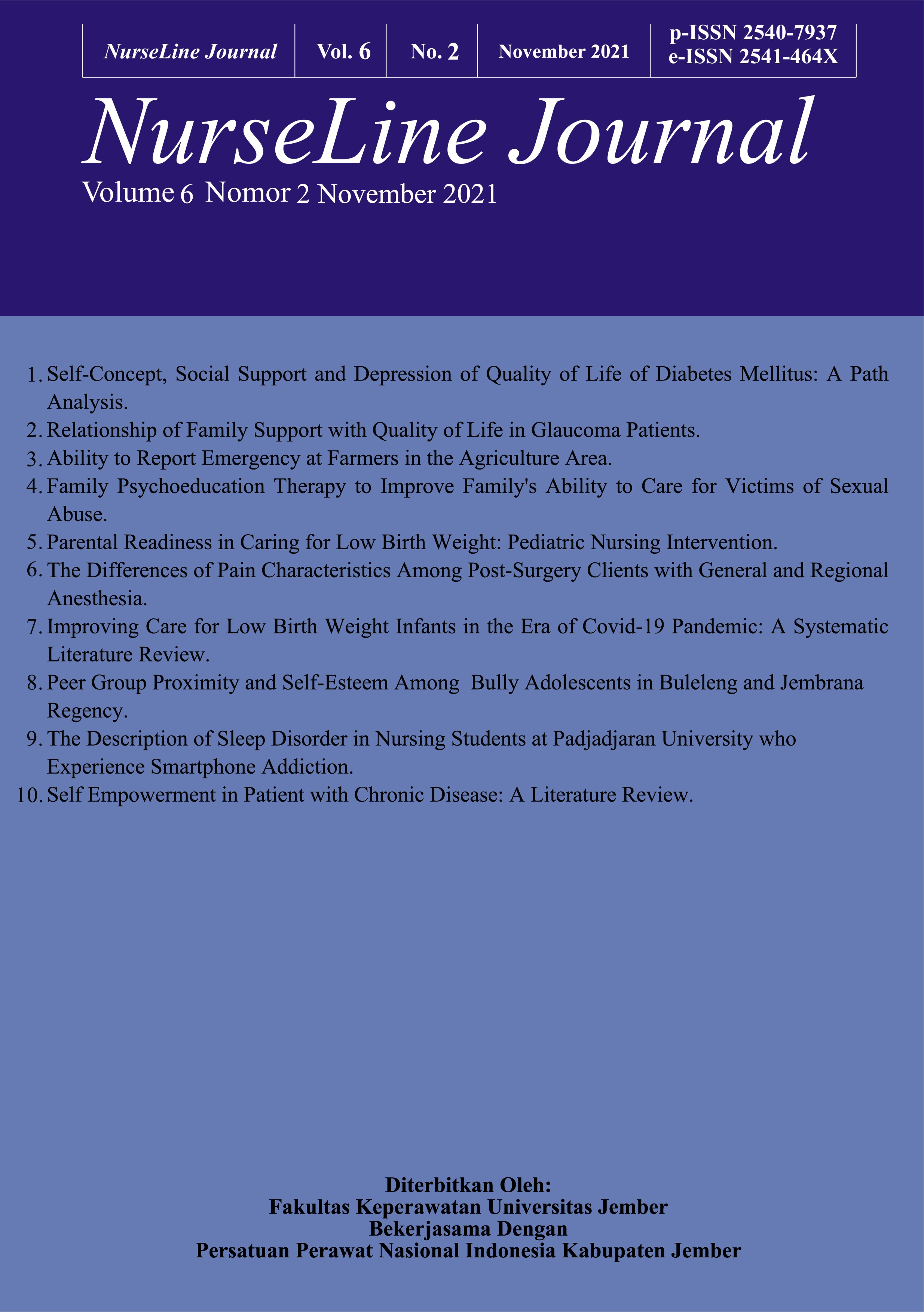 This work is licensed under a Creative Commons Attribution-ShareAlike 4.0 International License.