Ability to Report Emergency at Farmers in the Agriculture Area
Rizeki Dwi Fibriansari

Nursing Diploma, Faculty of Nursing, Universitas Jember, Indonesia

Arista Maisyaroh

Nursing Diploma, Faculty of Nursing, Universitas Jember, Indonesia

Eko Prasetya Widianto

Nursing Diploma, Faculty of Nursing, Universitas Jember, Indonesia
Abstract
Background: Low knowledge and motivation about using personal protective equipment on farmers can cause workplace accidents. Upper limb injuries comprise 67% of all injuries, and the most active parts are fingers (43%). Due to the high number of injuries among farmers, the community needs emergency services where this emergency condition requires immediate health services to reduce mortality and prevent disability.
Purpose: This study aims to analyze the factors that affect farmers ability to report daily emergencies in the agricultural area of ​​Lumajang.
Methods: The design of this study was cross-sectional. The research respondents were 62 farmers who were taken by purposive sampling. Data collection used a questionnaire consisting of knowledge of injury recognition, management, and emergency events reporting. Data analysis was bivariate analysis with the Chi-Square test.
Results: Knowledge of farmers recognizing injuries with good categories as much as 92% (p = 0.042), knowledge of farmers doing injury management as much as 80.6% in good category (p = 0.000), and knowledge of reporting of daily emergency events in agricultural areas as much as 61, 3% is moderate (p = 0.000). Recognizing the causes of injury of farming areas will increase farmers' knowledge in managing injuries to seek assistance in handling victims quickly and accurately with useful reporting techniques.
Conclusion: The ability to report emergency events in the agricultural area is still in an adequate category. We must continuously improve the socialization of standard operational procedures (SOP) regarding effective communication in reporting injury incidents at PSC 119 Lumajang District. Services provided are fast, precise, responsive, and alert to prevent disability and save someone's life from death.
References
Arista, M., Prasetya, W. E., & Dwi, F. R. (2019). Kearifan Lokal Petani Dalam Mengenal Dan Penanganan Awal Ancaman Akibat BahanBerbahaya Di Area Pertanian. Jurnal Ilmu Kesehatan.
Asgedom, A. A., Bråtveit, M., & Moen, B. E. (2019). Knowledge, attitude and practice related to chemical hazards and personal protective equipment among particleboard workers in Ethiopia: A cross-sectional study. BMC Public Health. https://doi.org/10.1186/s12889-019-6807-0
Christie, M. E., Van Houweling, E., & Zseleczky, L. (2015). Mapping gendered pest management knowledge, practices, and pesticide exposure pathways in Ghana and Mali. Agriculture and Human Values. https://doi.org/10.1007/s10460-015-9590-2
Curl, C. L., Spivak, M., Phinney, R., & Montrose, L. (2020). Synthetic Pesticides and Health in Vulnerable Populations: Agricultural Workers. In Current environmental health reports. https://doi.org/10.1007/s40572-020-00266-5
Fibriansari, R. D., Maisyaroh, A., & Widianto, E. P. (2019). Peningkatan Kemampuan Bantuan Hidup Dasar (BHD) Akibat Bahan Berbahaya pada Petani. Borneo Nursing Journal, 2(1), 1–6. https://akperyarsismd.e-journal.id/BNJ
Fikriana, R., & Al-Afik. (2018). Pengaruh Simulasi Public Safety Center Terhadap Peningkatan Self Efficacy Koordinasi Sistem Penanggulangan Gawat Darurat Terpadu. Jurnal Keperawatan, 9, 35–42. http://ejournal.umm.ac.id/index.php/keperawatan/issue/view%0APENGARUH
Howard, I., Pillay, B., Castle, N., Al Shaikh, L., Owen, R., & Williams, D. (2018). Application of the emergency medical services trigger tool to measure adverse events in prehospital emergency care: A time series analysis. BMC Emergency Medicine, 18(1), 1–10. https://doi.org/10.1186/s12873-018-0195-0
Ilmu, S., Negara, A., Publik, J. A., Ilmu, F., Meirinawati, D., & Ap, M. (2008). STRATEGI PENINGKATAN PELAYANAN KEGAWATDARURATAN MELALUI APLIKASI EMERGENCY BUTTON PUBLIC SAFETY CENTER ( PSC ) 119 DI RSUD DR . ISKAK KABUPATEN TULUNGAGUNG Pradita Opi Rizkita.
Kemenkes. (2016). Peraturan Menteri Kesehatan Nomor 19 Tahun 2016 tentang Sistem Penangulangan Gawat Darurat Terpadu. Berita Negara Republik Indonesia Tahun 2016, 19(5), 1–17.
Koudogbo, F. N., Duro, J., Rossi, L., Rudari, R., & Eddy, A. (2014). Multi-hazard risk analysis using the FP7 RASOR Platform (N. CMU & M. A. (eds.); Vol. 9239). SPIE. https://doi.org/10.1117/12.2067444
Lekei, E. E., Ngowi, A. V., & London, L. (2014). Farmers' knowledge, practices and injuries associated with pesticide exposure in rural farming villages in Tanzania. BMC Public Health. https://doi.org/10.1186/1471-2458-14-389
Maisyaroh, A., Widianto, E. P., & Fibriansari, R. D. (2019). KearifanLokalPetani DalamMengenal DanPenanganan Awal Ancaman Akibat BahanBerbahaya Di Area Pertanian. Jurnal Ilmu Kesehatan.
Musyarofah, S., Muliawati, R., Studi, P., Masyarakat, K., Tinggi, S., & Kesehatan, I. (2018). Gambaran Pelayanan Kesehatan Public Safety Center 119 the Description of the Public Safety Center 119. Jurnal Ilmiah Permas, 9(4), 371–378. http://journal.stikeskendal.ac.id/index.php/PSKM/article/view/586/352
Nurmalia, P. (2019). Evaluasi Program Public Safety Center (PSC) 119 Mataram Emergency Medical Service (MEMS) di RSUD Kota Mataram. Skripsi.
Nurulita, D., & Darnoto, S. (2017). PROSIDING-SEMNAS & CALL FOR PAPERS ANALISIS SISTEM INFORMASI INOVASI PSC (PUBLIC SAFETY CENTER) 119 DENGAN METODE PIECES DI DINAS KESEHATAN KA-BUPATEN BOYOLALI. Prosiding - Semnas & Call for Papers, 6–11. http://spgdt.boyolaliinfo.net
Pasaribu, S. M., & Sudiyanto, A. (2016). Agricultural risk management: Lesson learned from the application of rice crop insurance in Indonesia. In Climate Change Policies and Challenges in Indonesia (pp. 305–322). Springer Japan. https://doi.org/10.1007/978-4-431-55994-8_14
Setyoningsih, Y. (2012). Pengaruh Penyuluhan Melalui Peer Education terhadap Pengetahuan dan Kesiapan Menghadapi Menarche pada Siswi Kelas V dan VI di SD Negri Tamansari II Yogyakarta. STIKES'Aisyiyah Yogyakarta.
Susanto, T., Purwandari, R., & Wuryaningsih, E. W. (2016). MODEL PERAWATAN KESEHATAN KESELAMATAN KERJA BERBASIS AGRICULTURAL NURSING: STUDI ANALISIS MASALAH KESEHATAN PETANI. Jurnal NERS. https://doi.org/10.20473/jn.v11i12016.45-50
Widianto, E P, Maisyaroh, A., & Fibriansari, R. D. (2019). INTERNATIONAL CONFERENCE OF KERTA CENDEKIA NURSING ACADEMY PROACTIVE PUBLIC HEALTH APPROACH TO PREVENTION OF OCCUPATIONAL DISEASE ON FARMERS IN LUMAJANG. https://doi.org/10.5281/zenodo.3365519
Widianto, Eko Prasetya, Suhari, S., Fibriansari, R. D., & Maisyaroh, A. (2020). ANALYSIS OF FARMERS' INTERNAL FACTORS WITH THE ABILITY TO KNOW HAZARDOUS MATERIALS. Nurse and Health: Jurnal Keperawatan. https://doi.org/10.36720/nhjk.v9i1.139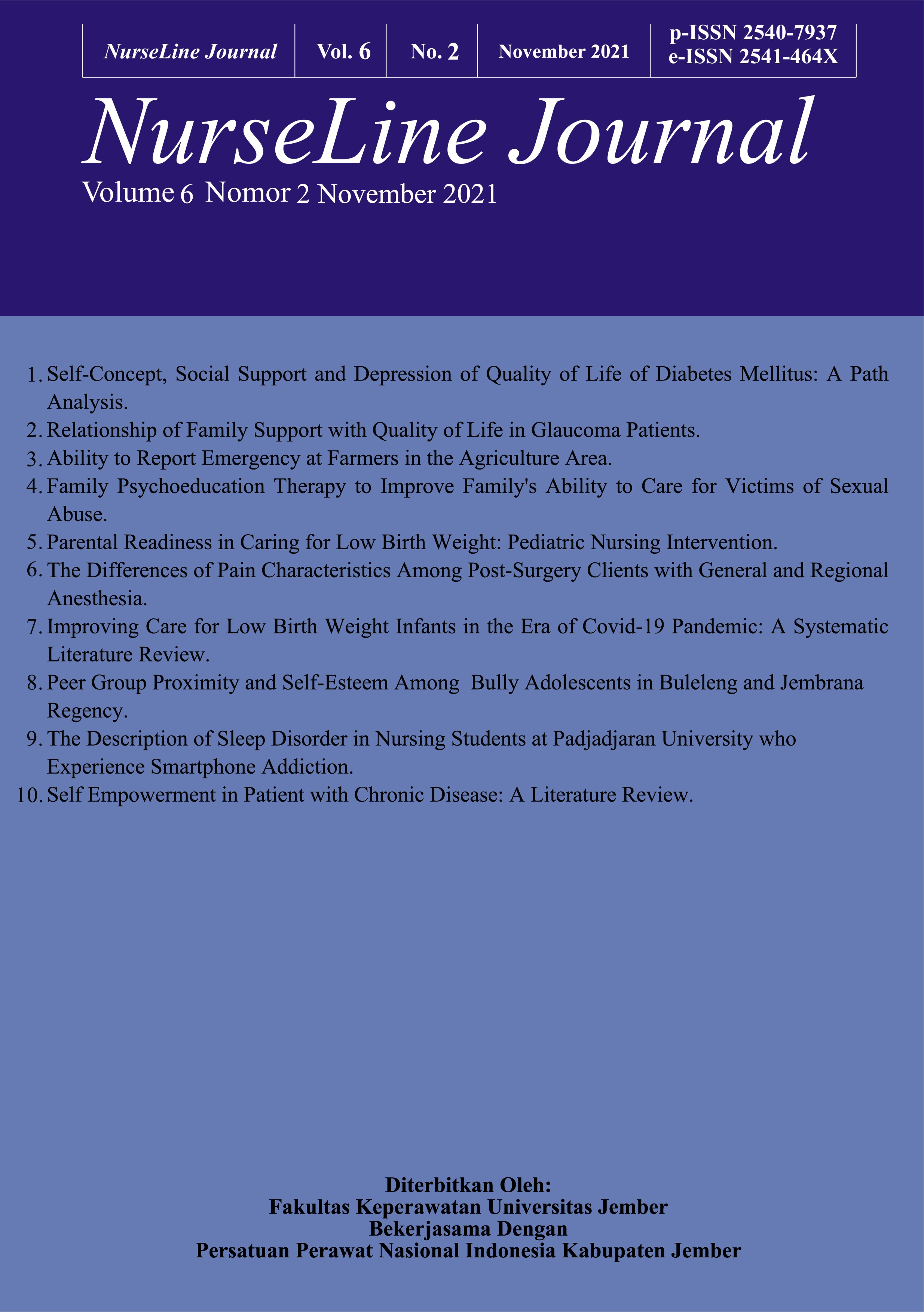 This work is licensed under a Creative Commons Attribution-ShareAlike 4.0 International License.