AKSES, FUNGSI, DAN POLA PENGGUNAAN TEKNOLOGI INFORMASI DAN KOMUNIKASI (TIK) OLEH PETANI PADA KAWASAN PERTANIAN KOMERSIAL DI KABUPATEN BANTUL
ACCESS, FUNCTIONS, AND USE PATTERN OF INFORMATION AND COMMUNICATION TECHNOLOGY (ICT) IN COMMERCIAL AREA IN BANTUL REGENCY
Ade Intan Christian

Penyuluhan dan Komunikasi Pembangunan Sekolah Pasca Sarjana UGM

Subejo Subejo

Universitas Gadjah Mada
Abstract
Information and Communication Technologies (ICTs) has been considered play an important role for supporting the need of new information and innovation for farmers. Extension and communication based ICTs in developing countries can be used for wider scope of activities including information related to various farming operations. This research discusses a new trend of emergence of ICTs in Bantul Regency for supporting daily life activities of farmer including agricultural activities. Research method of study was descriptive method. In general, farmers have been using television and radio with function for getting information, entertaining, and education. However, hand phone and smart phone to some extent have emerged as additional and important alternative media for farmer. The use of internet via smartphone has newly started to be utilized among farmer in Bantul Regency. Information on agriculture which accessed by farmers was still dominated by production aspect and marketing.
References
Subejo.2011. Babak Baru Penyuluhan Pertanian dan Pedesaan. Jurnal Ilmu-Ilmu Pertanian, Juli 2011, Vol. 7, Nomor 1 (61-70). Fakultas Pertanian UGM, Yogyakarta.

Elian, N., Lubis, D. P., Rangkuti, P.A. 2014. Penggunaan Internet dan Pemanfaatan Informasi Pertanian oleh Penyuluh Pertanian di Kabupaten Bogor Wilayah Barat. Jurnal Komunikasi Pembangunan, Juli 2014, Vol.12, No.2 (104-109). Institut Pertanian Bogor, Jawa Barat.

Subejo et.al,.2016. Akses dan Pemanfaatan TIK untuk Pertanian di Yogyakarta, Laporan Hibah Penelitian Fakultas Pertanian 2016 (tidak dipublikasikan)

Mulyadi, M. 2012. Penelitian Kuantitatif dan Kualitatif serta Praktek Kombinasinya dalam Penelitian Sosial. Nadi Pustaka, Yogyakarta.

Nasir, M. 1999. Metode Penelitian. Ghalia Indonesia, Jakarta.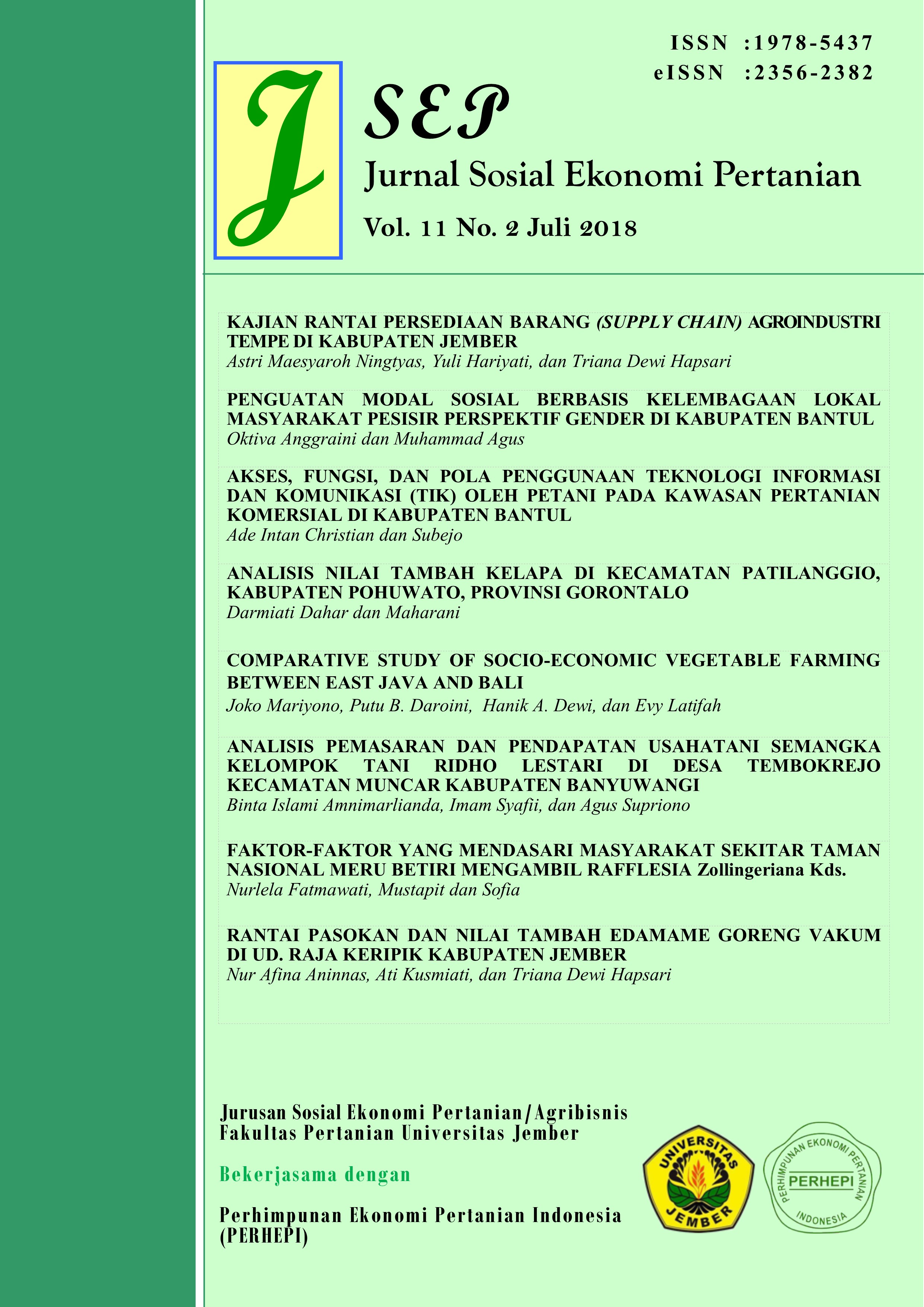 Authors who publish with this journal agree to the following terms:
Authors retain copyright and grant the journal right of first publication with the work simultaneously licensed under a Creative Commons Attribution License that allows others to share the work with an acknowledgement of the work's authorship and initial publication in this journal.
Authors are able to enter into separate, additional contractual arrangements for the non-exclusive distribution of the journal's published version of the work (e.g., post it to an institutional repository or publish it in a book), with an acknowledgement of its initial publication in this journal.
Authors are permitted and encouraged to post their work online (e.g., in institutional repositories or on their website) prior to and during the submission process, as it can lead to productive exchanges, as well as earlier and greater citation of published work (See The Effect of Open Access).