Current Issue
Vol 3 No 2 (2019): JURNAL REKAYASA SIPIL DAN LINGKUNGAN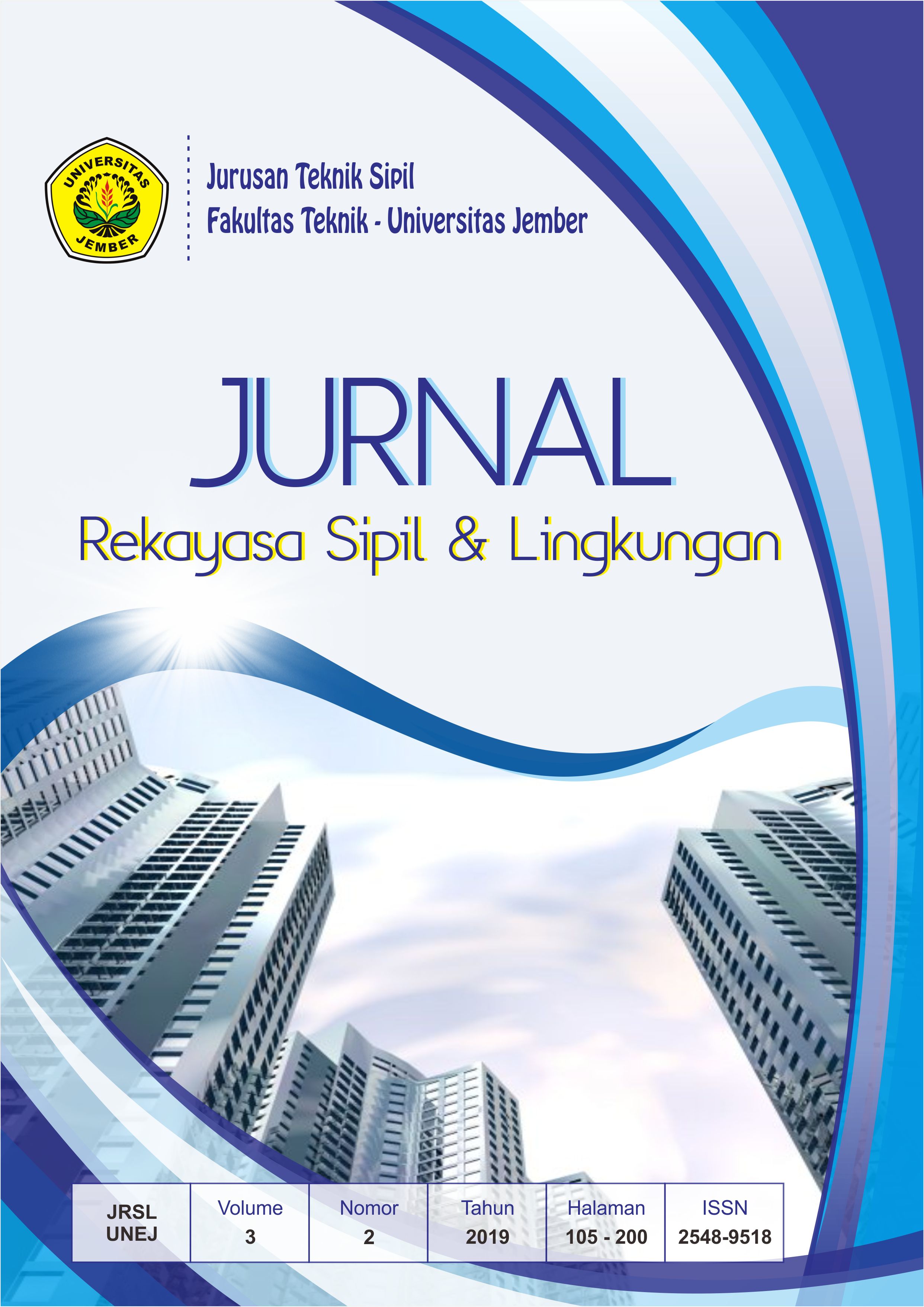 The Jurnal Rekayasa Sipil dan Lingkungan (JRSL) is a national peer-reviewed and open-access journal. Published research papers covering all aspects of civil engineering, including Structural Engineering, Transportation Engineering and Management, Construction Management, Hydraulics Engineering, Geotechnical Engineering, and Environmental Engineering. JRSL publishes two numbers in one volume every year, and the first time is published in January 2017 (Vol 1 No 1). All accepted manuscripts will be released worldwide, and JRSL has been indexed in:





In the publication, Vol 3 No 2 (2019) contains ten articles.
Author Index:
Akhmad Hasanuddin, 113, 160, 190; Anik Ratnaningsih, 145; Arga Saputra, 105; Ayu Rahmad Jayanti, 172; Ayu Wanda Febrian, 154; Celica Amira, 123; Devita Sari, 113; Dora Melati Nurita Sandi, 154; Dwi Nurtanto, 123; Erna Suryani, 154; Hernu Suyoso, 145; Icha Tatrisya Derka, 145; Intan Kamila Adiba, 179; Januar Fery Irawan, 179; Lilya Susanti, 105, 135; Luthfi Amri Wicaksono, 179; Nanin Meyfa Utami, 123; Novita Ike Triyuliani, 135; Nunung Nuring Hayati, 190; Ririn Endah Badriani, 172; Rizqi Eka Faiqatul Maghfiroh, 160; Silfi Galuh Navitasari, 190; Sonya Sulistyono, 190; Sri Murni Dewi, 105, 135; Sri Sukmawati, 113, 160; Yeny Dhokhikah, 172.
Full Issue
View All Issues