Pengaruh Propilen Glikol dalam Patch Dispersi Padat Ketoprofen terhadap Karakteristik Fisika Kimia dan Laju Penetrasinya (The Effect of Propylene Glycol in Solid Dispersion Patch of Ketoprofen to the Characteristic of Chemical Physics and In Vitro Penetra
Lidya Ameliana

Fakultas Farmasi Universitas Jember

Haris Raudhatuzakinah Dwiputri

Fakultas Farmasi Universitas Jember

Dwi Nurahmanto

Fakultas Farmasi Universitas Jember
Abstract
Ketoprofen is a non steroid anti-inflammatory drug (NSAID) used as analgesic and anti-inflammation. This research had been done by ketoprofen patch preparation and evaluations aiming to enhance its penetration through the skin using propylene glycol as penetration enhancer. Evaluations included homogenity testing and FTIR for ketoprofen solid dispersion and organoleptic, weight uniformity, thickness, folding endurance, surface pH, moisture content, and penetration rate assay of ketoprofen patch. Penetration rate was determined by paddle type dissolution and the sample was analyzed by spectrophotometry UV-Vis. The value of moisture content and penetration rate were analyzed by One Way ANOVA with confidence level of 95 %. The value of moisture contents were F0 1.17 ± 0.0551 %; F1 1.27 ± 0.0208 %; F2 1.33 ± 0.08 %; and F3 1.43 ± 0.0208 %. The penetration rates of ketoprofen were F0 0.5258 ± 0.0191 µg/cm2.minute; F1 0.6935 ± 0.0613 µg/cm2.minute; F1 0.6935 ± 0.0613 µg/cm2.minute; and F3 1.1260 ± 0.0850 µg/cm2.minute. It can be concluded that the formula with propylene glycol 150 mg/patch can deliver the best penetration rate and moisture content that were fullfill the requirements.
Keywords: ketoprofen, patch, propilen glikol, penetratio enhancer, solid dispersion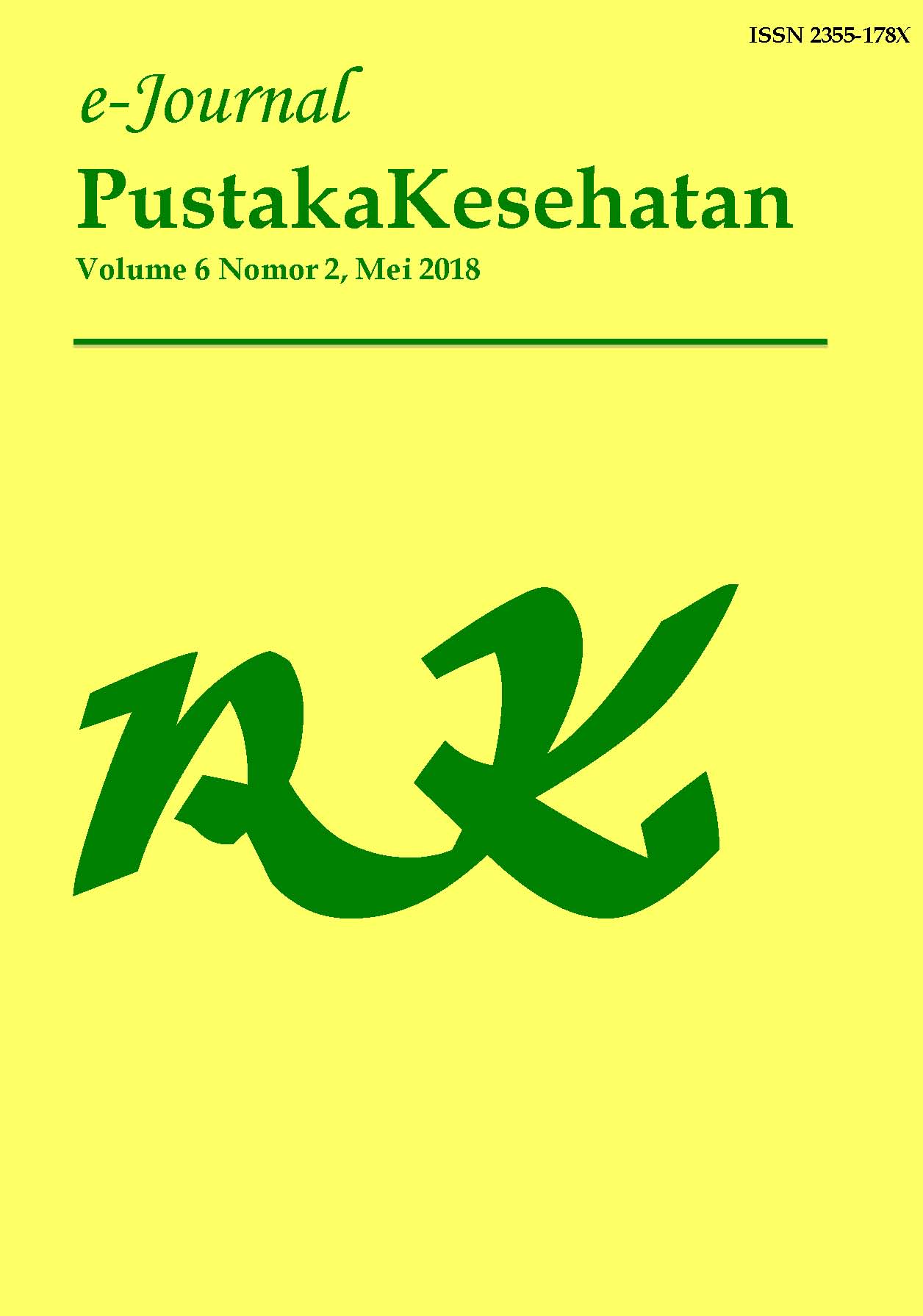 How to Cite
AMELIANA, Lidya; DWIPUTRI, Haris Raudhatuzakinah; NURAHMANTO, Dwi. Pengaruh Propilen Glikol dalam Patch Dispersi Padat Ketoprofen terhadap Karakteristik Fisika Kimia dan Laju Penetrasinya (The Effect of Propylene Glycol in Solid Dispersion Patch of Ketoprofen to the Characteristic of Chemical Physics and In Vitro Penetra.
Pustaka Kesehatan
, [S.l.], v. 6, n. 2, p. 230-234, may 2018. ISSN 2355-178X. Available at: <
https://jurnal.unej.ac.id/index.php/JPK/article/view/7572
>. Date accessed: 04 june 2020. doi:
https://doi.org/10.19184/pk.v6i2.7572
.
Penulis yang mengusulkan naskahnya untuk dapat diproses penerbitannya pada Pustaka Kesehatan dianggap telah menyetujui beberapa hal sebagai berikut:
1. Penulis tidak dapat menarik naskah yang telah usulkan untuk diproses hingga mendapat jawaban dari Ketua Dewan Penyunting atas status naskah artikel ilmiahnya (diterima atau ditolak untuk diterbitkan).
2. Penerbit tidak bertanggung jawab terhadap kasus plagiasi atas artikel yang terbit pada Berkala Ilmiah Pertanian.
3. Penerbit tidak bertanggung jawab atas data dan isi dari artikel yang diterbitkan pada Pustaka Kesehatan, dan sepenuhnya merupakan tanggung jawab penulis.