Dinamika Populasi Kompleks Parasitoid Telur Helicoverpa armigera (Hubner) Pada Ekosistem Kapas Monokultur dan Kapas Tumpangsari dengan Jagung
Damayanti BUCHORI

Bandung SAHARI

Dwi Adi SUNARTO
Abstract
Eggs of Helicoverpa armigera (Hübner) (Lepidoptera: Noctuidae) on its host plants could be
parasitized by some species of parasitoids, especially of the genus Trichogrammatoidea and
Trichogramma. This research was aimed to study the population dynamics of egg parasitoids of H.
armigera on unsprayed fields of cotton monoculture and intercropped with maize. The plot size of
each field was 19 m x 20 m, with five replicates. We collected H. armigera eggs from both fields
periodically since 23 days after planting (dap) to 100 dap. The eggs were collected on 9 sample units
(size of sample unit: 1 m2) in 7-days interval. The number of collected and parasitized eggs was
recorded and the emerged parasitoids were identified to species level. The result showed that the
fluctuation pattern of H. armigera egg population was not different on cotton monoculture and cotton
intercropped with maize. The parasitoid population was relatively high during the flowering phase of
cotton and maize. The parasitoids of H. armigera eggs found in cotton monoculture and cotton
intercropped with maize were T'toidea armigera, T'toidea guamensis, T'toidea bactrae bactrae,
T'toidea bactrae fumata, T. chilonis and T. chilotraeae . The dominant species on early season until
the flowering phase of the plants was T'toidea armigera, while on the latter phase of the plant
phenology was T. chilotraeae. Implication of this population dynamics and the succession of the
parasitoids in biological control are discussed.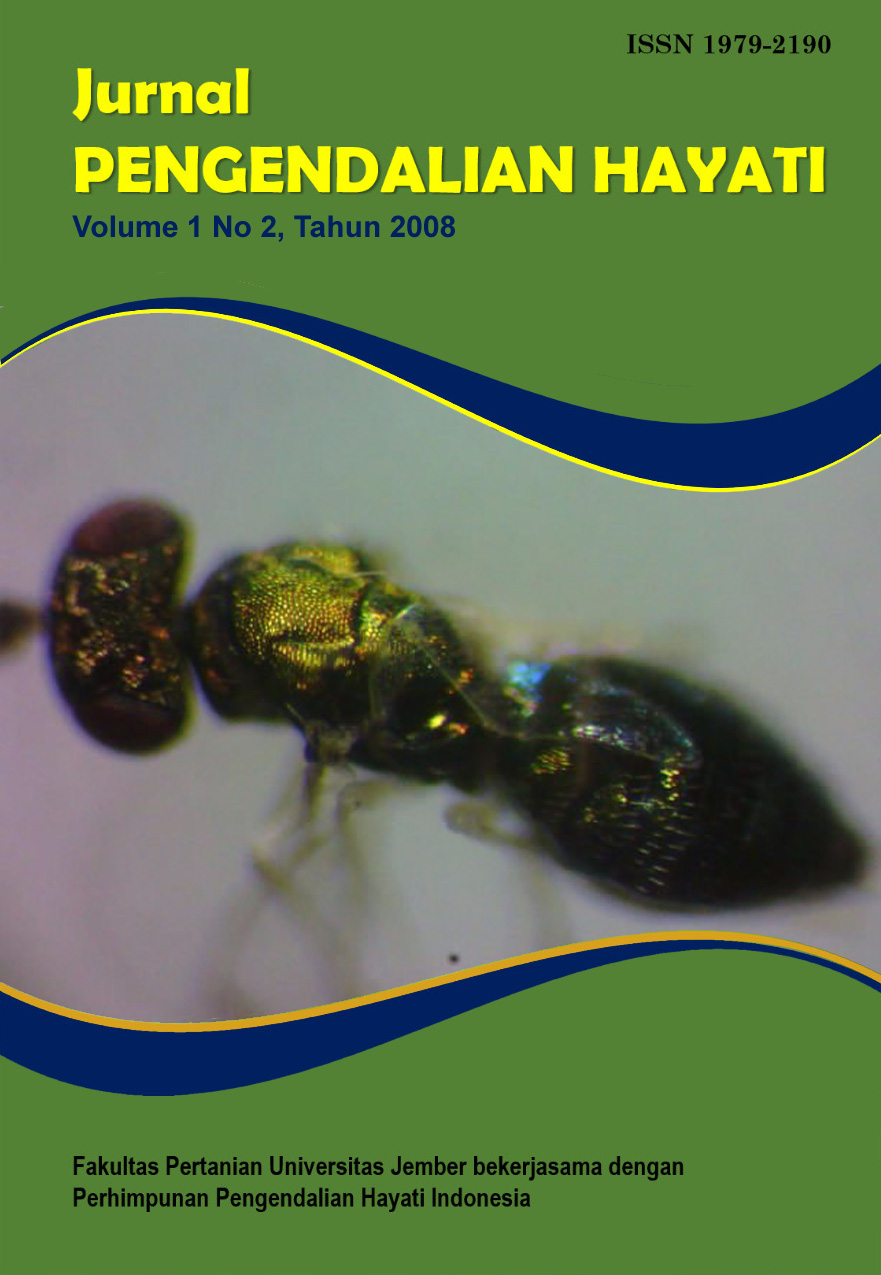 How to Cite
BUCHORI, Damayanti; SAHARI, Bandung; SUNARTO, Dwi Adi. Dinamika Populasi Kompleks Parasitoid Telur Helicoverpa armigera (Hubner) Pada Ekosistem Kapas Monokultur dan Kapas Tumpangsari dengan Jagung.
Jurnal Pengendalian Hayati
, [S.l.], v. 1, n. 2, p. 78-82, dec. 2012. ISSN 2721-7701. Available at: <
https://jurnal.unej.ac.id/index.php/JPH/article/view/27
>. Date accessed: 12 july 2020.
Keywords
parastioid telur, Helicoverpa armigera, dinamika populasi, Trichogrammatoidea, Trichogramma.
Authors who publish with this journal agree to the following terms:


Authors retain copyright and grant the journal right of first publication with the work simultaneously licensed under a Creative Commons Attribution License that allows others to share the work with an acknowledgement of the work's authorship and initial publication in this journal.


Authors are able to enter into separate, additional contractual arrangements for the non-exclusive distribution of the journal's published version of the work (e.g., post it to an institutional repository or publish it in a book), with an acknowledgement of its initial publication in this journal.


Authors are permitted and encouraged to post their work online (e.g., in institutional repositories or on their website) prior to and during the submission process, as it can lead to productive exchanges, as well as earlier and greater citation of published work.