Potensi Bacillus spp. sebagai Agen Biokontrol untuk Menekan Layu Fusarium (Fusarium oxysporum) pada Tanaman Melon (Cucumis melo L.)
Setiadi Jitendhriyawan Suwarno

Rachmi Masnilah
Abstract
Fusarium wilt caused by F. oxysporum, is a disease that often attacks melon plants. F. oxyporum is a fungus that infects through the roots and clogs vascular vessels in plants and causes plants to wither with necrotic symptoms. Bacillus spp as a biological agent capable of controlling fusarium wilt by antibiotic mechanism. Bacillus spp obtained was then carried out by testing to determine its potential as a biological recognition agent. This research was carried out starting from the isolation of F. oxysporum, isolation and inoculation of Bacillus spp., Gram test, hypersensitivity test using tobacco plants, to calculate the intensity of attacks and analyze. The study was conducted with 5 treatments namely control, F. oxysporum without Bacillus spp., F. oxysporum with isolates BJM4, BJM5, and BJM9. The results showed that BJM5 isolates can suppress fusarium wilt disease with a disease severity value of 23.75%, the lowest compared to all treatments applying Bacillus spp. this was also shown by the results of antagonistic tests on PDA media that BJM5 isolates could suppress F. oxysporum fungi by 0.6 or 60%.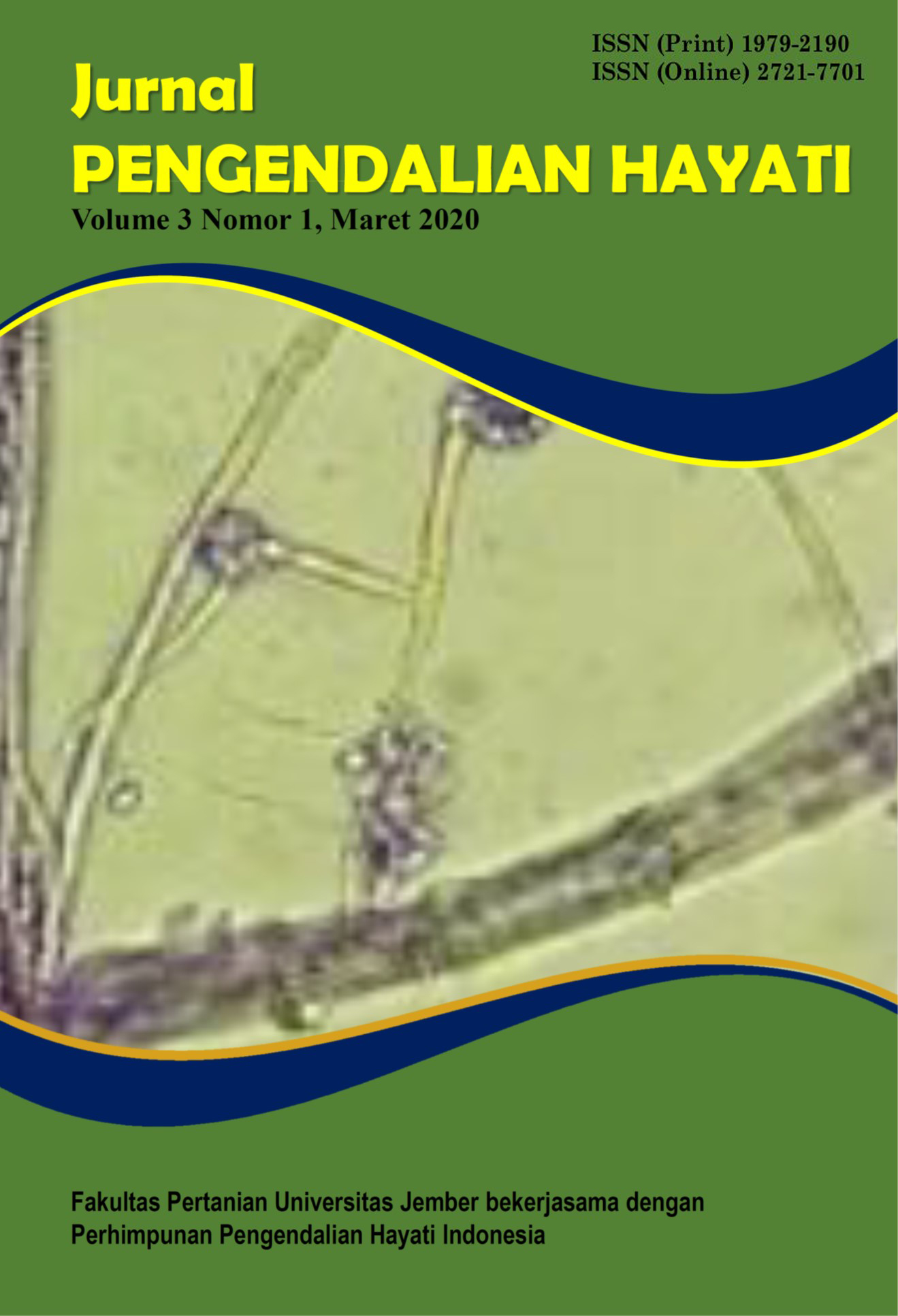 Authors who publish with this journal agree to the following terms:


Authors retain copyright and grant the journal right of first publication with the work simultaneously licensed under a Creative Commons Attribution License that allows others to share the work with an acknowledgement of the work's authorship and initial publication in this journal.


Authors are able to enter into separate, additional contractual arrangements for the non-exclusive distribution of the journal's published version of the work (e.g., post it to an institutional repository or publish it in a book), with an acknowledgement of its initial publication in this journal.


Authors are permitted and encouraged to post their work online (e.g., in institutional repositories or on their website) prior to and during the submission process, as it can lead to productive exchanges, as well as earlier and greater citation of published work.