Induksi Ketahanan Tanaman Kedelai (Glycine max (L.) Merril) dengan Cendawan Endofit Trichoderma harzianum dan Beauveria bassiana untuk Menekan Penyakit Busuk Pangkal Batang (Sclerotium rolfsii)
Wildatun Munawara

Nanang Tri Haryadi
Abstract
Sclerotium rolfsii is a pathogen that causes stem rot disease that causes a decrease in soybean production. This stem rot disease can cause damage to all parts of the plant both in the vegetative and generative phases. Proper control is needed to reduce stem rot disease by induction of plant resistance using endophytic fungi such as Trichoderma harzianum and Beauveria bassiana. This experiment used a Completely Randomized Design (CRD) with 4 treatments that were repeated 5 times, namely P1 = control, P2 = T. harzianum application + S. rolfsii inoculation, P3 = B. bassiana application + S. rolfsii inoculation, and P4 = Combined application (T. harzianum + B. Bassiana) + S. rolfsii inoculation. Based on research that has been done shows that the incubation period and phenol analysis in soybean plants did not significantly affect soybean crop resistance while in the incidence of disease and disease severity showed a very significant effect on soybean crop resistance. In this study the plants that were applied with T. harzianum and B. bassiana were included in the category of resistant to S. rolfsii pathogens, while the control treatment was included in the susceptible category to S. rolfsii pathogens.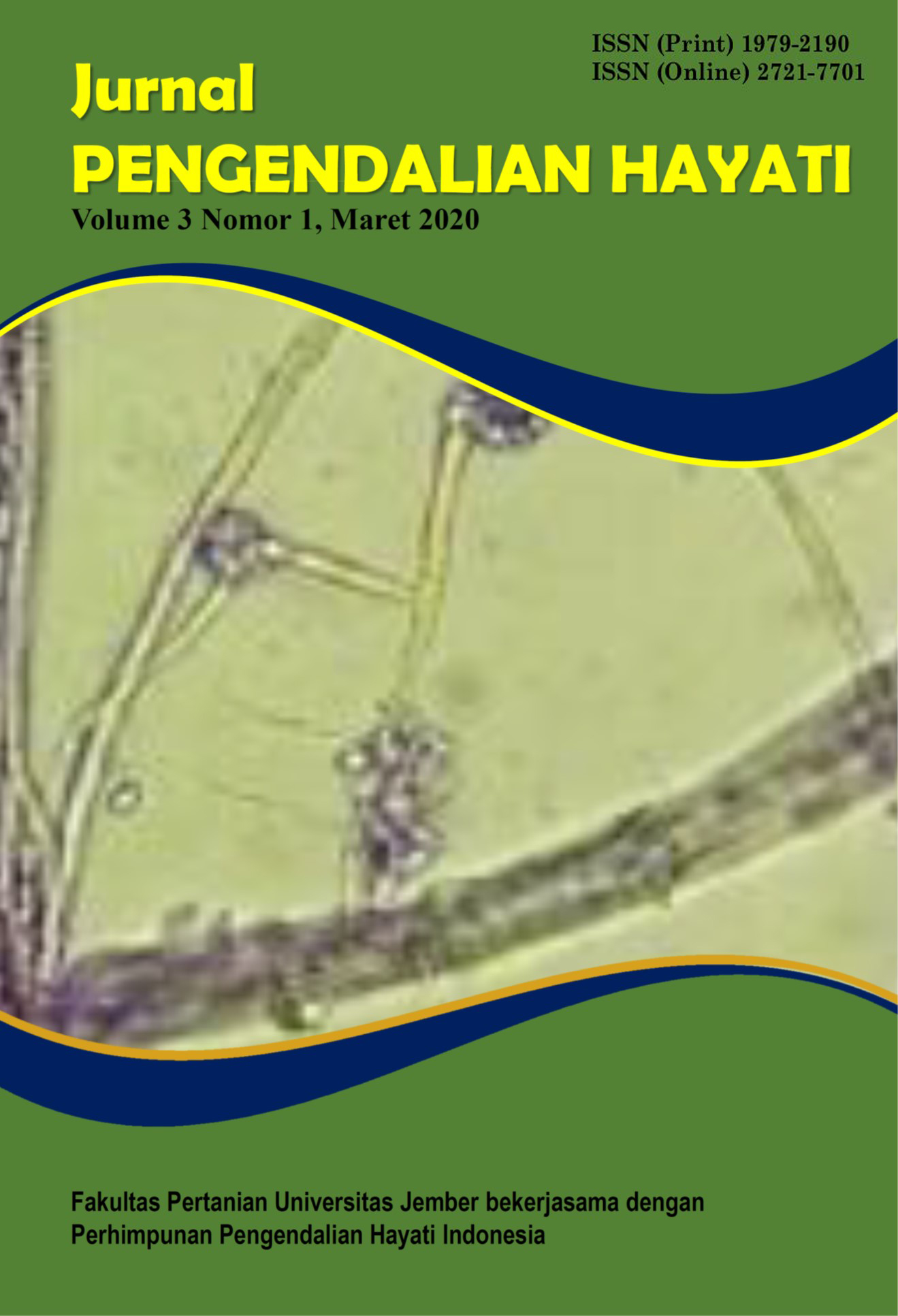 Authors who publish with this journal agree to the following terms:


Authors retain copyright and grant the journal right of first publication with the work simultaneously licensed under a Creative Commons Attribution License that allows others to share the work with an acknowledgement of the work's authorship and initial publication in this journal.


Authors are able to enter into separate, additional contractual arrangements for the non-exclusive distribution of the journal's published version of the work (e.g., post it to an institutional repository or publish it in a book), with an acknowledgement of its initial publication in this journal.


Authors are permitted and encouraged to post their work online (e.g., in institutional repositories or on their website) prior to and during the submission process, as it can lead to productive exchanges, as well as earlier and greater citation of published work.