PENGGUNAAN MEDIA PEMBELAJARAN EDMODO UNTUK MENINGKATKAN AKTIVITAS DAN HASIL BELAJAR SISWA KELAS X PEMASARAN DI SMK NEGERI 1 JEMBER TAHUN AJARAN 2016/2017
Santhy Rahmawati Putri

Sri Wahyuni

Pudjo Suharso
Abstract
Learning is the process of delivering information from teachers to students. One of the elements contained in the learning process is the media. Learning media is needed by the teacher to support all learning activities. Along with the development of information technology, there are many created Internet-based learning media one of them is Edmodo. Edmodo required by students to be active in teaching and learning activities both in the classroom and outside the classroom. SMK Negeri 1 Jember is one of many schools that have been familiar with internet based learning but have not used Edmodo media yet. This study aims to improve the activity and learning outcomes of students of X Marketing class in SMK Negeri 1 Jember in Marketing Business Management subjects through Edmodo learning media. This study is a classroom action research. The research was conducted at SMK Negeri 1 Jember academic year 2016/2017 with research subject of class X of PM 3 amounted to 39 students and object of research on Marketing Business Management subject. Data collection using observation method, interview, test and documentation. This research was conducted by using 2 cycles consisting of planning, giving action, observation and reflection. Data analysis techniques used in this study is the data analysis of learning activities through observation and analysis of learning results through the test. The results showed that the increase of learning activity from the initial condition of 44% to 60,7% in cycle 1 and increased to 92,5% in cycle 2. Improved learning outcomes can also be seen from the average score of students is 66,7 on The initial conditions increased to 72,37 in cycle 1 and 80,10 in cycle 2. The conclusion that the use of Edmodo learning media was able to increase the activity and learning outcomes of students of class X of PM 3 on the subjects of Marketing Management.
Downloads
Download data is not yet available.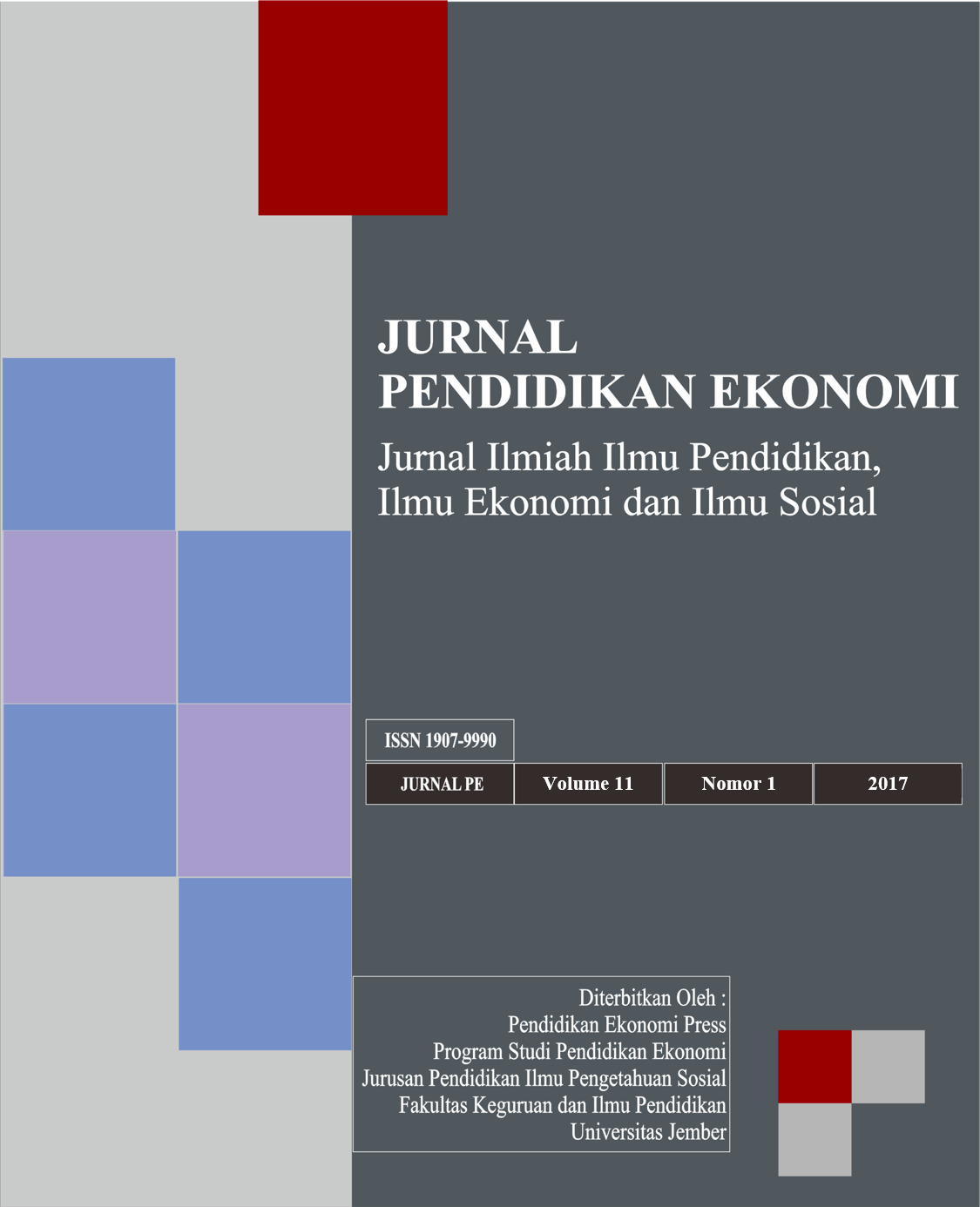 How to Cite
PUTRI, Santhy Rahmawati; WAHYUNI, Sri; SUHARSO, Pudjo. PENGGUNAAN MEDIA PEMBELAJARAN EDMODO UNTUK MENINGKATKAN AKTIVITAS DAN HASIL BELAJAR SISWA KELAS X PEMASARAN DI SMK NEGERI 1 JEMBER TAHUN AJARAN 2016/2017.
JURNAL PENDIDIKAN EKONOMI: Jurnal Ilmiah Ilmu Pendidikan, Ilmu Ekonomi dan Ilmu Sosial
, [S.l.], v. 11, n. 1, p. 111-116, july 2017. ISSN 2548-7175. Available at: <
https://jurnal.unej.ac.id/index.php/JPE/article/view/5011
>. Date accessed: 04 dec. 2023. doi:
https://doi.org/10.19184/jpe.v11i1.5011
.

This work is licensed under a Creative Commons Attribution-ShareAlike 2.0 Generic License.