MODERNISASI PERTANIAN (STUDI KASUS TENTANG PELUANG KERJA DAN PENDAPATAN PETANI DALAM SISTEM PERTANIAN DI DESA DUKUHDEMPOK KECAMATAN WULUHAN KABUPATEN JEMBER)
Bayu Enggal Rifkian

Pudjo Suharso

Sukidin Sukidin
Abstract
The modernization of agriculture is a fundamental change in the patterns of agriculture, from traditional ways to more advanced ways. Including farmers in Village Dukuhdempok, Wuluhan, District Jember, the changes include several things, among others in the processing of soil, the use of superior seeds, the use of fertilizers, the use of agricultural facilities, and the timing of harvesting. The purpose of this study is to determine the impact of agricultural modernization on employment opportunities and income of farmers in the Village Dukuhdempok, Wuluhan, District Jember. The type of this research is descriptive research with qualitative approach. Place of study was determined by using Purposive method. Informant research was determined using snowball method. Data collection techniques in this study using the method of observation, interviews and documents. Data analysis by means of data reduction, data presentation, and conclusion. The results showed that the modernization of agriculture in the village of Dukuhdempok a change in the pattern of traditional community life into a modern society, especially related to technology and agricultural organizations. Farmers in the village of Dukuhdempok indeed undergo many changes in line with technological developments in the field of agriculture that is the change of the guise system into a kolen system, the selection of superior seeds that used to use their own seeds without taking into account the quality of the results and the time taken until the harvest and now have selected superior seeds Which will get more crops and planting time to harvest faster. The existence of modern machines in the field of agriculture by shifting traditional tools such as traditional plows, manual pest eradication tank and also the harvesting process that initially uses ani-ani, then changed to jagrak by pounding the rice stalk and then expand again to the dores Such as a bike, then dores with a diesel engine and is now using a kombin that saves more power and time. From the development of agricultural technology has an impact on the increase in income to the owner farmers and the increased employment opportunities for skilled or skilled hodge.
Downloads
Download data is not yet available.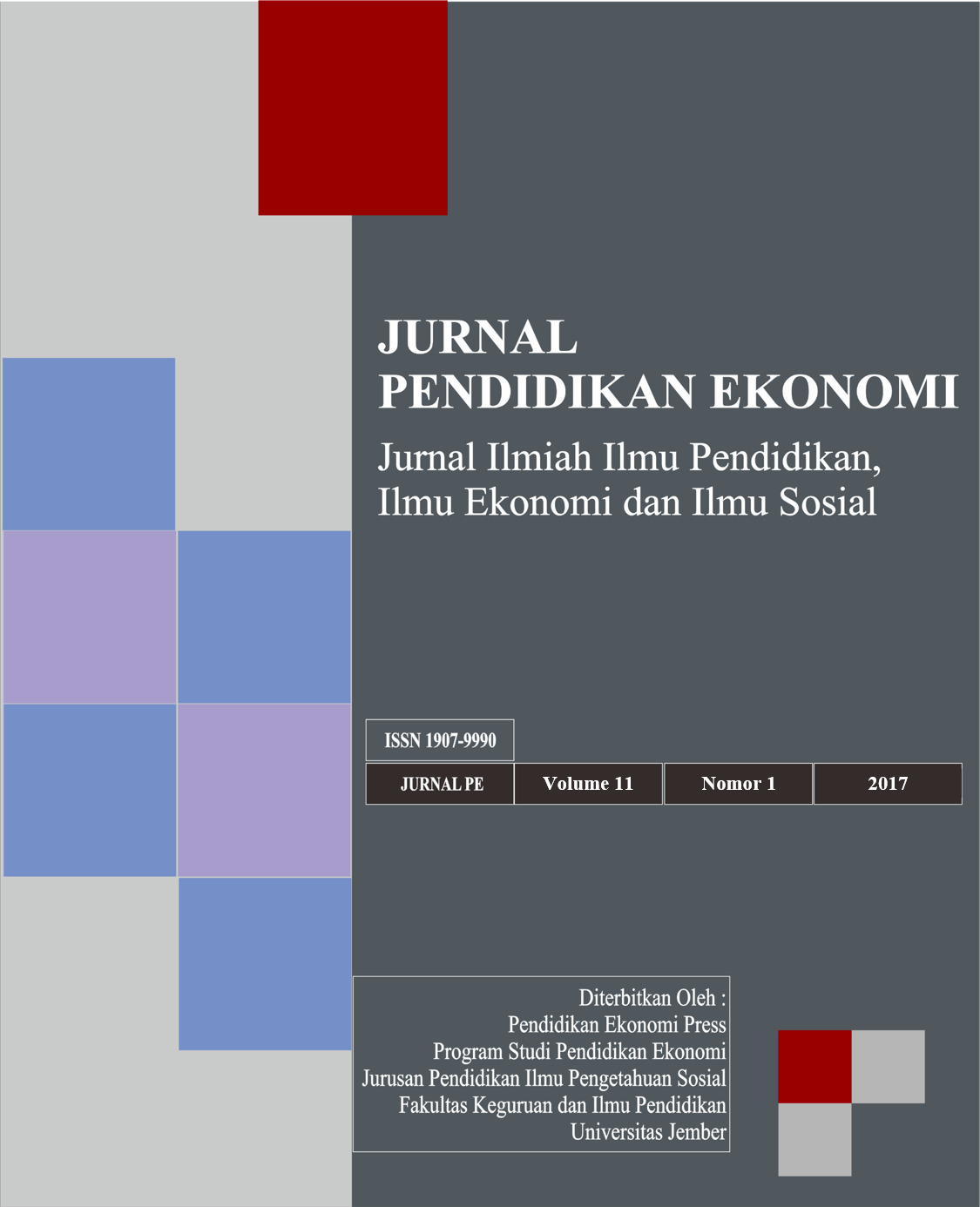 How to Cite
RIFKIAN, Bayu Enggal; SUHARSO, Pudjo; SUKIDIN, Sukidin. MODERNISASI PERTANIAN (STUDI KASUS TENTANG PELUANG KERJA DAN PENDAPATAN PETANI DALAM SISTEM PERTANIAN DI DESA DUKUHDEMPOK KECAMATAN WULUHAN KABUPATEN JEMBER).
JURNAL PENDIDIKAN EKONOMI: Jurnal Ilmiah Ilmu Pendidikan, Ilmu Ekonomi dan Ilmu Sosial
, [S.l.], v. 11, n. 1, p. 39-48, july 2017. ISSN 2548-7175. Available at: <
https://jurnal.unej.ac.id/index.php/JPE/article/view/4995
>. Date accessed: 06 dec. 2023. doi:
https://doi.org/10.19184/jpe.v11i1.4995
.

This work is licensed under a Creative Commons Attribution-ShareAlike 2.0 Generic License.