Current Issue
Vol 2 No 2 (2022): July-December 2022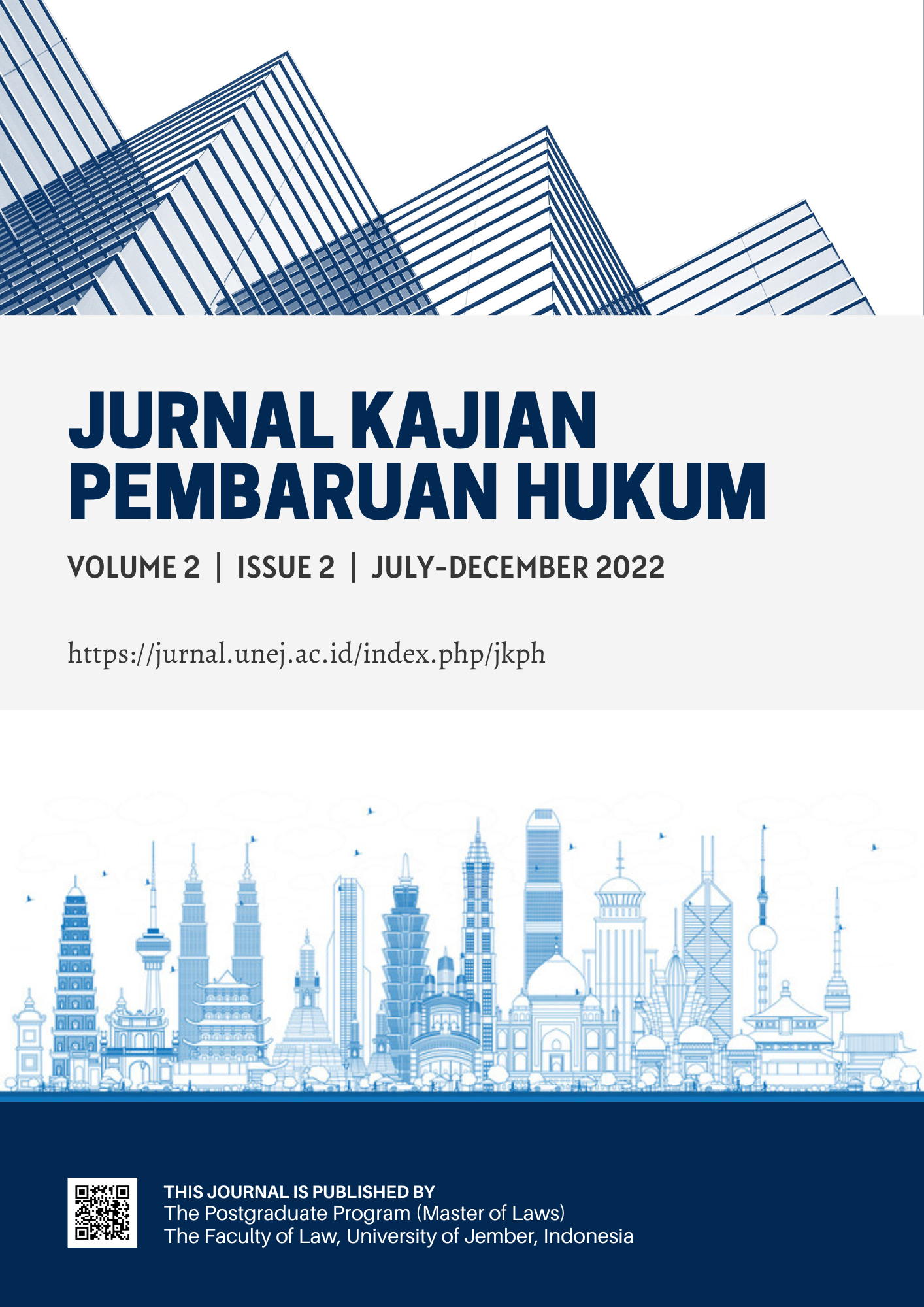 ISSN: 2776-9828 (Online)
First Publication: 2021
Language: Indonesian and English
Publisher: Master's Program at the Faculty of Law, University of Jember
Duration: Approx. 60 days of submission to decision
Frequency: 2 issues per year
Acceptance Rate: 30% of the total submissions
DOI: 10.19184/jkph 

Authors' Diversity: Indonesia, Sri Lanka, Vietnam
Audience: Scholars and practitioners of legal reform in Asia
Index: DOAJ, Google Scholar, Garuda, Dimensions
View All Issues
Jurnal Kajian Pembaruan Hukum (Journal of Studies in Legal Reform) is a fully open-access refereed journal that aspires to publish a contemporary analysis of legal reform in Asia. It is rooted in the idea that Asian heterogeneity has historically encouraged a complex legal system, particularly amidst the rapid economic and socio-cultural development of globalization.
Following its specializing focus on exploring Asian legal reform, the Editorial Board welcomes new submissions which emphasize the new perspectives on the following topics that:
● involve in indigenizing the distinctive nature and complex development of legal reform in Asia;
● discuss the contextual issues on the interplay of the rule of law reform and the Asian legal transplants;
● critically examine the emerging issues of the Asian and other related legal systems in the South hemisphere; and
● locate analytical foundations for the legal reform and future development of Asian legal education.
All types of manuscripts, from socio-legal to theoretical, will be considered for publication. However, preference will be given to submissions with cross-disciplinary approaches so that the authors are advised to submit a manuscript that:
● discusses law and its social, economic, and political context in Asian countries;
● uses the Asian perspective on socio-legal issues of international concerns;
● considers the Asian historical trajectory to develop its own distinctive legal system; or
● brings the Asian countries as the starting point to explore the current legal conversation.
New submissions may comprise articles (7,000-10,000 words), notes (4,000-6,000 words), and book reviews (1,000-1,500 words) written in English or Indonesian. The published papers were subject to a double-blind peer-review process by at least two experts. The Editor's final decision considered relevance to the journal's aims and scope, the quality of research and writing, and geographical diversity. The novelty of academic contribution was also an essential requirement.
For new submissions, click here.
If you require any further information or help, please visit our Support Center.