Current Issue
Vol 1 No 1 (2020): OPTIMIZATION OF SUBCRITICAL WATER ASSISTED BY NITROGEN PRIOR TO ENZYMATIC HYDROLYSIS FOR REDUCING SUGAR PRODUCTION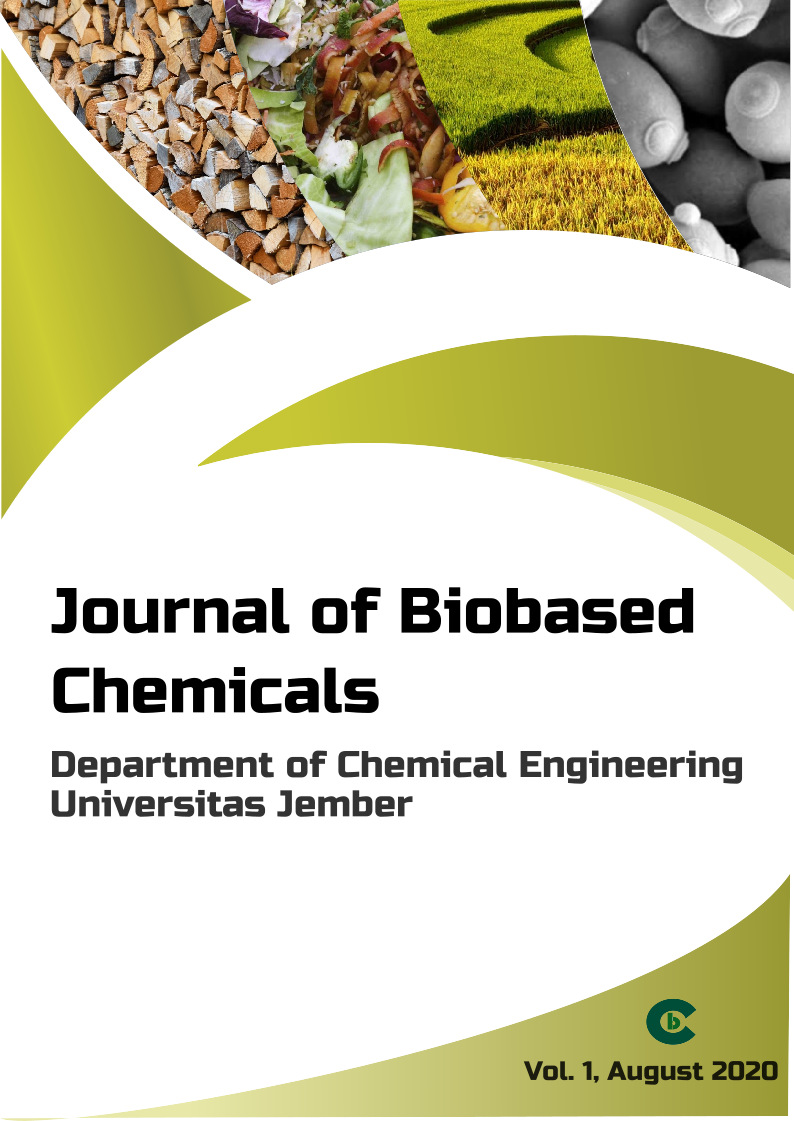 Maktum Muharja, Nur Fadhilah, Rizki Fitria Darmayanti, Dwina Moentamaria and Arief Widjaja
Abstract
The objective of this study is to optimize the three significant parameters of the subcritical water (SCW) process for sugar production from coconut husk by using response surface methodology (RSM). In this study, the effect of temperature, reaction time and solvent-feed (S/F) ratio was evaluated and discussed comprehensively. The results showed that the S/F ratio had the most significant effect on sugar yield. The optimal sugar yield was obtained at the highest S/F ratio of 23.4, the shortest time of 4.8 min, and the highest temperature of 183.6 oC of the SCW process. The characterization results confirmed that the lignocellulose structure was changed remarkably then contribute to the efficient processes of enzymatic hydrolysis. The parameters evaluation using RSM in this study suggests that SCW hydrolysis could be subjected to commercial purposes.

Keywords: response surface methodology, subcritical water, enzymatic hydrolysis, sugar production, coconut husk
Full Issue
View All Issues
Editor in Chief: Boy Arief Fachri
e-ISSN: 2746-2544
p-ISSN: 2746-3257
Aims and Scopes :
Journal of Biobased Chemicals publishes original research articles and review articles on the basic knowledge, technology, application, and management of biobased chemicals processing. The aim of this journal is expanding knowledge and advancing development in the related study about bioresources and biomass utilization and bio-waste treatment.
The scopes of this journal include the following topics:
Components extract from bioresources
Chemical and physical processing of biomass
Biobased materials and composites
Biobased energy production
Catalyst technology for biomass conversion
Biological processing of bioresources, chemicals and waste
Treatment of biobased chemical waste
Application of the biobased chemical products to the target users
System analysis, management, and environmental protection of biobased chemical processing
This journal does not consider the topics about organic chemicals from non-organism, crops and breeding, organism modification, metabolic engineering, bioresources and environmental management which do not relate to biobased chemical processing.