ACCOUNTABILITY FOR THE RELATIONSHIP BETWEEN ZAKAT LITERACY, OPERATING PROFIT, AND THE INTEREST OF MSMES IN PAYING ZAKAT THROUGH ZAKAT MANAGEMENT ORGANIZATION
Dahlia Tri Anggraini

Universitas Muhammdiyah Jakarta

Siti Hartinah

Universitas Muhammadiyah Jakarta

Rindu Ferdina Lestari

Universitas Muhammadiyah Jakarta
Abstract
Zakat is the key to poverty alleviation efforts, tackling social problems to empowering micro-economics in addition to funds from the APBN. It is hoped that there will be a joint movement including from MSME actors. The purpose of this study was to examine and analyze the effect of accountability on the relationship between literacy, operating profit, and the interest of MSMEs in paying zakat through Zakat Management Organization (ZMO). With the stages of research; survey in the form of distributing questionnaires and interviews to the respondents (MSME entrepreneurs); processing data on the distribution of questionnaires using the SmartPLS 3 software; and data analysis. The results of this study are that zakat literacy has no significant positive effect, operating profit and accountability has a significant positive effect. This research has an implication by this research, MSME in Cipadu Market have a good zakat literacy, but they aren't familiar with ZMO. Accordingly, ZMO must be active in socializing their program to muzakki, especially MSMEs. The expectations are that MSMEs will become muzakki and will pay their zakat from their operating income through ZMO. So that it can increase the realization of zakat funds collected through ZMO in Indonesia.
Keywords: Accountability, Literacy, Net Income, MSMEs, ZMO
ABSTRAK
Zakat menjadi kunci upaya pengentasan kemiskinan, penanggulangan masalah sosial hingga pemberdayaan ekonomi mikro selain dana dari APBN. Melalui zakat, diharapkan terdapat gerakan bersama termasuk dari para pelaku UMKM. Tujuan penelitian ini adalah untuk menguji dan menganalisis pengaruh akuntabilitas terhadap hubungan literasi, laba usaha, dan minat UMKM membayar zakat melalui Zakat Management Organization (ZMO). Dengan tahapan penelitian; survei berupa penyebaran kuesioner dan wawancara kepada responden (pengusaha UMKM); pengolahan data penyebaran kuesioner menggunakan software Smart PLS 3; dan analisis data. Hasil dari penelitian ini adalah literasi zakat berpengaruh positif tidak signifikan, laba usaha dan akuntabilitas berpengaruh positif signifikan. Penelitian ini memiliki implikasi praktis bahwa meskipun UMKM di Pasar Cipadu memiliki literasi zakat yang baik, tetapi mereka tidak mengenal ZMO. Oleh karena itu, ZMO harus aktif mensosialisasikan programnya kepada para muzakki, khususnya UMKM. Harapannya, UMKM akan menjadi muzakki dan akan membayar zakat dari hasil usaha mereka melalui ZMO. Sehingga dapat meningkatkan realisasi dana zakat yang terkumpul melalui ZMO di Indonesia.
Kata Kunci: Akuntabilitas, Laba Bersih, Literasi, UMKM, ZMO
References
Al Quran dan Terjemahnya

Antara, P.M., Musa, R., & Hassan, F. 2016. Bridging Islamic Financial Literacy and Halal Literacy: The Way Forward in Halal Ecosystem. Procedia Economics and Finance, 37 (16), 196-202. https://doi.org/10.1016/s2212-5671(16)30113-7

Abu-Tapanjeh, A. M. (2009). Corporate governance from the Islamic perspective: A comparative analysis with OECD principles. Critical Perspectives on Accounting , 556-567

Canggih, C., & Indriani, R. 2021. Apakah Literasi Mempengaruhi Penerimaan Zakat? Jurnal Ekonomi Syariah Indonesia. Vol. XI No. 1, Juni 2021/1442 H : 1-11. Universitas Alma Ata. https://doi.org/ 10.21927/jesi.2021.11(1).1-11

Crow, L. C. (1989). Educational Pshycology. In P. Pendidikan. Yogyakarta: Nur Cahaya

Horngren, C. (1997). Akuntansi di Indonesia Edisi ke 3. Jakarta: Salemba Empat

https://pid.baznas.go.id/

Inayah, N., & Muanisah, Z. (2018). Hubungan Kepercayaan, Transparansi, Dan Akuntabilitas Terhadap Loyalitas Muzakki Pada Badan Amil Zakat (Studi Kasus di Kecamatan Tegalsari Banyuwangi). ACTIVA: Jurnal Ekonomi Syariah Vol 1 No 2 STIT NU Al Hikmah, 17-33

Istikhomah, D., & Asrori. (2019). Pengaruh Literasi Terhadap Kepercayaan Muzaki Pada Lembaga Pengelola Zakat Dengan Akuntabilitas dan Transparansi Sebagai Variabel Intervening. Economic Eduction Analysis Journal Vol 8 No 1, 95-109

Kabib, N., Umar, A. U., Fitriani, A., Lorenza, L., & Mustofa, M. T. (2021). Pengaruh Akuntabilitas dan Transparansi Terhadap Minat Muzakki Membayar Zakat di BAZNAS Sragen. Jurnal Ilmiah Ekonomi Islam Vol 7 No 1 STIE Amanat Akademisi Surakarta, 341-349

Khairani, M. 2014. Psikologi Belajar. Yogyakarta: Aswaja Pressindo. Hal 139

Nugroho, A. S., & Nurkhin, A. (2019). Pengaruh Religiusitas, Pendapatan, Pengetahuan Zakat Terhadap Minat Membayar Zakat Profesi Melalui Baznas dengan Faktor Usia Sebagai Variabel Moderasi. Economic Education Analysis Journal Vol 8 No 3 Universitas Negeri Semarang, 955-966

Rosalinda, M., Abdullah, & Fadli. (2021). Pengauruh Pengetahuan Zakat, Pendapatan Dan Kepercayaan Muzakki Terhadap Minat Pelaku UMKM Untuk Membayar Zakat Niaga Di Organisasi Pengelola Zakat Kota Bengkulu. Jurnal Akuntansi Universitas Bengkulu Vol 11 no 1, 67-80

Salmawati & Fitri, M. 2018. Pengaruh Tingkat Pendapatan, Religiusitas, Akuntabilitas Dan Kualitas Pelayanan Terhadap Minat Muzakki Membayar Zakat Di Baitul Mal Kota Banda Aceh. JIMEKA. Vol 3 No 1. Universitas Syiah Kuala

Shaleh, AR., & Wahab, MA. 2004. Psikologi Suatu Pengantar Dalam Perspektif Islam. Jakarta: Penerbit Kencana

Tho'in, M., & Marimin, A. (2019). Pengaruh Tingkat Pendapatan, Tingkat Pendidikan, dan Tingkat Religiusitas . Jurnal Ilmiah Ekonomi Islam Vol. 5 No. 3 STIE Amanat Akademisi Surakarta, 225-230

www.ekon.go.id. (2022). Kemenko Perekonomian Luncurkan Unit Pengumpul Zakat, Dukung Pemulihan Ekonomi dan Inklusi Keuangan Syariah. Jakarta: Kementrian Koordinator Bidang Perekonomian RI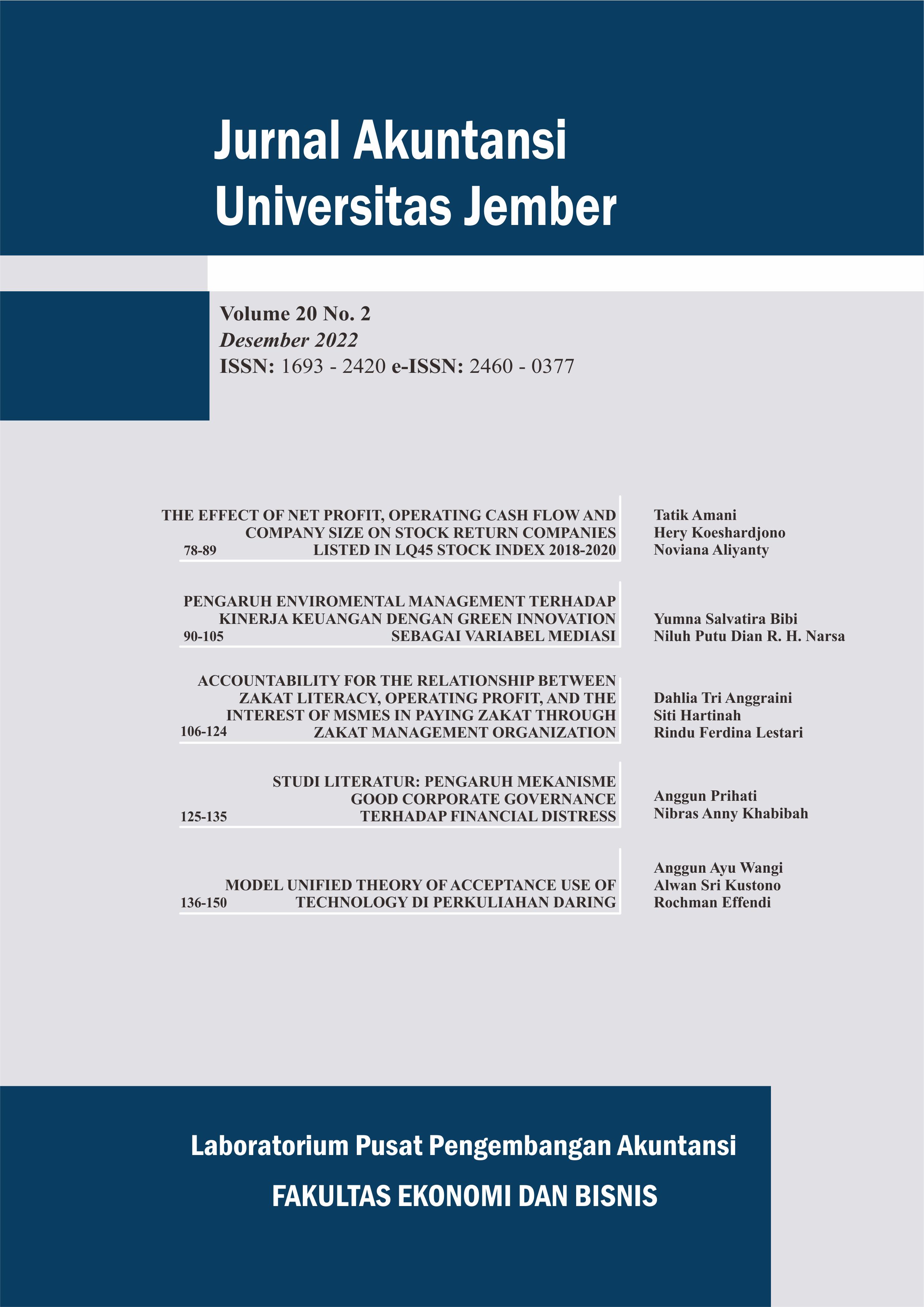 How to Cite
ANGGRAINI, Dahlia Tri; HARTINAH, Siti; LESTARI, Rindu Ferdina. ACCOUNTABILITY FOR THE RELATIONSHIP BETWEEN ZAKAT LITERACY, OPERATING PROFIT, AND THE INTEREST OF MSMES IN PAYING ZAKAT THROUGH ZAKAT MANAGEMENT ORGANIZATION.
JURNAL AKUNTANSI UNIVERSITAS JEMBER
, [S.l.], v. 20, n. 2, p. 106-124, dec. 2022. ISSN 2460-0377. Available at: <
https://jurnal.unej.ac.id/index.php/JAUJ/article/view/35071
>. Date accessed: 21 mar. 2023. doi:
https://doi.org/10.19184/jauj.v20i2.35071
.
This work is licensed under a Creative Commons Attribution-ShareAlike 4.0 International License.