Effect of Soyflour (Glycine max L.) Hepatoprotector Activity on Liver MDA Level in Male Wistar Rat Induced by Diazinon
Sofi Aliyatul Himah

Desie Dwi Wisudanti

Heni Fatmawati
Abstract
Diazinon is metabolized in liver becomes diazoxon, an active metabolite form that can cause free radical raising
that leads to lipid peroxidation. The result of lipid peroxidation is MDA. Soyflour has higher isoflavones than the
other processed food of Glycine max L.This isoflavones donate its electron and hydrogen atom in lipid
peroxidation so it can block the lipid peroxidation. The aim of this experiment is to investigate the effect of soy
flour on MDA hepar level increase of male wistar rat induced by diazinon. The sample are divided into 5 groups
which are Kn, K(-) group induced by diazinon 40mg/kgBW, K1, K2, K3 group given with soy flour 10%, 15%, and
20% orally, then induced by diazinon 40 mg/kgBW. MDA liver measured on the day 34th with MDA-TBA
methode which has pink colour and measured by spectrofotometer. Average of liver MDA levels is Kn 6,35
μg/mL; K(-) 9,23 μg/mL; K1 8,85 μg/mL; K2 7,88 μg/mL; K3 7,04 μg/mL. One way ANOVA and Post hoc LSD
showed significantly different (p<0,05). Pearson correlation showed strong negative correlation.

Keywords: Diazinon, Diazoxon, MDA, Soyflour, Glycine max L., antioxidant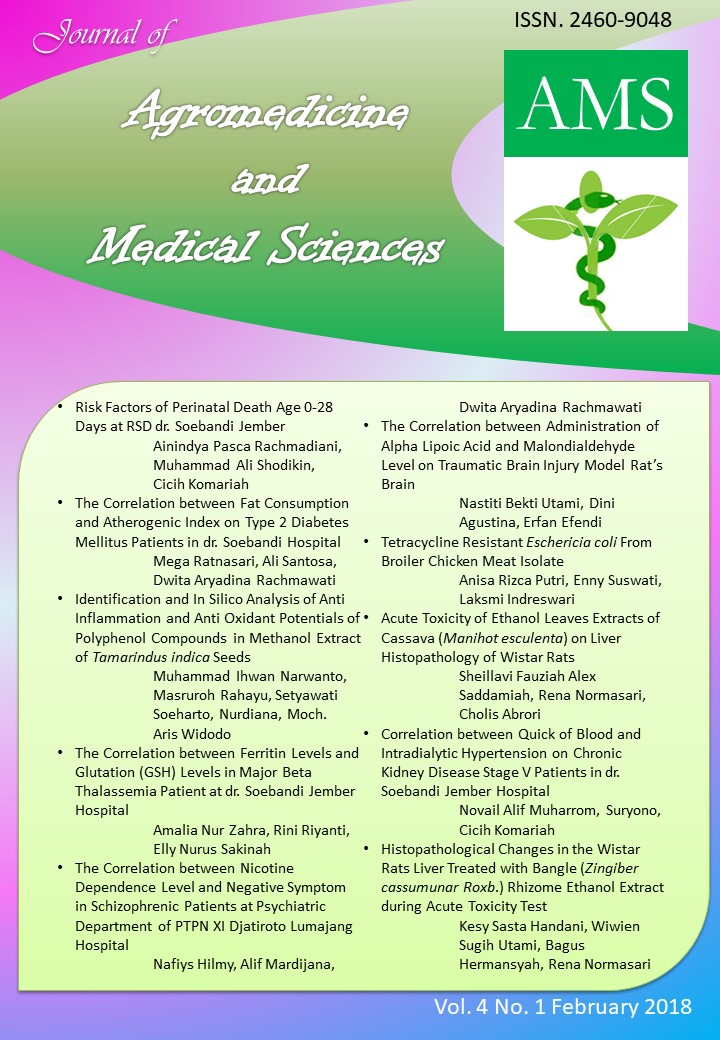 How to Cite
HIMAH, Sofi Aliyatul; WISUDANTI, Desie Dwi; FATMAWATI, Heni. Effect of Soyflour (Glycine max L.) Hepatoprotector Activity on Liver MDA Level in Male Wistar Rat Induced by Diazinon.
Journal of Agromedicine and Medical Sciences
, [S.l.], v. 4, n. 1, p. 1 - 6, feb. 2018. ISSN 2460-9048. Available at: <
https://jurnal.unej.ac.id/index.php/JAMS/article/view/6857
>. Date accessed: 19 jan. 2019.