Humoral Response to Anopheles maculatus and Anopheles sundaicus Salivary Gland Proteins
Yunita Armiyanti

Widodo widodo

Loeki Enggar Fitri

Teguh Wahju Sardjono
Abstract
The salivary gland of female Anopheles mosquito has important role in malaria transmission by salivary proteins that enhancing Plasmodium transmission. The mosquito saliva contains vasomodulatory and immunomodulatory components that inhibit the physiological response of the host. Therefore, the pathogen infects the host without any resistance. The salivary proteins also induce the production of antibody IgG in the host after exposed by the Anopheles mosquito bites repeatedly. This study aims to measured the antibody response of inhabitants living in malaria endemic areas (Kalirejo viilages, Kokap, Kulonprogo) to salivary gland proteins of An. maculatus and An.sundaicus. The level of antibody response was measured by ELISA and analyzed with T test or Anova test for normal distribution of data and Mann Whitney test or Kruskal Wallis test for the data were not normally distributed. The result showed that the level of anti-salivary gland homogenate IgG from sera of people living in malaria endemic area was significantly higher than people living in non-malaria endemic area and negative control (p<0.05). Sera from inhabitants living in Kalirejo village showed that the level of antibody response to both salivary gland homogenate of An.sundaicus and An.maculatus were not significantly different (p<0.05). It was concluded that exposure to An.maculatus and An.sundaicus bites repeatedly could trigger the production of anti-salivary gland proteins IgG antibodies that recognized antigenic proteins from the salivary glands.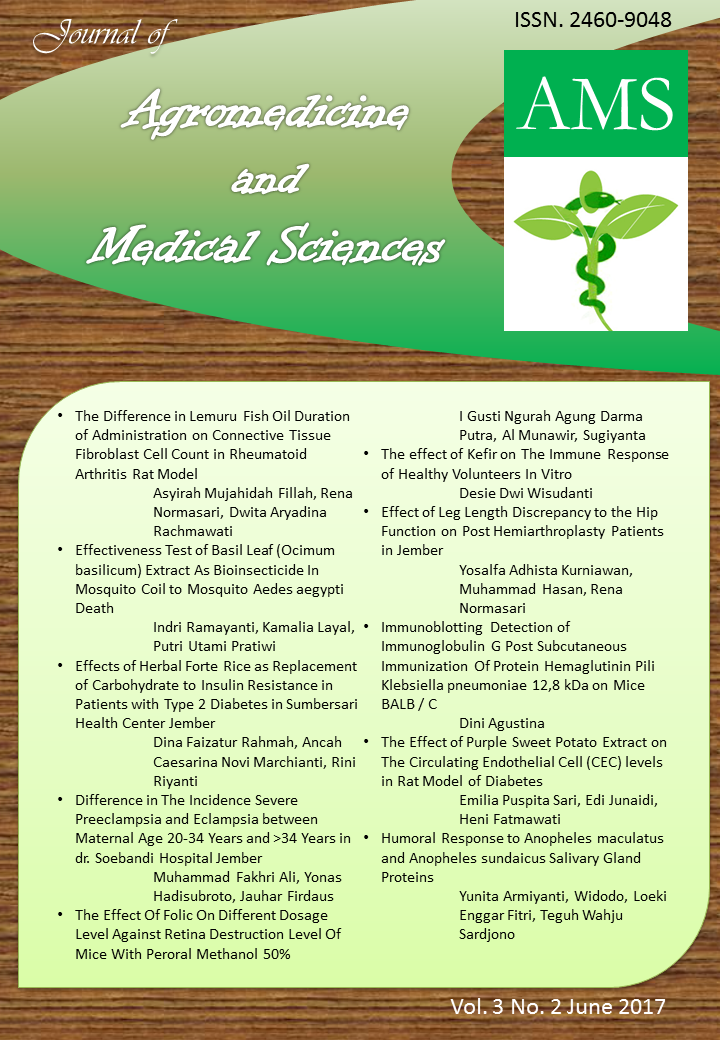 How to Cite
ARMIYANTI, Yunita et al. Humoral Response to Anopheles maculatus and Anopheles sundaicus Salivary Gland Proteins.
Journal of Agromedicine and Medical Sciences
, [S.l.], v. 3, n. 2, p. 53-61, july 2017. ISSN 2460-9048. Available at: <
https://jurnal.unej.ac.id/index.php/JAMS/article/view/5071
>. Date accessed: 18 nov. 2017.