Immunoblotting Detection of Immunoglobulin G Post Subcutaneous Immunization Of Protein Hemaglutinin Pili Klebsiella pneumoniae 12,8 kDa on Mice BALB / C
Dini Agustina

Laboratorium Mikrobiologi Fakultas Kedokteran Universitas Jember
Abstract
Klebsiella pneumoniae is the second most common cause of community infection and nosocomial infections due to Gram-negative bacteria. These bacteria are able to induce the onset of immune response, especially humoral immune response.Humoral immunity acts through the activation of B cells that produce antibodies. Antibodies, especially IgG, will cause encapsulated bacteria such as Klebsiella pneumoniae to be better phagocytosed. The purpose of this study was to determine the IgG response to hemagglutinin protein pili K. pneumoniae 12.8 kDa. The method used in this research is Immunoblotting method with western blot and dot blot. The primary antibodies used for the western blot and dot blot tests were isolated from BALB / C mice serum induced with the subcutaneous pili K. pneumoniae 12.8 kDa protein. To get the standard in assessing the results of dot blot were used Corel Photo-paint X6. The semi-quantitative result of dot blot was obtained with the strongest reaction of the antibody dilution at 1/100 while the antigen dilution titer at 1 / 10.000. Results from western blotting showed a positive reaction of the pili protein subunit with a molecular weight of 128.1 kDa, 114.4 kDa, 64.9 kDa, 31.1 kDa, 27.7 kDa, 24.8 kDa, 20.9 kDa, 12.8 kDa, and 10 kDa. The conclusion of this study is the immunization of hemagglutinin pili K. pneumoniae 12.8 kDa subcutaneously capable of inducing the formation
of Immunoglobulin G in BALB / C mice.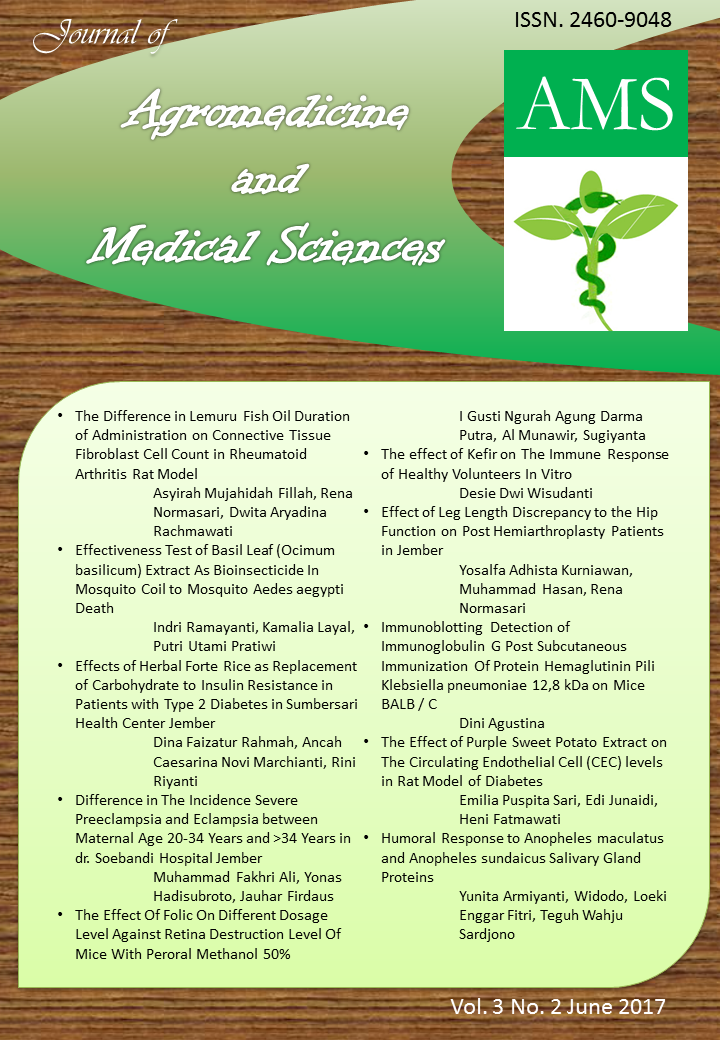 How to Cite
AGUSTINA, Dini. Immunoblotting Detection of Immunoglobulin G Post Subcutaneous Immunization Of Protein Hemaglutinin Pili Klebsiella pneumoniae 12,8 kDa on Mice BALB / C.
Journal of Agromedicine and Medical Sciences
, [S.l.], v. 3, n. 2, p. 40-46, july 2017. ISSN 2460-9048. Available at: <
https://jurnal.unej.ac.id/index.php/JAMS/article/view/5069
>. Date accessed: 18 nov. 2017.