The effect of Kefir on The Immune Response of Healthy Volunteers In Vitro
Desie Dwi Wisudanti

Laboratorium Farmakologi Fakultas Kedokteran Universitas Jember
Abstract
Kefir is a functional foodstuff of probiotics, made from fermented milk with kefir grains containing various types of beneficial bacteria and yeast. There have been many studies on the effects of oral kefir on the immune system, but few studies have shown the effect of bioactive components from kefir (peptides and exopolysaccharides/ kefiran), on immune responses. The purpose of this study was to prove the effect of kefir supernatant from milk goat on healthy immune volunteer response in vitro. The study was conducted on 15 healthy volunteers, then isolated PBMC from whole blood, then divided into 5 groups (K-, P1, P2, P3 and P4) before culture was done for 4 days. The harvested cells from culture were examined for the percentage of CD4+ T cells, CD8+ T cells, IFN-γ, IL-4 using flowsitometry and IL-2 levels, IL-10 using the ELISA method. The results obtained that kefir do not affect the percentage of CD4+ T cells and CD8+ T cells. The higher the concentration of kefir given, the higher levels of secreted IFN- γ and IL-4, but a decrease in IL-2 levels. Significant enhancement occurred at levels of IL-10 culture PBMC given kefir with various concentrations (p <0.01), especially at concentrations of 1%. These results also show the important effects of kefir bioactive components on immune responses. The conclusion of this study is that kefir can improve the immune response, through stimulation of IL-10 secretion in vitro.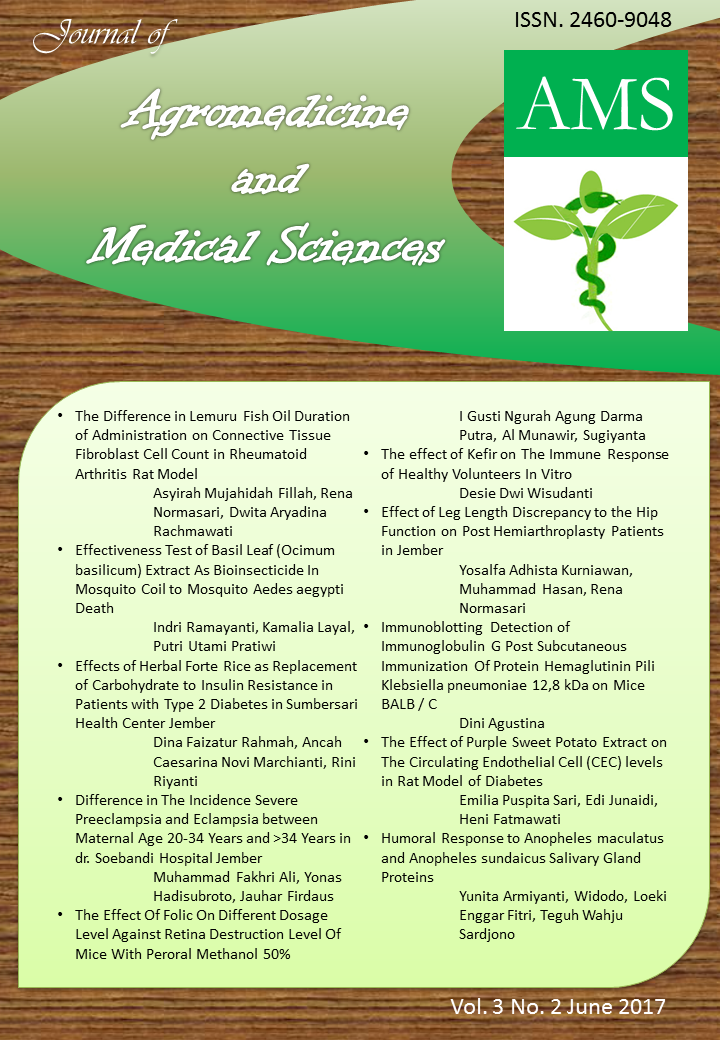 How to Cite
WISUDANTI, Desie Dwi. The effect of Kefir on The Immune Response of Healthy Volunteers In Vitro.
Journal of Agromedicine and Medical Sciences
, [S.l.], v. 3, n. 2, p. 28-34, july 2017. ISSN 2460-9048. Available at: <
https://jurnal.unej.ac.id/index.php/JAMS/article/view/5067
>. Date accessed: 18 nov. 2017.