The Effect Of Folic On Different Dosage Level Against Retina Destruction Level Of Mice With Peroral Methanol 50%
I Gusti Ngurah Agung Darma Putra

Fakultas Kedokteran Universitas Jember

Al Munawir

Sugiyanta sugiyanta
Abstract
In recent years, there are many methanol poisoned cases. Methanol poisoned cause of blindness, CNS problem, and metabolic acidosis. Folic acid is the one of many medicinal treatment for methanol poisoned. Folic acid has important role on methanol metabolism in our body. The aim of the study was to known the effect of addition folic acid on retina damage level of methanol poisoned. The method is experimental laboratories (true experiment design) with post test only control group design. The study included 5 separate test. The subject were mice which in 2 - 3 months age and had weight about 25 - 35 gr. There were 5 groups subject in the study. There were control group which given usual meals for mice and aquadest, negative control group which given methanol 7gr/ kgBW, treatment group 1,2, and 3 were given methanol 7gr/kgBW and folic acid 1 mg/kg BW, 3mg/kgBW, and 5 mg/kgBW. The treatment was given about 24 hours, then the eyes of the mice were taken to made blood smear. Damage of eyes were evaluated based score determined before. It can be concluded that addition folic acid can reduce retina damage level of metanol poisoned.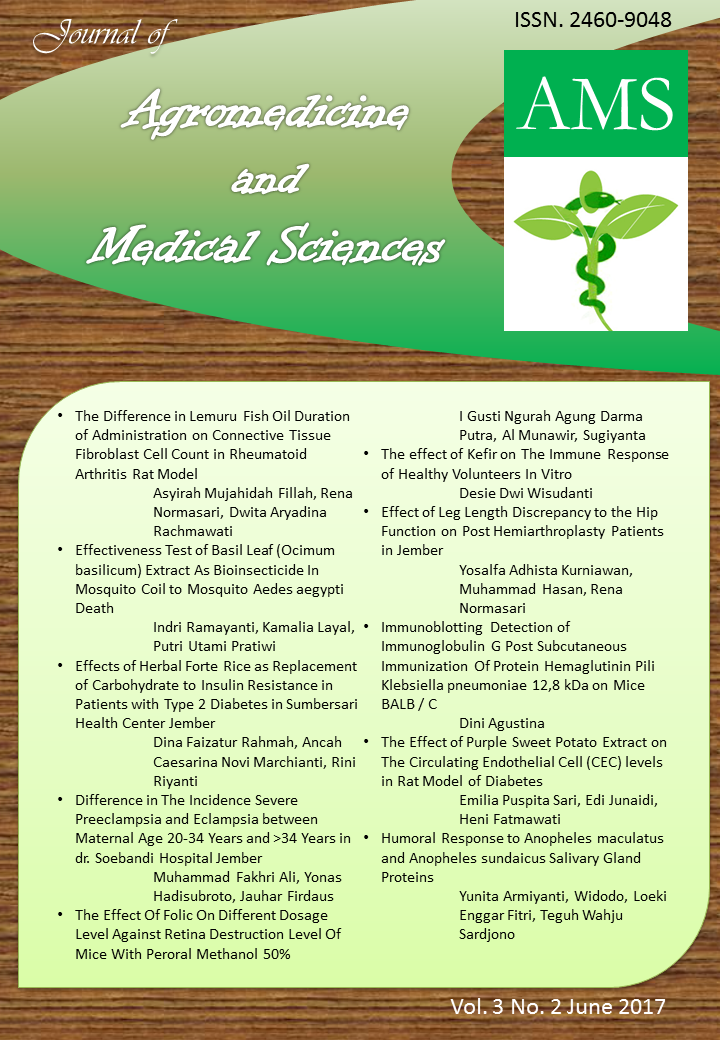 How to Cite
DARMA PUTRA, I Gusti Ngurah Agung; MUNAWIR, Al; SUGIYANTA, Sugiyanta. The Effect Of Folic On Different Dosage Level Against Retina Destruction Level Of Mice With Peroral Methanol 50%.
Journal of Agromedicine and Medical Sciences
, [S.l.], v. 3, n. 2, p. 23-27, july 2017. ISSN 2460-9048. Available at: <
https://jurnal.unej.ac.id/index.php/JAMS/article/view/5066
>. Date accessed: 18 nov. 2017.