Effectiveness Test of Basil Leaf (Ocimum basilicum) Extract As Bioinsecticide In Mosquito Coil to Mosquito Aedes aegypti Death
Indri Ramayanti

Fakultas Kedokteran Universitas Muhammadiyah Palembang

Kamalia Layal

Putri Utami Pratiwi
Abstract
Aedes aegypti is the vector of Dengue Haemorhagic fever. One of the method to prevent the spread of dengue fever is vector control. Principal activity to control this vector might decrease their population as transmitter of disease. One way of controlling mosquitoes vectors is using a bioinsecticide from basil leaf. Basil leaf extract has bioinsecticide effect to Aedes aegypti because basil leaf has some active compounds, such as Flavonoid, Saponin, Tannin and essential oils. These compound are toxic to mosquitoes. The purpose of this study was to determine the effectiveness of basil leaf (Ocimum basilicum L.) extract as mosquito coil against Aedes aegypti. The design of this study is xperimental study with 450 subjects of Aedes aegypti. Subjects were divided into six groups. They were 0% (negative control), 25%, 50%. 70%, 90% extract and Transfluthrin 0,03% (positive control). Each group contained 25 mosquitoes. Observation were carried out for 60 minutes with 10 minutes intervals and three times of repetition. The Data were analyzed by probit to calculate the value of Lethal consentration. The result of Probit Analyze showed that LC50 was at a concentration of 41,81% and LC90 was at concentration of 101.66%. The results showed that the extract of basil leaf (Ocimum basilicum L.) effective as Aedes aegypti bioinsecticide in mosquito coil.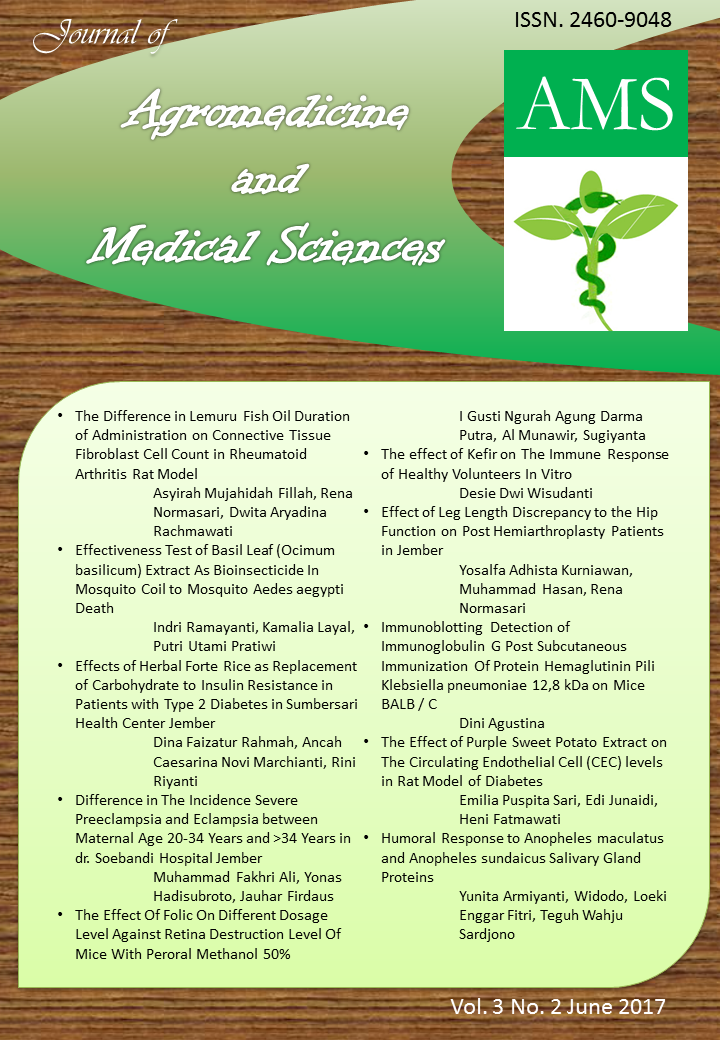 How to Cite
RAMAYANTI, Indri; LAYAL, Kamalia; PRATIWI, Putri Utami. Effectiveness Test of Basil Leaf (Ocimum basilicum) Extract As Bioinsecticide In Mosquito Coil to Mosquito Aedes aegypti Death.
Journal of Agromedicine and Medical Sciences
, [S.l.], v. 3, n. 2, p. 6-10, july 2017. ISSN 2460-9048. Available at: <
https://jurnal.unej.ac.id/index.php/JAMS/article/view/5063
>. Date accessed: 18 nov. 2017.