Therapeutic Effects of Medicinal Plants on Diabetic Foot Ulcers: A Systematic Review
Efa Refiani

Biology Study Program, Faculty of Applied Science and Technology, Ahmad Dahlan University, Yogyakarta, Indonesia

Rita Maliza

Biology Study Program, Faculty of Applied Science and Technology, Ahmad Dahlan University, Yogyakarta, Indonesia

Husna Fitri

Biology Study Program, Faculty of Applied Science and Technology, Ahmad Dahlan University, Yogyakarta, Indonesia

Putri Lestari

Biology Study Program, Faculty of Applied Science and Technology, Ahmad Dahlan University, Yogyakarta, Indonesia
Abstract
Diabetic Foot Pain and Ulcers is one of the complications diseases caused by Diabetes Mellitus (DM). Based on data from the Ministry of Health in 2014, diabetic foot ulcers in Indonesia 54%. Diabetic foot ulcer disease can cause infection and tissue death. Treatment of diabetic foot ulcers has been treated with ointments or gels containing antimicrobials, biomaterials, and active compounds, accelerating the wound healing process. The active compounds from medicinal plants that play a role in the treatment of diabetic foot ulcers have been widely reported. The purpose of writing this article is to look at the therapeutic effects of active compounds that play a role in wound healing. In this systematic review, we searched the PubMed, Science Direct, and Google Scholar databases to identify primer articles that were published from 2010 to 2020. Ten studies were selected and published between 2015-2020. Furthermore, the plant species used for the treatment of diabetic foot ulcers contain active phenolic, gallic acid, flavonoids, gallic acid, flavonoids, and tannins compounds that play a role in the acceleration of the healing process of diabetic foot ulcers.
Keywords: Diabetes mellitus, diabetic foot ulcers, the active compound, medicinal plants
References
Abas M, El Masry M, dan Elgharably H. 2020. Collagen in diabetic wound healing: Wound Healing, Tissue Repair, and Regeneration in Diabetes. United States: Elsevier Inc. 393–401 p.

Alfaqih M, et al. 2019. The Management of Diabetic Foot Ulcers Using the Wound Treatment Techniques of Modern Dressing: A Systematic Review. Journal Ners. 14(3):171-181.

Azevedo M, et al. 2018. Wound healing of diabetic rats treated with Moringa oleifera extract. Acta Cirurgica Brasileira. 33(9):799–805.

Bagchi D, Das A, dan Roy S. 2020. Wound Healing, Tissue Repair, and Regeneration in Diabetes. United States: Elsevier Inc.

Chandran R, et al. 2017. Syzygium mundagam bark methanol extract restores skin to normal in diabetic wounded rats. Biomed. Pharmacother. 94:781–786.

Dandekar R, Fegade B, dan Vh B. 2015. GC-MS analysis of phytoconstituents in alcohol extract of Epiphyllum oxypetalum leaves. Journal of Pharmacognosy and Phytochemistry. 4(1):149–54.

Dawood H, dan Fathy A. 2014. Extract of Moringa oleifera leaves ameliorates streptozotocin induced Diabetes mellitus in adult rats. Acta Histochem. 116(8) 844 54.

Delshad E, Tavakkoli-Kakhki M, dan Motavasselian M. 2017. Successful repair of diabetic foot ulcer with honey-based treatment: A case report. Iranian Red Crescent Medical Journal. 19(3):1–4.

Dwita LP, et al. 2019. Wound healing properties of Epiphyllum oxypetalum (DC) Haw leaf extract in streptozotocin-induced diabetic mice by topical application. Wound Medicine. 26(1):1-5.

Ezhilarasu H, et al. 2020. Nanoparticle-Based Therapeutic Approach for Diabetic Wound Healing. Nanomaterials. 10(1234):1-29.

Galehdari H, et al. 2016. Effect of the herbal mixture composed of Aloe vera, Henna, Adiantum capillus-veneris, and Myrrha on wound healing in streptozotocin-induced diabetic rats. BMC Complement Alternative Medicine. 16(1):1–9.

Gouthamchandra K, Mahmood R, dan Manjunatha H. 2010. Free radical scavenging, antioxidant enzymes and wound healing activities of leaves extracts from Clerodendrum infortunatum L. Environ Toxicol Pharmacol Journal. 30(1):11–8.

Goyal R, et al. 2016. Nanoparticles and nanofibers for topical drug delivery. Journal Control. 240:77–92
Gupta R, et al. 2012. Evaluation of antidiabetic and antioxidant activity of Moringa oleifera in experiment al diabetes. Journal Diabetes. 4(2):164–71.

Han G, dan Ceilley R. 2017. Chronic Wound Healing: A Review of Current Management and Treatments. Advances in Therapy. 34(3): 599-610.

Hashemnia M, et al. 2019. Wound healing activity of Pimpinella anisum methanolic extract in streptozotocin-induced diabetic rats. Journal Of Wound Care. 28(10):26–36.

Health Service Executive (HSE). 2016. National best practice and evidence based guidelines for management. 13–19 p.

Hekmatpou D, et al. 2019. The effect of Aloe vera clinical trials on prevention and healing of skin wound: A systematic review. Iranian Journal Medical Sciences. 44(1):1–9.

Hou Q, et al. 2014. The four-herb Chinese medicine ANBP enhances wound healing and inhibits scar formation via bidirectional regulation of transformation growth factor pathway. PLoS One. 9 (1).

Hou Q, et al. 2015. Effects of the Four-Herb Compound ANBP on Wound Healing Promotion in Diabetic Mice. International Journal of Lower Extremity Wounds. 28:1–8.

International Diabetes Federation. 2019. Global and regional diabetes prevalence estimates for 2019 and projections for 2030 and 2045: results from the International Diabetes Federation Diabetes Atlas, 9th edition. (online). [Accessed on: 1 October 2020]. Available at: http://www.diabetesatlas.org/.

Jeyaseelan EC, et al. 2012. Antibacterial activity of sequentially extracted organic solvent extracts of fruits, flowers and leaves of Lawsonia inermis L Asian Pac Journal Trop Biomed. 2(10):798–802.

Khairani. 2019. World Diabetes Day 2018. Jakarta: Pusat Data dan Informasi Kementrian Kesehatan RI. 1–8 p.
Kumari J, Sangeetha M, dan Ali S. 2018. Formulation and evaluation of herbal gel from tannin-enriched fraction of Psidium guajava Linn. leaves for diabetic wound healing. International Journal of Green Pharmacy. (3):490–6.

Lai JC, et al. 2016. Treatment for diabetic ulcer wounds using a fern tannin optimized hydrogel formulation with antibacterial and antioxidative properties. Journal of Ethnopharmacology. 189:277–89.

Lallo, S. et al. 2020. Aktivitas Anti Inflamasi dan Penyembuhan Luka dari Ekstrak Kulit Batang Murbei (Morus alba L.), Jurnal Farmasi Galenika (Galenika Journal of Pharmacy). 6(1), pp. 26–36.

Marchianti ACN, et al. 2020. Gel formulations of Merremia mammosa (Lour.) accelerated wound healing of the wound in diabetic rats. Journal of Traditional and Complementary Medicine. 1-8 p.

Mensaah A, et al. 2014. Anti-inflammatory and antioxidant activities of Commelina diffusa (Commelinaceae) Abraham. World Journal of Pharmaceutical Sciences. 2(10):1159-1165.

Muhammad AA, et al. 2016. Evaluation of wound healing properties of bioactive aqueous fraction from Moringa oleifera Lam on experimentally induced diabetic animal model. Drug Des Devel Ther Journal. 10(12):15–30.

Münter C, et al. 2012. Diabetic foot ulcers– prevention and treatment. Minneapolis: Coloplast Corp.

Naji S, et al. 2017. The Extract of Lycium depressum Stocks Enhances Wound Healing in Streptozotocin-Induced Diabetic Rats. International Journal of Lower Extremity Wounds. 16(2):85–93.

Rodero MP, dan Khosrotehrani K. 2010. Skin wound healing modulation by macrophages. International Journal Clinical Exp Pathol. 3(7): 643–53.

Soares R, et al. 2020. Development of a chitosan hydrogel containing flavonoids extracted from Passiflora edulis leaves and the evaluation of its antioxidant and wound healing properties for the treatment of skin lesions in diabetic mice. J Biomed Mater Res. 108(A):654–662.

Tuhin RH, et al. 2017. Wound healing effect of Euphorbia hirta linn. (Euphorbiaceae) in alloxan induced diabetic rats. BMC Complement Alternative Medicine. 17(423):1–14.

Walean, M. et al. 2020. Phytochemical screening and biological activities of pakoba (Syzygium luzonense) stem bark ethanol extract. Biodiversitas. 21(6), pp. 2377–2382.

Whittam AJ, et al. 2016. Challenges and Opportunities in Drug Delivery for Wound Healing. Adv Wound Care. 5:79–88.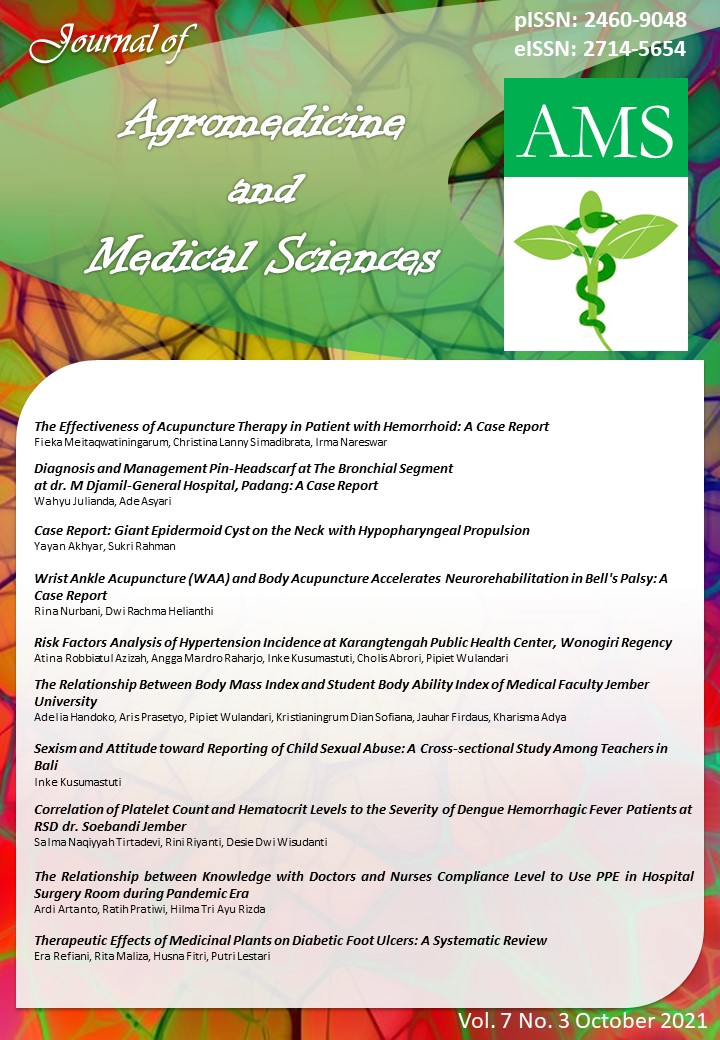 Section
Systematic Review Article
This work is licensed under a Creative Commons Attribution-ShareAlike 4.0 International License.