The Effect of Mirabilis jalapa Leaf Ethanolic Extract against Streptococcus pyogenes
Bagus Satrio Pambudi

Mahasiswa Fakultas Kedokteran Universitas Jember

Enny Suswati

Laboratorium Mikrobiologi Fakultas Kedokteran Universitas Jember

Jauhar Firdaus

Laboratorium Fisiologi Fakultas Kedokteran Uiversitas Jember
Abstract
Streptococcus pyogenes is a Gram positive bacteria that commonly cause disease in human. If not treated immediately, this bacteria can cause serious complication such as reumatic fever that causing heart valve tissue damage. Penicilin, drug of choice to eradicate S. pyogenes, oftenly cause various side effects such as anaphylaxis. This study aimed to investigate the effect of Mirabilis jalapa leaf ethanolic extract against S. pyogenes growth using in vitro techniques. The study design was a quasi experimental design. S. pyogenes culture as the study subject were divided into positive control group (penicilin V 100 IU), negative control group (NaCMC 0,5%), and eight treatment groups that were given with M. jalapa leaf ethanolic extract as much as 0,1 mg/ml, 1 mg/ml, 5 mg/ml, 10 mg/ml, 20 mg/ml, 30 mg/ml, 40mg/ml, and 50 mg/ml. After 24 hours incubation periods, the inhibition zone were found in all treatment group except in concentration 0,1 mg/ml. This study showed that M. jalapa leaf ethanolic extract could inhibit the growth of S. pyogenes. There was significant correlation between the concentration of M. jalapa leaf ethanolic extract and the diameter of inhibition zone (p=0,00), the higher concentration of M. jalapa leaf extract, the larger diameter of inhibition zone of S. pyogenes.
Keywords: Mirabilis jalapa, leaf extract, antimicrobial activity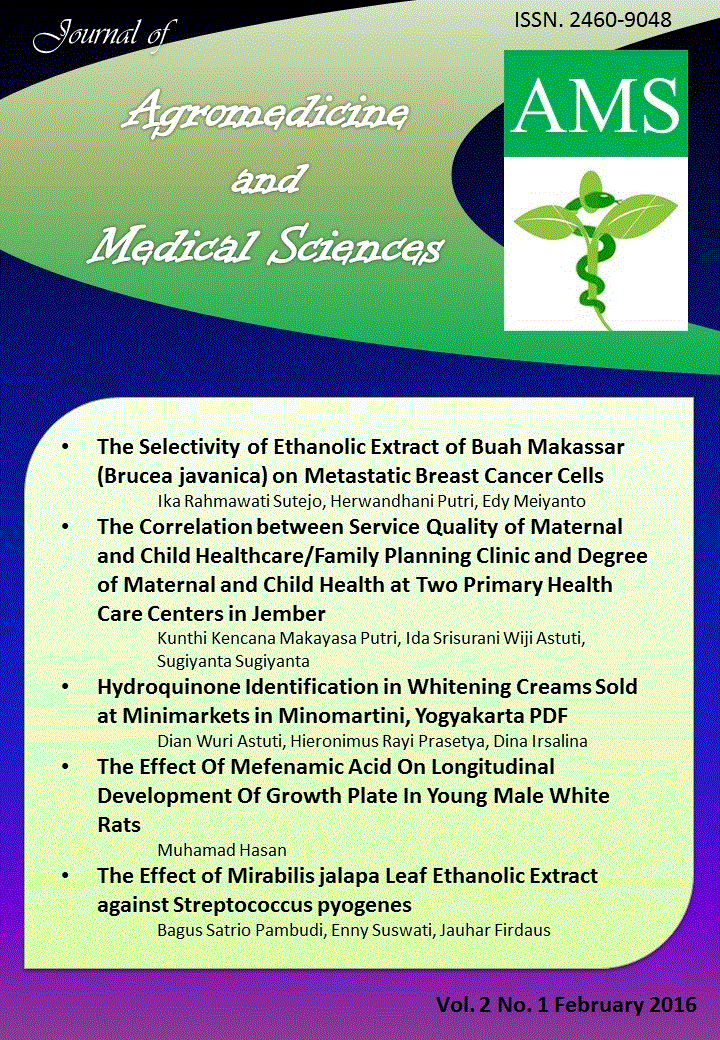 How to Cite
PAMBUDI, Bagus Satrio; SUSWATI, Enny; FIRDAUS, Jauhar. The Effect of Mirabilis jalapa Leaf Ethanolic Extract against Streptococcus pyogenes.
Journal of Agromedicine and Medical Sciences
, [S.l.], v. 2, n. 1, p. 26 - 31, feb. 2016. ISSN 2714-5654. Available at: <
https://jurnal.unej.ac.id/index.php/JAMS/article/view/2424
>. Date accessed: 30 may 2023.
Section
Original Research Articles