The Effectiveness of Acupuncture Therapy in Patient with Hemorrhoid: A Case Report
Fieka Meitaqwatiningarum

Department of Medical Acupuncture, dr. Cipto Mangunkusumo Hospital, Jakarta, Indonesia and Specialist Program, Faculty of Medicine, Universitas Indonesia, Jakarta, Indonesia

Christina Lanny Simadibrata

Department of Medical Acupuncture, dr. Cipto Mangunkusumo Hospital, Jakarta, Indonesia and Specialist Program, Faculty of Medicine, Universitas Indonesia, Jakarta, Indonesia

Irma Nareswari

Department of Medical Acupuncture, dr. Cipto Mangunkusumo Hospital, Jakarta, Indonesia and Specialist Program, Faculty of Medicine, Universitas Indonesia, Jakarta, Indonesia
Abstract
Background: Hemorrhoid is an anorectal disease due to mechanical disturbances in the anal cushion and hemorrhoid venous plexus blood flow obstruction. Symptoms that often accur are bleeding, pain, prolapse, itching, and mucus discharge. Acupuncture is non-pharmacological therapeutic modalities that has been shown to improve hemorrhoid symptoms.
Case: A 37-year-old woman complained of hemorroid lump with pain since last 1 year. Physical examination showed a reddish hemorrhoid prolapse, about 1.5 cm in the posterior anal without bleeding. The pain score with NRS is 4. Acupuncture therapy was performed 3 times a week at acupoints GV20, TE6, LU6, ST25, BL34, ST36, EX-UE2 and BL57. Then given continuous wave electrical stimulation, 4 Hz, 30 minutes retention. After 11 treatments, pain disappeared with NRS 0 and lump was reduced to about 0.5 cm.
Conclusion: Acupuncture can improve the symptoms of hemorrhoids, which are seen by the relief of pain and the reduction of lumps.
Keywords: Acupuncture, hemorrhoid, hemorrhoid pain, hemorrhoid prolapse
References
Cabýoglu, M. T., Ergene, N., & Tan, U. (2006). The mechanism of acupuncture and clinical applications. International Journal of Neuroscience, 116(2), 115–125. https://doi.org/10.1080/00207450500341472

Cho, Z. H., Hwang, S. C., Wong, E. K., Son, Y. D., Kang, C. K., Park, T. S., Bai, S. J., Kim, Y. B., Lee, Y. B., Sung, K. K., Lee, B. H., Shepp, L. A., & Min, K. T. (2006). Neural substrates, experimental evidences and functional hypothesis of acupuncture mechanisms. Acta Neurologica Scandinavica, 113(6), 370–377. https://doi.org/10.1111/j.1600-0404.2006.00600.x

Hartrick, C. T., Kovan, J. P., & Shapiro, S. (2003). The Numeric Rating Scale for Clinical Pain Measurement: A Ratio Measure? Pain Practice, 3(4), 310–316. https://doi.org/10.1111/j.1530-7085.2003.03034.x

HealthCMi. (2018). Acupuncture Reduces Hemoroid Surgery Discomfort And Complications. 1(June), 3–7.

Lalisang, T. J. (2016). Hemoroid: Pathophysiology and Surgical Management Literature review. The New Ropanasuri Journal of Surgery, 1(1), 31–36. https://doi.org/10.7454/nrjs.v1i1.9

LI, X., BU, H., MA, Y., & LÜ, H. (2018). Acupuncture at Kongzui (LU 6) for 76 cases of hemoroids. World Journal of Acupuncture - Moxibustion, 28(1), 68–69. https://doi.org/10.1016/j.wjam.2018.03.001

Lian, Y.-L., Chen, C.-Y., Hammes, M., & Kolster, B. C. (2005). The pictorial atlas of acupuncture.

Lohsiriwat, V. (2015). Treatment of hemoroids: A coloproctologist's view. World Journal of Gastroenterology, 21(31), 9245–9252. https://doi.org/10.3748/wjg.v21.i31.9245

Lohsiriwat, V. (2019). Hemoroidal disease. In Anorectal Disorders: Diagnosis and Non-Surgical Treatments. Elsevier Inc. https://doi.org/10.1016/B978-0-12-815346-8.00005-9

Lund, I., & Lundeberg, T. (2016). Mechanisms of acupuncture. Acupuncture and Related Therapies, 4(4), 26–30. https://doi.org/10.1016/j.arthe.2016.12.001

Mayor, D. F. (2006). Electroacupuncture a practical manual and resource. London: Churchill Livingstone.

Mott, T., Latimer, K., & Edwards, C. (2018). Hemoroids: Diagnosis and Treatment Options. American Family Physician, 97(3), 172–179.

Qin, D., Zhang, A. M., Chen, M., Tang, T. C., Du, Y. J., & Zheng, H. (2020). Acupuncture and related techniques for postoperative pain after hemoroidectomy: A systematic review and network meta-analysis. European Journal of Integrative Medicine, 37 (January). https://doi.org/10.1016/j.eujim.2020.101112

Rubbini, M., & Ascanelli, S. (2019). Classification and guidelines of hemoroidal disease: Present and future. World Journal of Gastrointestinal Surgery, 11(3), 117–121. https://doi.org/10.4240/wjgs.v11.i3.117

The Acupuncture Association of Chartered Physiotherapists. (2017). Safe Practice Guidelines for Acupuncture Physiotherapists.

Wang, X., & Yin, J. (2015). Complementary and Alternative Therapies for Chronic Constipation. Evidence-Based Complementary and Alternative Medicine, 2015(d). https://doi.org/10.1155/2015/396396

WHO. (2008). WHO Standard acupuncture point locations in the Western Pacific Region.

Wu, J., Chen, B., Yin, X., Yin, P., Lao, L., & Xu, S. (2018). Effect of acupuncture on post-hemoroidectomy pain: A randomized controlled trial. Journal of Pain Research, 11, 1489–1496. https://doi.org/10.2147/JPR.S166953

Yamana, T. (2017). Japanese Practice Guidelines for Anal Disorders I. Hemoroids. Journal of the Anus, Rectum and Colon, 1(3), 89–99. https://doi.org/10.23922/jarc.2017-018

Yong-feng, L. (2018). Professor Yu Hai-bo ' s clinical experience in treating acute attack of hemoroids with acupuncture and moxibution. 16(1), 28–32.

Zhang, F., Wu, L., Zhao, J., Lv, T., Hu, Z., Weng, Z., Wang, S., Wu, H., & Liu, H. (2017). Neurobiological Mechanism of Acupuncture for Relieving Visceral Pain of Gastrointestinal Origin. Gastroenterology Research and Practice, 2017. https://doi.org/10.1155/2017/5687496

Zhang, L. (2011). Effects of electroacupuncture at Chengshan (BL 57) on postoperative pain of mixed hemoroids. May 2011.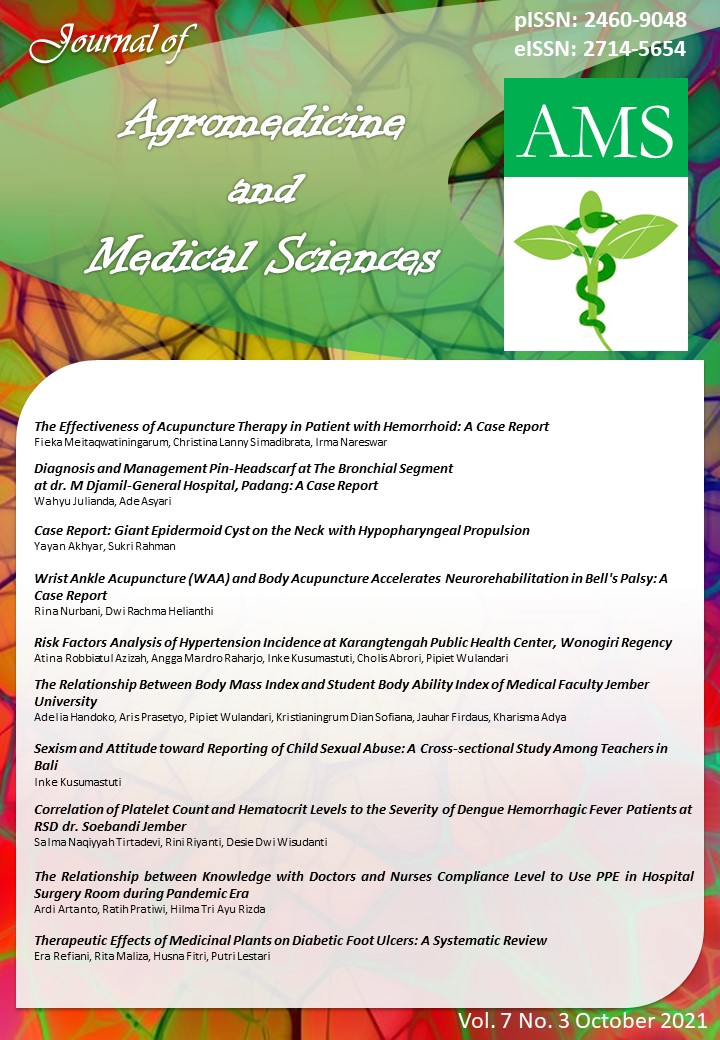 Section
Case Report Article
This work is licensed under a Creative Commons Attribution-ShareAlike 4.0 International License.