The Relation between Malondialdehyde (MDA) and Histopatological Appearance in male Wistar Rats Model
Febrina Sylva Fridayanti

Mahasiswa Fakultas Kedokteran, Universitas Jember

Erma Sulistyaningsih

Laboratorium Parasitologi Fakultas Kedokteran, Universitas Jember

Elly Nurus Sakinah

Laboratorium Farmakologi Fakultas Kedokteran, Universitas Jember
Abstract
Fractures are a serious health problem in Indonesia due to increasing prevalence. The healing process of fracture is disturbed by the oxidative stress that caused by imbalance quantity of free radical and antioxidant. An antioxidant such as polyphenol, which can be found in cocoa, is needed to suppress oxidative stress. The study aimed to investigate the effect of the ethanolic extract of cacao on fracture healing process in a rat model through MDA concentration and histopatological appearance. This study is in vivo experimental study with post-test only controlled group design. 30 male Wistar rats were randomized and divided into 5 groups. 1 group was rats without fractured. The negative control and three treatment groups were rats with fractured manually on left tibia under anesthesia and immobilized by bandage. The treatment groups treated with cocoa ethanolic extract in a dose of 125 mg/kgBW, 250 mg/kgBW, and 500 mg/kgBW orally for 21 days. The result showed that there was a significant different between the treatment groups and the negative control group on MDA concentration and histopatological appearance (p>0,05). The corelation between them were strong and had negative direction (R=-0,771). The study concluded that cocoa ethanolic extract had a positive effect to supress oxidation stress and increases the number of osteoblast on fracture healing process.
Key words: cocoa ethanolic extract, polyphenol, fracture healing process, oxidative stress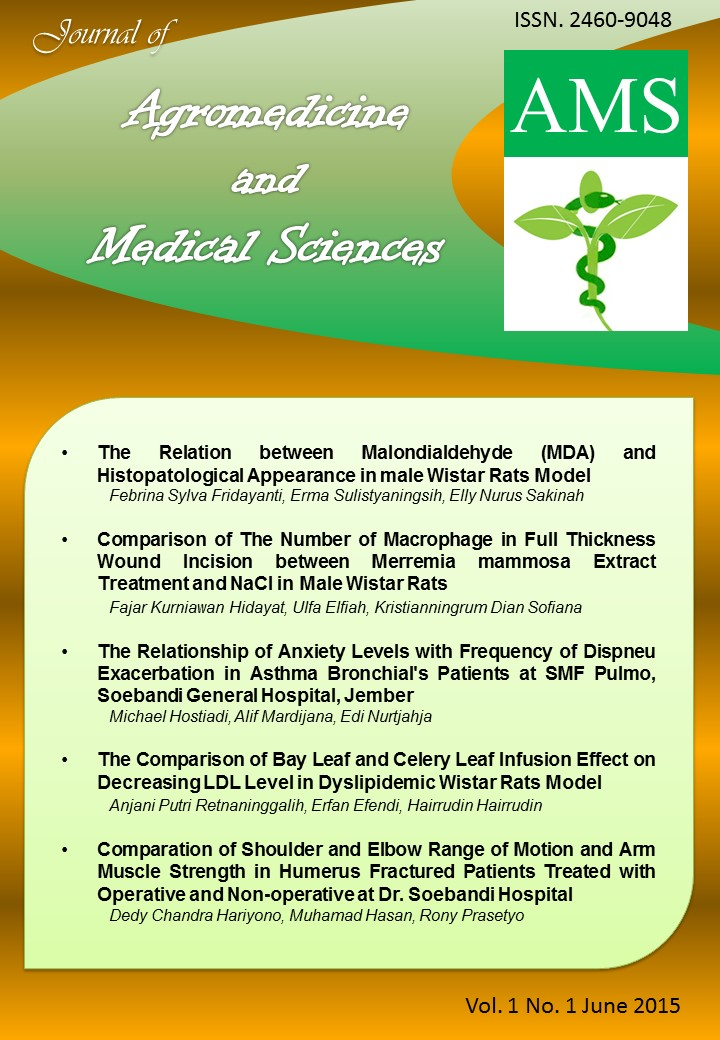 How to Cite
FRIDAYANTI, Febrina Sylva; SULISTYANINGSIH, Erma; SAKINAH, Elly Nurus. The Relation between Malondialdehyde (MDA) and Histopatological Appearance in male Wistar Rats Model.
Journal of Agromedicine and Medical Sciences
, [S.l.], v. 1, n. 1, p. 1-8, june 2015. ISSN 2714-5654. Available at: <
https://jurnal.unej.ac.id/index.php/JAMS/article/view/1699
>. Date accessed: 05 dec. 2023.
Section
Original Research Articles