Upaya Pengembalian Aset Negara Tindak Pidana Korupsi (Dalam Perspektif Undang-Undang Pemberantasan Tindak Pidana Korupsi dan Undang-Undang Nomor 7 Tahun 2006)
Lutfiatul Hasanah

Universitas Jember
Abstract
Abstrak: Korupsi adalah tindak pidana yang dapat merugikan keuangan negara, sehingga dalam hal ini terdapat tiga hal pokok yang menjadi fokus pemberantasan korupsi yaitu pencegahan, pemberantasan dan pengembalian aset. Pengembalian aset dalam Undang-Undang Pemberantasan Tindak Pidana Korupsi dilakukan dengan menggunakan mekanisme pidana dan perdata. Mekanisme perdata digunakan apabila hukum pidana tidak dapat dilakukan karena alasan kematian, tidak terdapat cukup bukti tetapi secara nyata ada kerugian keuangan negara, dan putusan bebas tetapi masih terdapat aset yang belum dirampas. Tindak pidana korupsi juga menjadi perhatian dalam hukum internasional dapat dilihat dari adanya konvensi UNCAC yang mengatur pemberantasan korupsi termasuk pengembalian aset negara yang diatur pada bab V. Dalam konvensi tersebut menggunakan mekanisme perampasan aset tanpa pemidanaan sebagai upaya pengembalian aset negara. Indonesia meratifikasi konvensi tersebut kedalam Undang-Undang Nomor 7 Tahun 2006 sehingga menimbulkan kewajiban untuk mengharmonisasikan dengan hukum nasional atau mengimplementasikannya kedalam Undang-Undang baru. Tujuan penelitian ini untuk mengetahui apakah Undang-Undang Nomor 7 Tahun 2006 dapat diberlakukan khususnya pengembalian aset negara tindak pidana korupsi. Metodologi yang digunakan yuridis normatif dengan menggunakan pendekatan perundang-undangan dan konseptual. Hasil penelitian menjukan bahwa Undang-Undang Nomor 7 Tahun 2006 tidak dapat diterapkan karena terdapat perbedaan dengan Undang-Undang Pemberantasan Tindak Pidana Korupsi terkait jenis pembuktian, proses mekanisme perdata, dan kerjasama internasional yang belum diatur dalam Undang-Undang Pemberantasan Tindak Pidana Korupsi. Perbedaan tersebut menunjukan tidak adanya harmonisasi antara kedua Undang-Undang tersebut. Agar Undang-Undang Nomor 7 Tahun 2006 dapat diberlakukan maka diperlukan pengesahan RUU Perampasan Aset Tindak Pidana agar dapat mengatasi kekurangan yang ada didalam Undang-Undang Pemberantasan Tindak Pidana Korupsi.
Kata Kunci: Korupsi,  Pengembalian Aset, Perampasan Aset Tanpa Pemidanaan  
Abstract: Corruption is a crime that can harm state finances, so in this case there are three main things that are the focus of eradicating corruption, namely prevention, eradication and asset recovery. The return of assets in the Law on the Eradication of Criminal Acts of Corruption is carried out using criminal and civil mechanisms. The civil mechanism is used if the criminal law cannot be carried out because of the reason of death, there is not enough evidence but there is clearly a state financial loss, and the verdict is acquitted but there are assets that have not been confiscated. Corruption is also a concern in international law, as can be seen from the existence of the UNCAC convention which regulates the eradication of corruption, including the return of state assets, which is regulated in chapter V. The convention uses the mechanism for confiscation of assets without punishment as an effort to recover state assets. Indonesia ratified the convention into Law Number 7 of 2006 thus creating an obligation to harmonize it with national law or implement it into a new law. The purpose of this study is to determine whether Law Number 7 of 2006 can be applied, especially the returnof state assets for corruption. The methodology used is normative juridical by using a statutory and conceptual approach. The results of the study show that Law Number 7 of 2006 cannot be applied because there are differences with the Law on the Eradication of Corruption Crimes regarding the type of evidence, civil mechanism processes, and international cooperation that have not been regulated in the Corruption Eradication Act. This difference shows that there is no harmonization between the two laws. In order for Law Number 7 of 2006 to be enacted, it is necessary to ratify the Draft Law on the Confiscation of Criminal Assets in order to overcome the shortcomings contained in the Law on the Eradication of Criminal Acts of Corruption.
Keywords: Corruption, Asset Return, Non Conviction Based Asset Forfeiture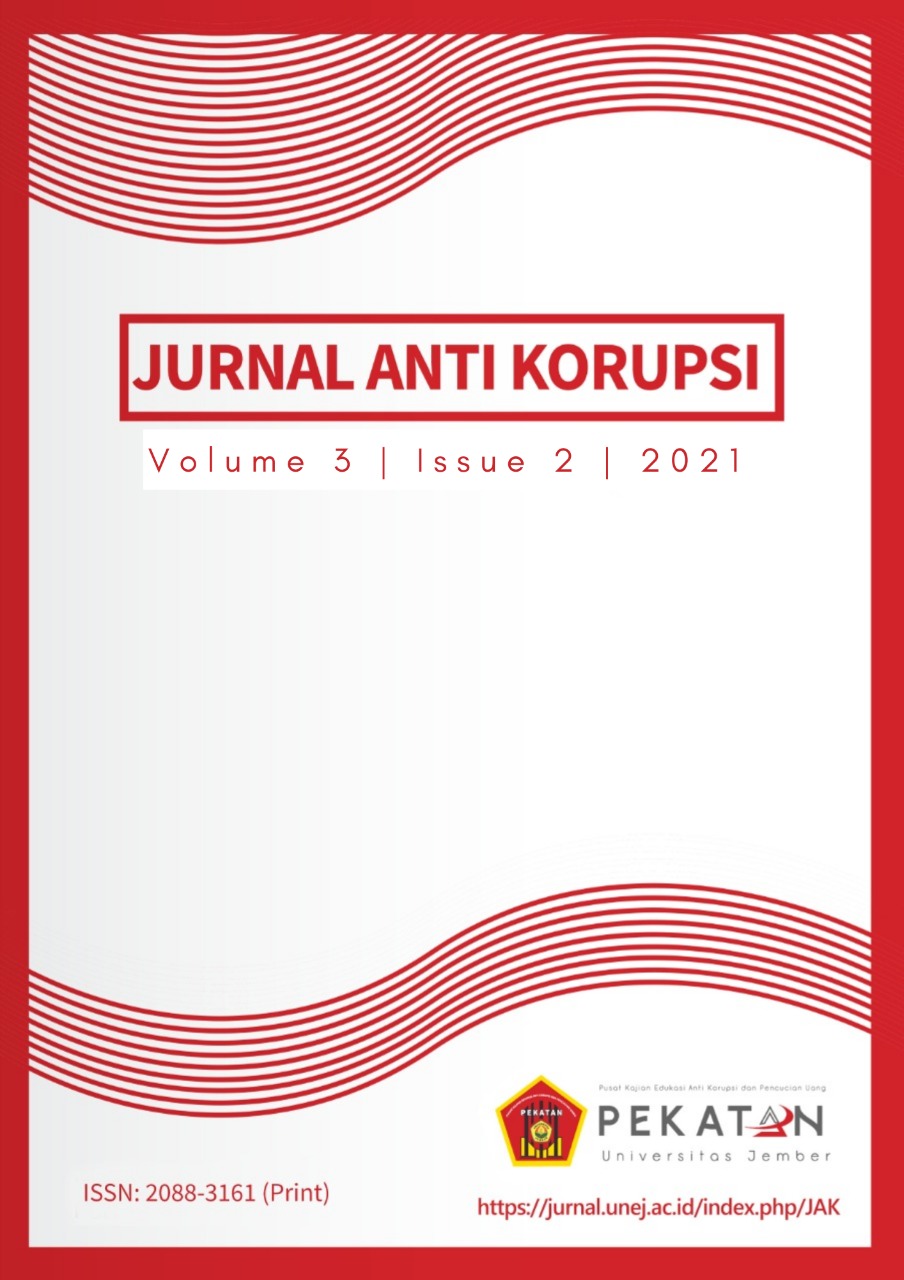 This work is licensed under a Creative Commons Attribution-ShareAlike 4.0 International License.