KARAKTERISTIK MOCAF (Modified Cassava Flour) BERDASARKAN METODE PENGGILINGAN DAN LAMA FERMENTASI
Nia Ariani Putri

Program Studi Magister Teknologi Agroindustri – Fakultas Teknologi Pertanian, Universitas Jember

Herlina Herlina

Program Studi Magister Teknologi Agroindustri – Fakultas Teknologi Pertanian, Universitas Jember

Achmad Subagio

Program Studi Magister Teknologi Agroindustri – Fakultas Teknologi Pertanian, Universitas Jember
Abstract
MOCAF or modified cassava flour is one of modified starch products by biochemical process through fermentation. In fermentation process, lactic acid bacteria (LAB) had the important role to change the structure of the starch by producing enzymes that hydrolyzed the starch. Beside fermentation, the milling process would also damage the starch. The aim of this research was to know the influence of different milling method (wet- and dry milling) and fermentation time on MOCAF charcterization. Different milling process (wet and dry milling) and the long of fermentation process influenced the value of pH, water holding capacity, swelling power, sineresis, and morphology properties of MOCAF starch granule, but did not influence the whiteness and pasta clarity of MOCAF. MOCAF which was produced by wet milling process had lower pH (4,24-5,98), water holding capacity (122-162%) and swelling power (308-397%), and higher syneresis value than MOCAF which was produced by dry milling proces. Fermentation produced MOCAF with higher whiteness value and more damaged starch granule.
Keywords: MOCAF, milling, fermentation, starch granule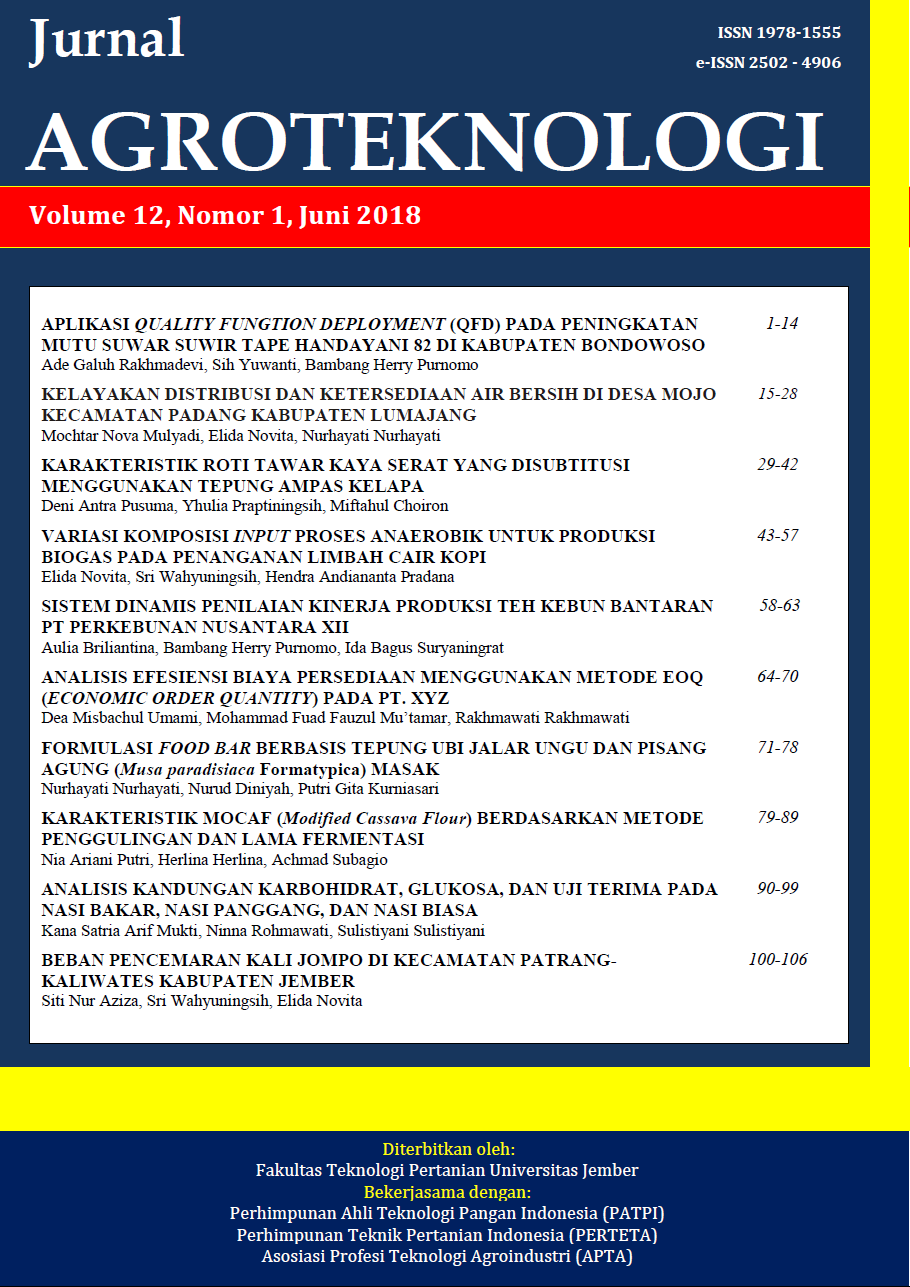 This work is licensed under a Creative Commons Attribution-ShareAlike 4.0 International License.

Under Liscense of Creative Commons Attribution - ShareAlike 2.0 Generic (CC BY-SA 2.0)