KOMPARASI PROSES FITOREMEDIASI LIMBAH CAIR PEMBUATAN TEMPE MENGGUNAKAN TIGA JENIS TANAMAN AIR
Elida Novita

Program Studi Teknik Pertanian, Fakultas Teknologi Pertanian, Universitas Jember

Agnesa Arunggi Gaumanda Hermawan

Teknik Pertanian, Fakultas Teknologi Pertanian, Universitas Jember

Sri Wahyuningsih

Program Studi Teknik Pertanian, Fakultas Teknologi Pertanian, Universitas Jember
Abstract
Tempe waste water contains high organic matter because the raw material used to making tempe (soybean) containing protein. If tempe waste water thrown away directly into environment, it would cause water pollution, destroy the habitat of aquatic biota and causing foul odor. One of the easy efforts to reduce the impact is using phytoremediation. The aim of this research was to know the best treatment to decrease parameter such as BOD, COD, TSS, pH, turbidity and N of the tempe waste water by aquatic plants, i.e. water hyacinth (Eg), water spinach (Ka) and water lettuce (Ki). The research was conducted in laboratory experiment scale using aquarium with length of 40 cm, width of 15 cm and tall of 25 cm to each treatment with 3 replications. The data were analyzed descriptively. It was to determined the best treatment of the aquatic plant that has highest efficiency to decrease negatively parameter of waste water quality. The result showed that the applied of water hyacinth (Eg) was the best treatment in decreasing parameter of tempe waste water quality with efficiency value, such as turbidity of 85.03%; TSS of 66.44%; COD of 59.11%; BOD of 77.91% and N of 61.77%.
Keywords: phytoremediation, tempe waste water, water hyacinth, water lettuce, water spinach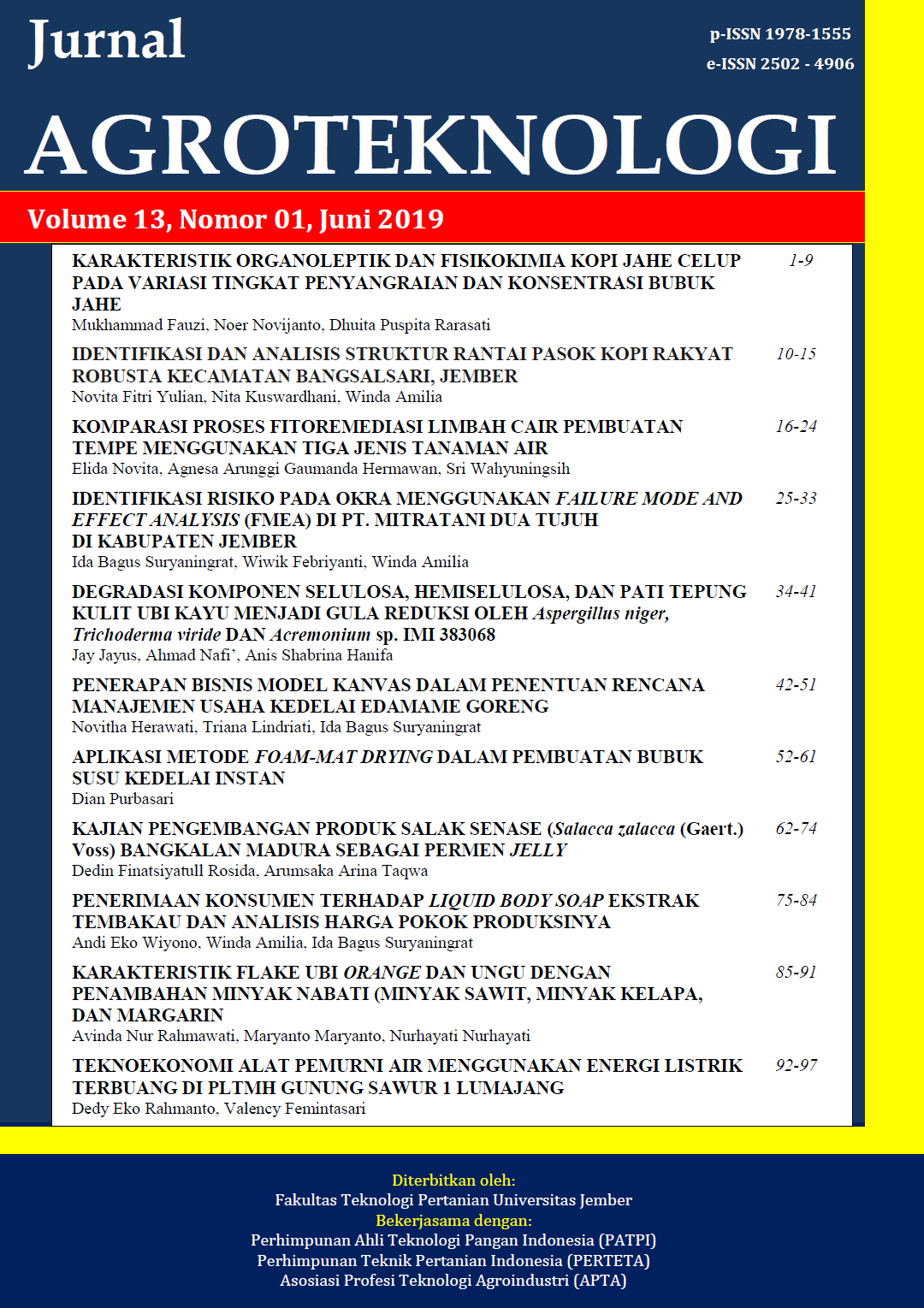 This work is licensed under a Creative Commons Attribution-ShareAlike 4.0 International License.

Under Liscense of Creative Commons Attribution - ShareAlike 2.0 Generic (CC BY-SA 2.0)