Decleaning Residu Pestisida Methyl Thiopanat pada Edamame dengan Menggunakan Teknik Ozonated Water
Abi Bakri

Program Studi Teknologi Industri Pertanian, Jurusan Teknologi Pertanian, Politeknik Negeri Jember, Indonesia

Budi Hariono

Program Studi Teknologi Rekayasa Pangan, Jurusan Teknologi Pertanian, Politeknik Negeri Jember, Indonesia

Wulan Pandamsari Nareswari

Program Studi Teknologi Industri Pertanian, Jurusan Teknologi Pertanian, Politeknik Negeri Jember, Indonesia

Elok Kurnia Novita Sari

Program Studi Keteknikan Pertanian, Jurusan Teknologi Pertanian, Politeknik Negeri Jember, Indonesia
Abstract
Edamame (Glycine max (L) Merr.) is a type of legume with larger seeds, a sweeter taste, a softer texture, and high protein content. Edamame is a potential plant to be developed, to keep up with market demand, a role is needed an intensive one. One form of treatment for edamame is the application of pesticides thyophanate methyl fertilizer to plants. Nevertheless, excessive use of pesticides in edamame can leave pesticide residues. One of the efforts to reduce pesticide residues is washing with ozonated water and LC-MS analysis. The research decleaned the pesticide residue on edamame using ozonated water. Research methods were carried out using experimental design, with laboratory observations. The research material was edamame from Gading Mas Company and Farmers. The results showed that ozonated water can reduce thyophanate methyl pesticide residues on edamame based on the data LC-MS analysis i.e undetectable residue on the sample edamame with control treatment except only on edamame of Ivory Mas part of the peel. While the edamame sample from Gading Mas with treatment (pesticides and ozone pesticides) LC-MS analysis resulted prove to occur reduction of pesticide residues after washing using ozonated water technology by 10 ppm for 30 minutes, a decrease occurs in edamame the skin share by 81%, 58% in the edamame part of the seed, and 66%.
Keywords: edamame, LC-MS analysis, pesticide, ozon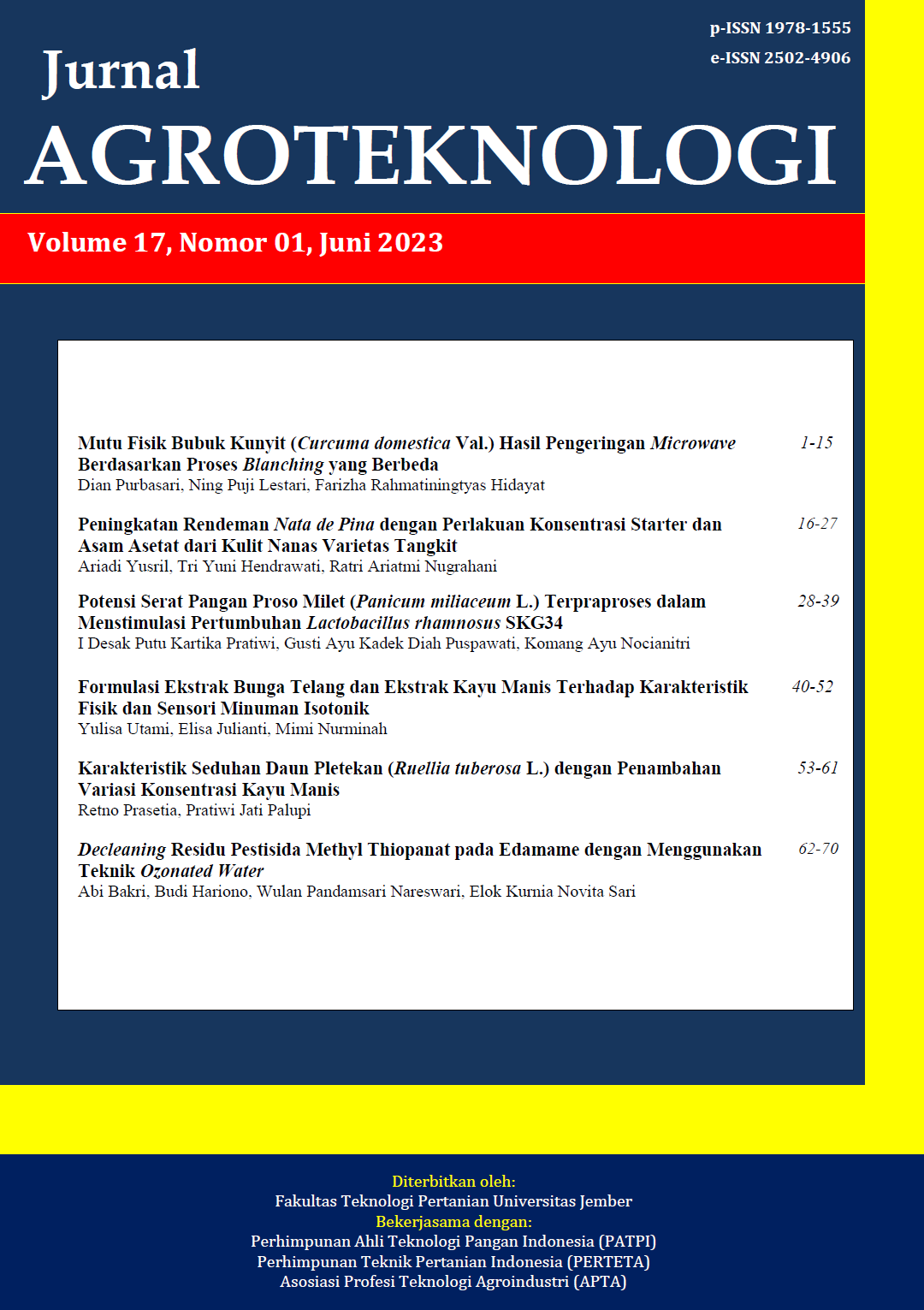 This work is licensed under a Creative Commons Attribution-ShareAlike 4.0 International License.
Jurnal Agroteknologi has CC-BY-SA or an equivalent license as the optimal license for the publication, distribution, use, and reuse of scholarly work. Authors who publish with this journal retain copyright and grant the journal the right of first publication with the work simultaneously licensed under a Creative Commons Attribution-ShareAlike 4.0 International License that allows others to share the work with an acknowledgment of the work's authorship and initial publication in this journal.